Malabar Kaai Curry Recipe With Nenthrapazham
Kerala Style Ripe Banana Dessert With Coconut Milk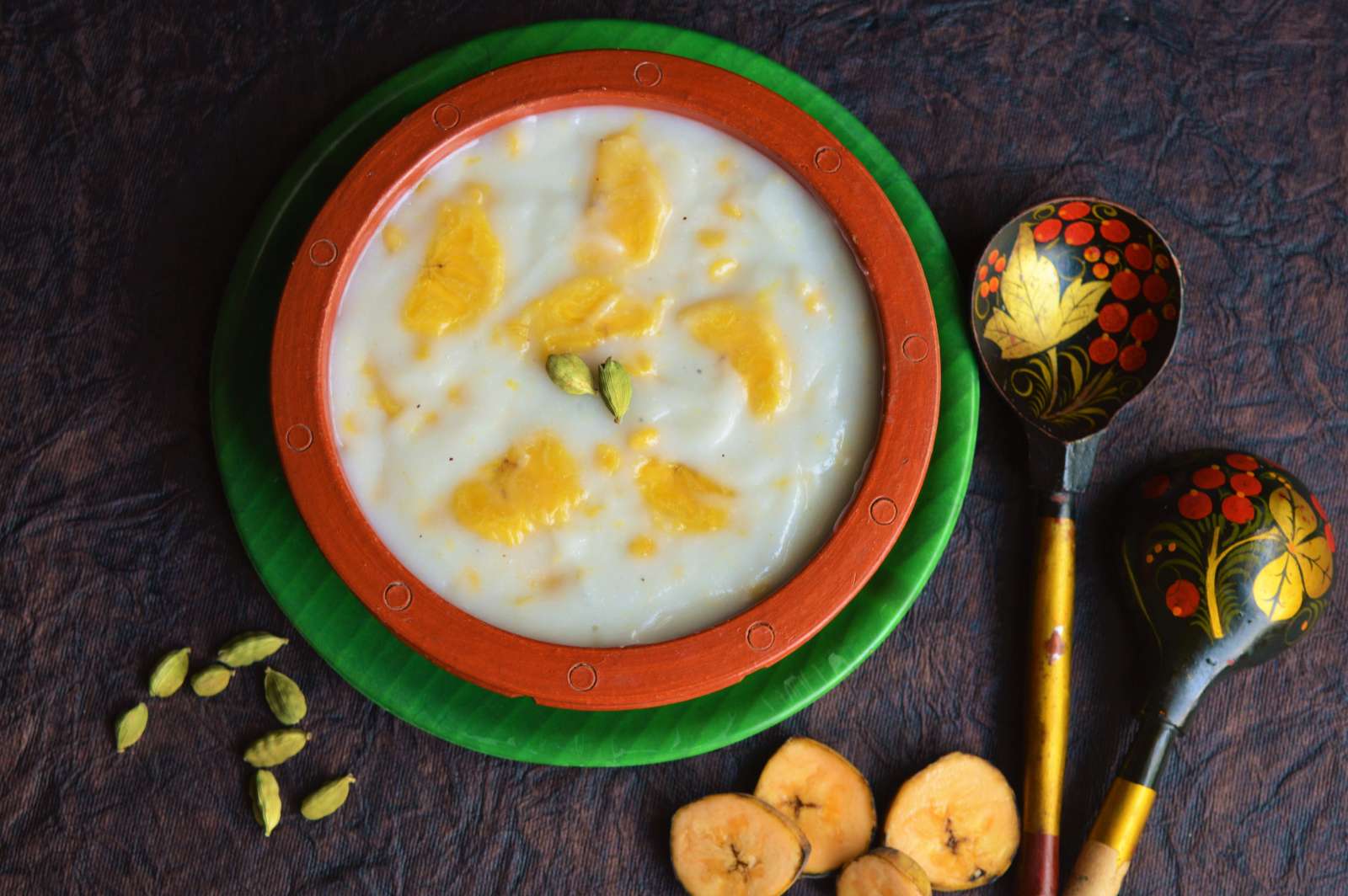 Kaai curry is one of the most delicious desserts made of bananas. Ripe plantains are cooked in fresh, home-made coconut milk and reduced to form a rich and creamy dessert. Chana dal gives this otherwise melt-in-the-mouth dessert a crunch in between. Rice is used as the thickening agent. This is one of those sacred recipes that I have learnt from my Mother. She used to prepare this delicious treat during festivals and other auspicious occasions. This is a perfectly healthy dessert, and it is gluten-free and vegan too.
Serve Malabar Kaai Curry as a dessert during the festive season along with Kandarappam.
Other recipes that you can try are:
Ingredients
2

Banana flower (Vazhaipoo)

, ripe
1 cup

Coconut milk

, thick
3 cups

Coconut milk

, thin
1/2 cup

Rice

, raw
1/2 cup

Chana dal (Bengal Gram Dal)

1/4

Onion

2

Cardamom (Elaichi) Pods/Seeds

1 cup

Sugar

3/4 teaspoon

Salt

, and some more for cooking the chana dal

Water

, as required
How to make Malabar Kaai Curry Recipe With Nenthrapazham
To begin making the Malabar Kaai Curry, first wash and soak chana dal and raw rice separately in two different bowls for about an hour.

After that cook chana dal with little salt in water and once done, drain the water and keep it aside.

Slice the bananas, and keep them aside.

Now, grind together the rice, onion and cardamom with 1 cup water to a very fine paste.

Take the rice batter in a pan and to this, add the thin coconut milk.

Switch the flame on, and keep stirring continuously till the mixture thickens and becomes creamy.

At this stage, add the sugar, salt, cooked chana dal and sliced bananas and mix well.

Stir continuously and let the bananas cook for about 10 minutes.

After that, add the thick coconut milk and mix and let it boil for about 2 minutes, before switching the flame off.

Serve Malabar Kaai Curry as a dessert during the festive season along with Kandarappam.
Kaai curry is one of those desserts that can be served warm as well as cold. I like it more when it is served chilled. Either way, the dish tastes amazing.