Manakish Zaatar (Traditional Lebanese Spiced Pita Bread)
A delicious Mediterranean bread recipe perfect for breakfast, dinner et al

Jyothi Rajesh
On

Sunday, 13 December 2015 00:50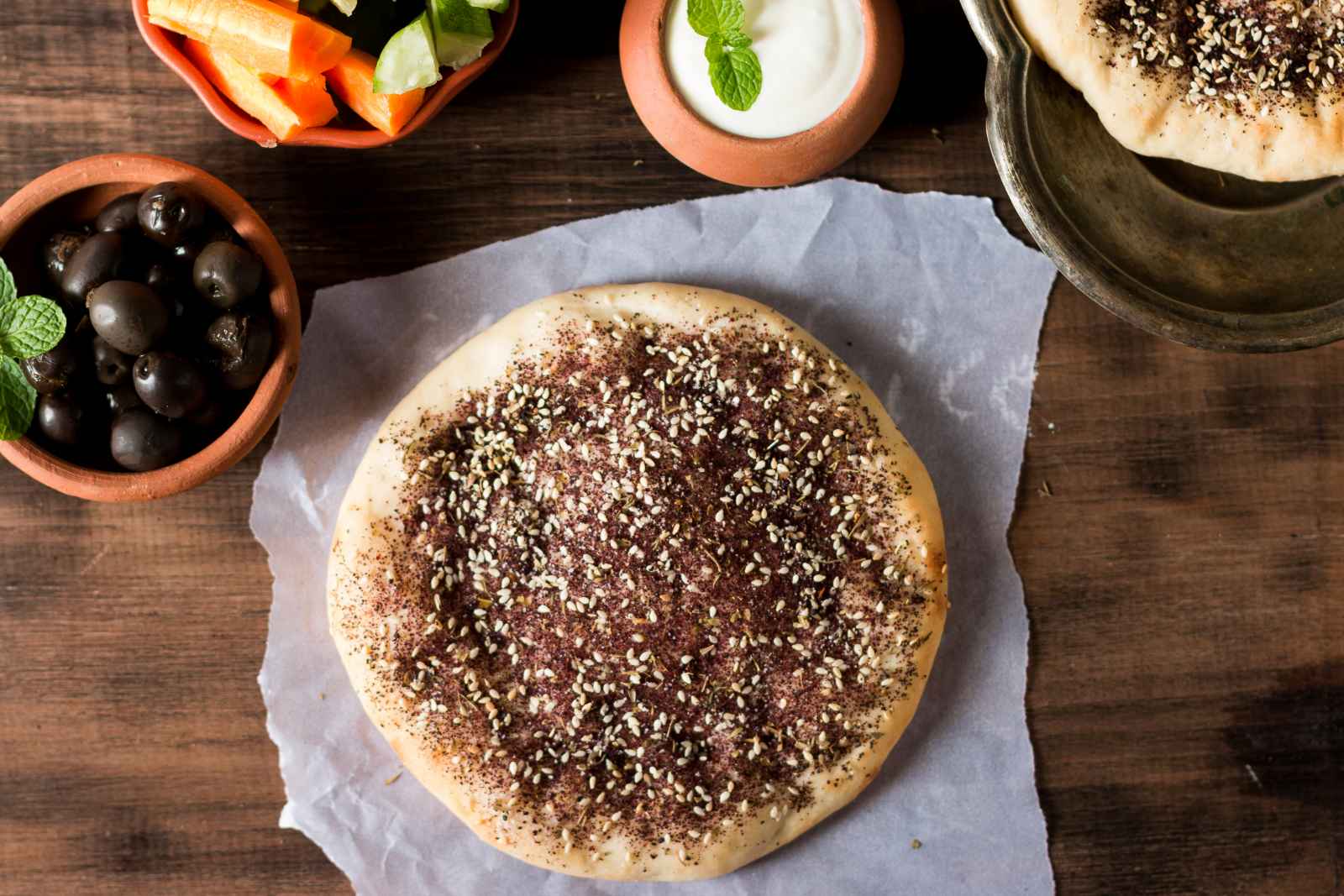 Manakish Zaatar is a traditional Lebanese variety of pita bread spiced with Zaatar. This Middle Eastern delicacy is similar to a pizza, made of soft pita base topped with zaatar spice mix. Zaatar spice mix is a slightly sour spice which is a mixture of sumac berries (dried and powdered), thyme, oregano, sesame seeds and some salt. It can be easily made at home and when used in many breads, for seasoning salads and other things it adds a distinct Middle Eastern touch to every dish.
Serve Manakish Zaatar as breakfast or as a party appetiser along with Tzatziki or Hummus too. It makes a good addition to a Lebanese or Middle Eastern lunch or dinner.
Try some other homemade Middle Eastern delicacies like:
Ingredients
For Manakish
2 cups

All Purpose Flour (Maida)

1 tablespoon

Active dry yeast

1 tablespoon

Sugar

1 cup

Lukewarm Water

1 teaspoon

Salt

1/2 cup

Extra Virgin Olive Oil

For Topping
1/2 cup

Za'atar

Or To Make Your Own Zaatar
1 tablespoon

Sumac

1 tablespoon

Dried Thyme Leaves

1 tablespoon

Dried oregano

1 tablespoon

Sesame seeds (Til seeds)

Salt
How to make Manakish Zaatar (Traditional Lebanese Spiced Pita Bread)
To begin making the Manakish Zaatar, you can begin by preparing Zaatar at home, if you do not have it on hand. Mix all the ingredients listed under "Or To Make Your Own Zaatar" together and shake well to combine. Your home made zaatar spice mix is ready. Store in air tight container and use as and when required.

To begin making the Manakish, first add yeast and sugar in a small mixing bowl and pour luke warm water over it. Allow it to rest for 5 minutes until the yeast starts bubbling. If the yeast doesn't react discard it and start another batch.

In another mixing bowl, add flour, salt, olive oil and mix with your fingers. Make a well in the center and pour in the bubbly/frothy yeast mixture. Mix well. Add water only if required and bring it together into a scraggy dough where the ingredients are holding together in a rough mix.

Clean your counter surface thoroughly, dust with flour and transfer the dough onto the counter. Knead until you get smooth, soft dough that is pliable.

Place the dough in a greased bowl, rub olive oil all over and cover it with a damp cloth. Set it aside for abour 1.5 hours or until it has risen and has doubled in size.

Knock down the dough (punch it with your fist), this is done to release all the air that would have collected. Gently knead for another 2 minutes.

At this stage, preheat the oven at 180 degrees C.

Divide dough into equal sized balls, depending on the size of Manakish you want to make. Place it on a greased surface and cover and let it rise a second time for another 15 minutes.

Now, working with one portion of dough at a time, flatten it into a disc like a pizza base, about ¼ inch thick. Punch small holes on the dough like dimples. Sprinkle zaatar spice mix on top. Press gently so the spice mix sticks to the base.

Place the prepared manakish one at a time on a baking sheet and bake in pre heated over at 170 degrees C for about 8 to 10 minutes each, once you see the base turning slightly brown.