Mangalorean Style Ambe Upkari Recipe - Ripe Mango Curry
The Ambe Upkari Recipe is a tangy and sweetish curry made with ripe mangoes, jaggery and green chillies. It makes a great side dish along with hot rice and ghee.

Vanitha
On

Tuesday, 23 May 2017 13:00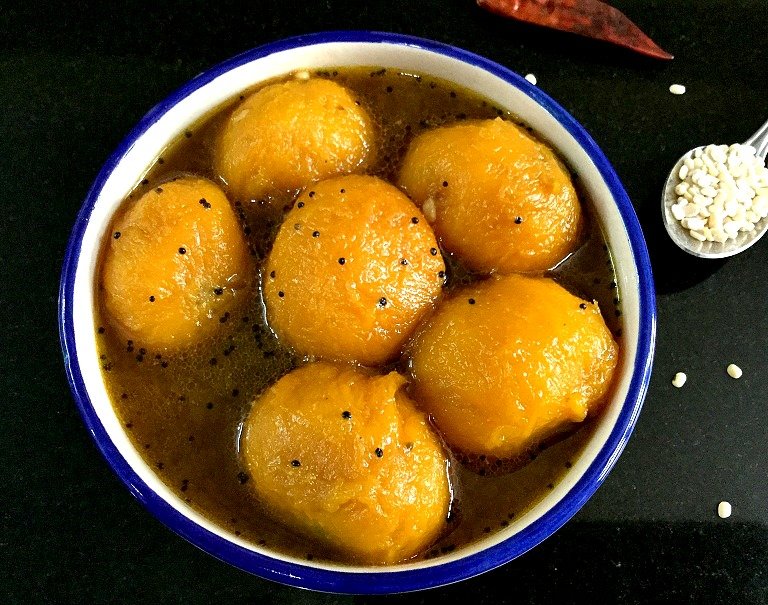 Ingredients
6

Mango (Ripe)

, (fibrous smaller variety suits best)
1/2 cup

Jaggery

, powdered (adjust to sweetness of mangoes)
2

Green Chillies

, (adjust to taste)
1 teaspoon

Ghee

, or coconut oil
2

Dry Red Chillies

1/2 teaspoon

White Urad Dal (Split)

1/2 teaspoon

Mustard seeds (Rai/ Kadugu)

1 pinch

Asafoetida (hing)
How to make Mangalorean Style Ambe Upkari Recipe - Ripe Mango Curry
To begin making Mangalorean Style Ambe Upkari Recipe, wash mangoes well. Peel the skin with your hands. Some mango pulp will be adhering to the skin; that is ok; it will not go waste.

Place the peeled mango in a saucepan and the peels in a bowl.

Add water, about 1/4 cup to the bowl with the mango peels, just enough that they are dipped in water.

Keep squeezing the peels well in the bowl with your hands to remove the pulp still sticking to it as much as possible.

Transfer this water to the saucepan containing the peeled ripe mangoes. Keep repeating (adding more water) until the water is almost clear.

Add slit green chillies to the mangoes in the saucepan. Heat on medium heat and bring to a boil.

Once it comes to a boil, reduce the heat and simmer for about 10 to 15 minutes until the mangoes are cooked well and become soft; about 15 to 20 minutes.

Add jaggery to taste along with some salt; adjust to suit your taste; mix well.

Simmer for about 5 minutes or more until you get a good consistency.

We love our mango curry a bit diluted; but if you want a thicker gravy, you can add a slurry of rice flour in water (about 2 to 3 teaspoons of rice flour in ¼ cup of water) to the boiling curry and boil until thick.

Now, it is time to season or temper the curry.

In a small saucepan, heat ghee. Once the ghee is hot, add mustard seeds and when they start to splutter and crackle, add the dry red chillies and hing.

Immediately add to the curry and give it a good stir.

Sweet, tangy and exotic Konkani style mango curry is ready.

Mangalorean Style Ambe Upkari Recipe is usually served as a side dish with a South Indian Meal of Steamed rice, Mangalorean Style Sajjige Rotti, steamed rice, Sprouted Moong Dal Curry and Mangalorean Style Sonay Sukka Recipe (Dry Chickpea Stir Fry Recipe).