Mango Panna Cotta With Fruit Cream Recipe

Shalu Jain
On

Friday, 27 May 2016 00:30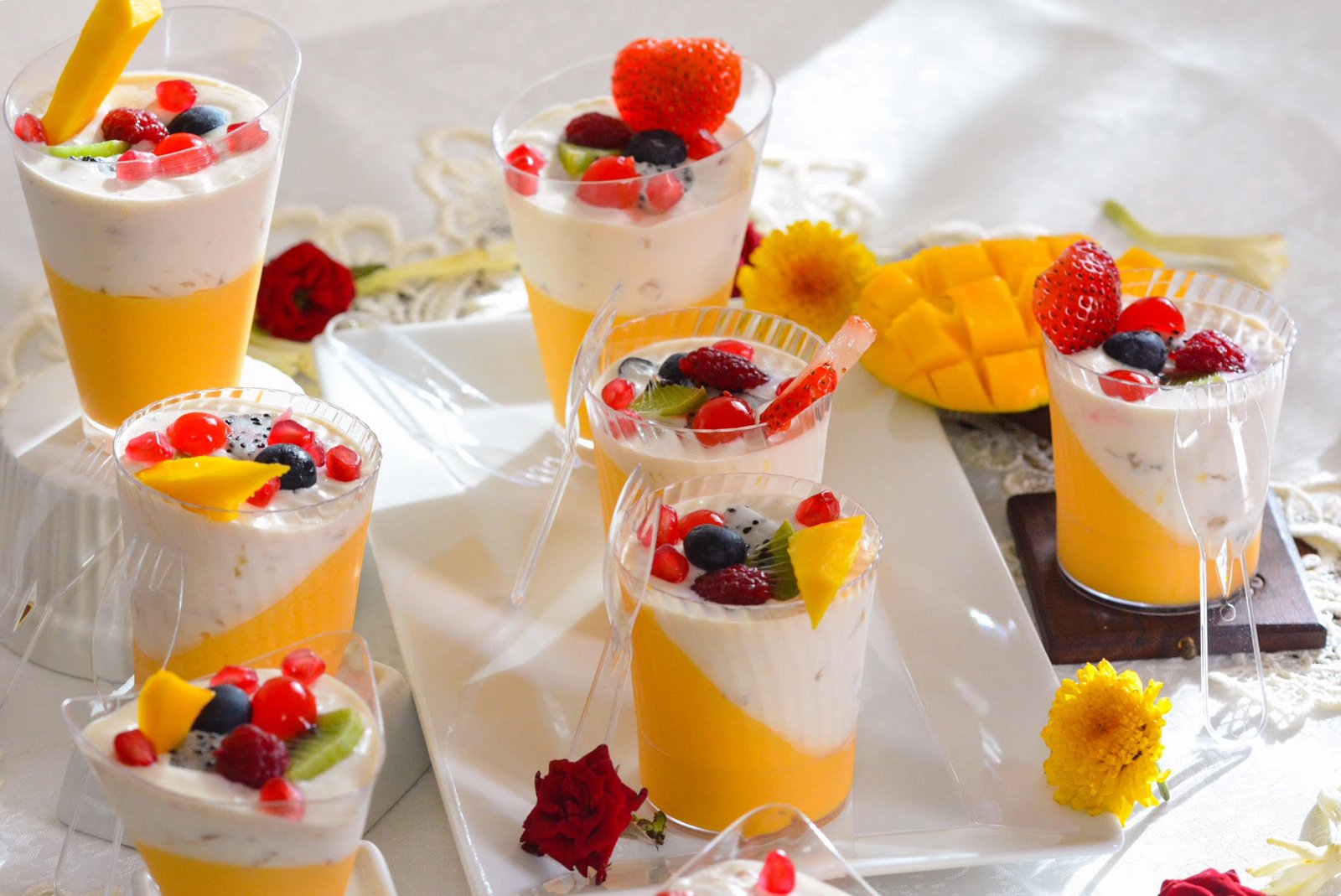 Mango Panna Cotta With Fruit Cream Recipe is a cooked cream dish which is thickened with gelatin and set in molds before serving. It is a popular Italian dessert.
Panna cotta is often served with a coulis of berries, or a sauce of caramel or chocolate. But instead of coulis or sauce, I gave the combo- Fruit Cream. And it just gelled so well. Agar-agar is a vegetarian version of gelatin that I have used here. I have used Alphonso mangoes but you can choose any non-fibrous variety of your choice.
This makes a nice dinner party dessert idea since it can be prepared before in hand and is served chilled. It tastes wonderful with ripe red cherries and other fruits.
Take a look at other Panna Cotta recipes that we have
Ingredients
Ingredients for Panna Cotta
1 cup

Mango Pulp (Puree)

1/2 cup

Double Cream

1/2 cup

Milk

, whole milk, full fat
2 teaspoons

Agar agar

, strands, chopped
3 tablespoons

Sugar

Ingredients for Fruit Cream
70 ml

Heavy whipping cream

Mixed fruits

, your choice, chopped to small pieces, I used a few slices of banana, apple, strawberry, blueberry and grapes, pineapple slices, few pomegranate pearls and a small piece of dragon fruit
How to make Mango Panna Cotta With Fruit Cream Recipe
Instruction to make Panna Cotta
To prepare mango panna cotta with fruit cream recipe, you have to start first by chopping the agar-agar strands into small pieces with the help of kitchen scissors and soak them in warm water for about 10 minutes.

Mix cream, milk, and sugar in a pan or saucepan and keep it on low flame. Keep on stirring at intervals while the cream mixture comes to a gentle boil and sugar gets completely dissolved.

Meanwhile, keep the agar-agar and water solution on low flame in another saucepan. Keep on stirring the agar-agar solution and let it cook till the agar-agar strands are dissolved.

When the cream, milk, and sugar mixture comes to a gentle boil, switch off the flame, and mix hot agar-agar solution with it and stir very well with a wired whisk.

Cook this mixture on low flame for about 5 minutes. At any point of time mixture should not come to a rolling boil; rather should be at a constant boil. Switch off the flame.

Peel and chop the mangoes and then make a smooth puree of the mangoes in a hand blender.

After about 10 minutes of keeping the milk and agar mixture off the fire, when it cools down a little, add the Mango puree.

Mix it well with the help of a wire whisk. The mixture should be smooth.

Now, pour this prepared warm Panna Cotta either into individual glasses/bowls or in any convenient dish/glass dish. You can tilt the glasses to have unique patterns or can set it in individual molds.

Once the panna cotta comes down to room temperature, keep the containers in the fridge for 4-5 hours.
Instruction to Make Fruit Cream
Whip the chilled whipping cream at the lowest speed possible until it's airy and fluffy. You can use a hand blender or stand mixer with whip attachment.

Switch off before the peaks appear on the cream. Whip for about 1-2 minutes.

Now add the flavored cream gently and whip it again at the lowest speed for 2-3 minutes.

Gradually add fruits to the whipped cream and switch off the whipping. Put away in the freezer for at least 2 hours.
Instruction to Assemble The Recipe
When the panna cotta is set fill the glasses with chilled fruit cream.

Decorate with some more fruits.

Serve Mango Panna Cotta With Fruit Cream Recipe chilled after keeping it in the freezer for a few more hours.
Notes
Remember to grease your molds if you want to take them out of the mold. This way the demolding will be easy and shall not disturb the pattern.

If you are preparing panna cotta and fruit cream together, put them away separately in the fridge for 5 hours and then you can lightly whip the fruit cream before arranging it on the set panna cotta and arrange the fruits. This will help in reducing the chilling time.