Mawa Gujiya With Badam and Pista Recipe
Perfect for Holi and Diwali, Gujiyas are delicious sweet snacks that are stuffed with Mawa or Khoya along with almonds, pistachios and baked in the oven. Serve it along with a glass of Thandai this festival.

Taruna Deepak
On

Monday, 26 February 2018 10:00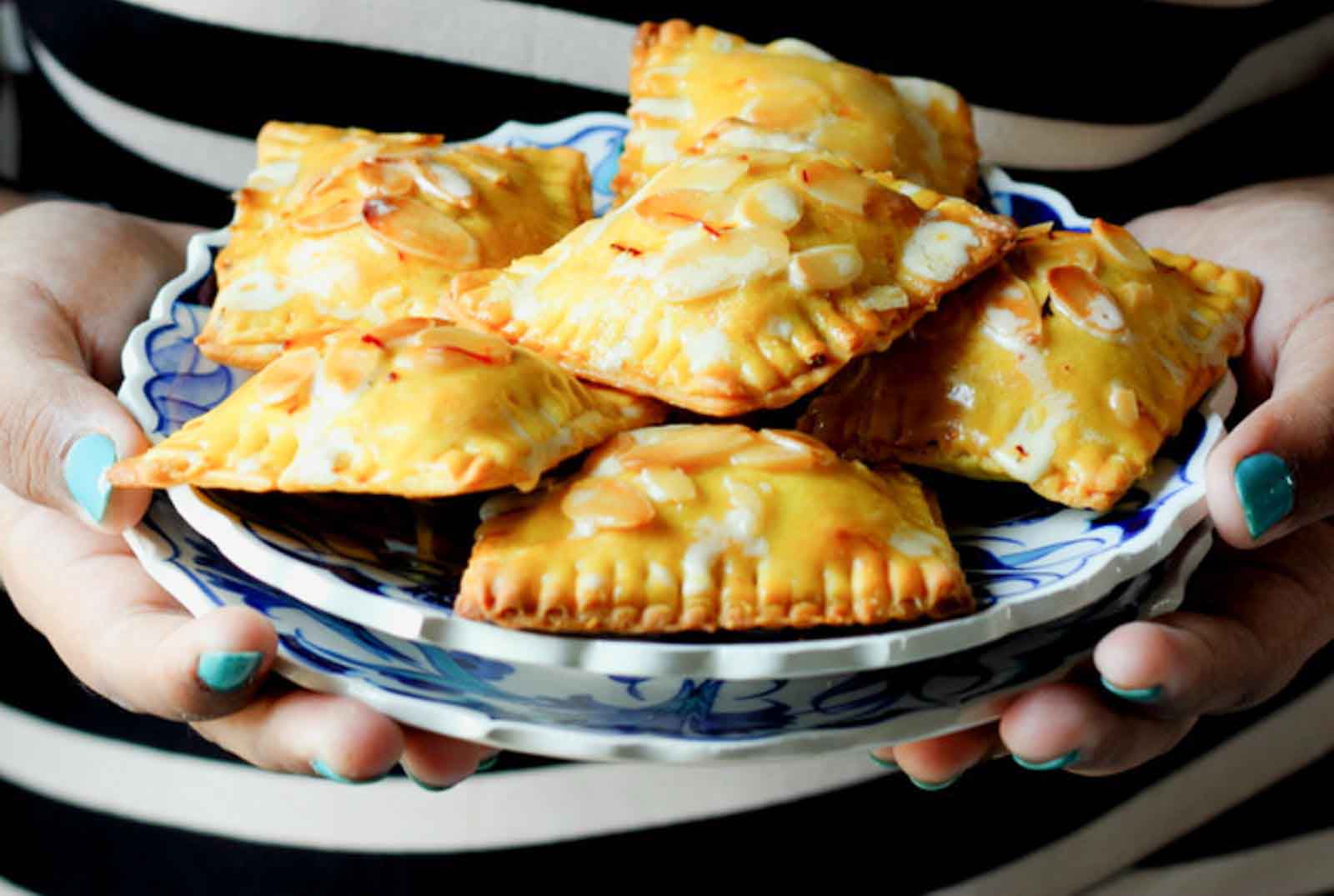 Gujiyas are delicious treats that are prepared during festive seasons of Holi or Diwali. They are usually semi circle shaped and are stuffed with different kinds of sweet and savoury fillings such as - coconut, moong dal etc.
But in this Mawa Gujiya Recipe, the dough is cut out in a square shapes and filled with khoya/mawa and nuts and then baked in an oven.
Serve the Mawa Gujiya during Holi or Diwali along with a glass of Thandai and with a delicious plate of Dahi Vada.
If you like this recipe of Mawa Gujiya, here are a few more Gujiya Recipes which you can serve for Holi Snacks:
Ingredients
For the dough
2 cups

All Purpose Flour (Maida)

1-1/2 tablespoons

Sooji (Semolina/ Rava)

1-1/2 tablespoons

Sugar

1/8 teaspoon

Baking soda

1/4 cup

Ghee

Water

, as needed
1/4 teaspoon

Saffron strands

1 tablespoon

Milk

, to soak saffron (warm milk)
For the filling
300 grams

Khoya (Mawa)

3 tablespoons

Dessicated Coconut

2 tablespoons

Whole Almonds (Badam)

, coarsely powdered
2 tablespoons

Pistachios

, coarsely powdered
1/3 cups

Sugar

1/4 cup

Milk

, or Egg as a wash for the pastry

Whole Almonds (Badam)

, chopped, for garnish
For the glaze:
1/4 cup

Sugar

1/4 cup

Water

Saffron strands

, a pinch
How to make Mawa Gujiya With Badam and Pista Recipe
To begin making Mawa Gujiya Recipe, add saffron to warm milk in a bowl. Set it aside for 15 minutes.

The next step is to make the filling for Gujiya. Crumble or grate the khoya/mawa. In a thick bottom pan add the khoya/mawa and roast it on low flame till it changes colour to light brown (approximately 25 minutes or so).

Next, add desiccated coconut and roast further for 2 minutes. Add almonds and pistachios to the khoya/mawa, mix well, remove from the heat and keep aside.

When the roasted khoya/mawa is still warm, add sugar and mix it well. Set it aside.

Be careful towards the end of the roasting process so that the khoya/mawa does not turn too dry. It should be moist yet a little brownish in colour)

Next, we will prepare the dough for Gujiya. While you wait for the khoya/mawa to cool, make the dough.

In a bowl, mix together maida, semolina, sugar and baking soda. Add ghee and start rubbing the flour mix with the tip of your fingers.

Add water gradually and as much as required to make medium soft dough. Knead the dough for 2 minutes until smooth.

Divide the mawa gujiya dough in two parts and make two neat balls. Set aside for half an hour covered with a moist cloth so that the dough does not dry out.

Finally, we will stuff the Mawa in Gujiya. Preheat the oven at 180 degrees C.

Thinly roll one ball and use a cookie cutter to cut out dough in the desired shape. Gujiyas are usually semi circle but you can also use a cookie cutter for different shapes.

Roll the dough in a rectangular shape. Trim the edges.

Cut it lengthwise wide enough to to place the mawa filling. Cut these rectangular strips further to a squares of equal size.

Line two baking trays with parchment paper. Place each cut out square dough on the baking tray at an inch distance.

Scoop one heaped teaspoon of cooled mawa filling in the centre of each square dough and cover with another layer of square dough cut out.

Seal the sides of the mawa gujiya all around by pressing the edges with a fork.

Repeat this process till all the gujiya dough is used and filled. Brush the top of the gujiya with milk or beaten egg and sprinkle flaked almonds.

Bake in the oven for approximately 15 minutes or till it begins to just turn golden brown. Remove from the oven and let them cool over a wire rack.

Alternatively, you can also prepare the square gujiyas with the filling and deep fry the gujiyas in oil.

Once the mawa gujiya is baked or fried, keep them aside.

To make the sugar syrup, add water to a saucepan and bring it to a boil.

Once the water has boiled, lower the heat, add the sugar and stir continuously. Once the sugar has melted completely, add the saffron mixture, give it a good stir for a minute and turn off the heat.

While the Mawa Gujiyas are warm, brush them with the saffron sugar syrup or you can even dip them in it.

Once the Mawa Gujiyas are completely cooled down, the syrup will add a nice glaze to them.
You may not need to add all 1/3rd cup of water mentioned in the ingredients. Add the water gradually till you have a medium soft dough.
Basting the pastry dough with egg or milk is purely optional. However, I recommend doing that coz it gives a nice golden color to the pastry.
Note: Adding saffron to the dough is also optional. But using it really took the taste of the pop tarts to another level.
Yield: 20 pop tarts