Menthi Vankaya Recipe - Andhra Style Fenugreek Spiced Baingan
Methi Vangaya is a stuffed baingan sabzi where brinjal is stuffed with spice powders and then fried until it becomes soft and crispy. Serve this delicious Baingan Ki Sabzi along with Sambar and Steamed Rice.
In association with Preethi Kitchen Appliances


Anusha Mallajosyula
On

Saturday, 17 March 2018 10:00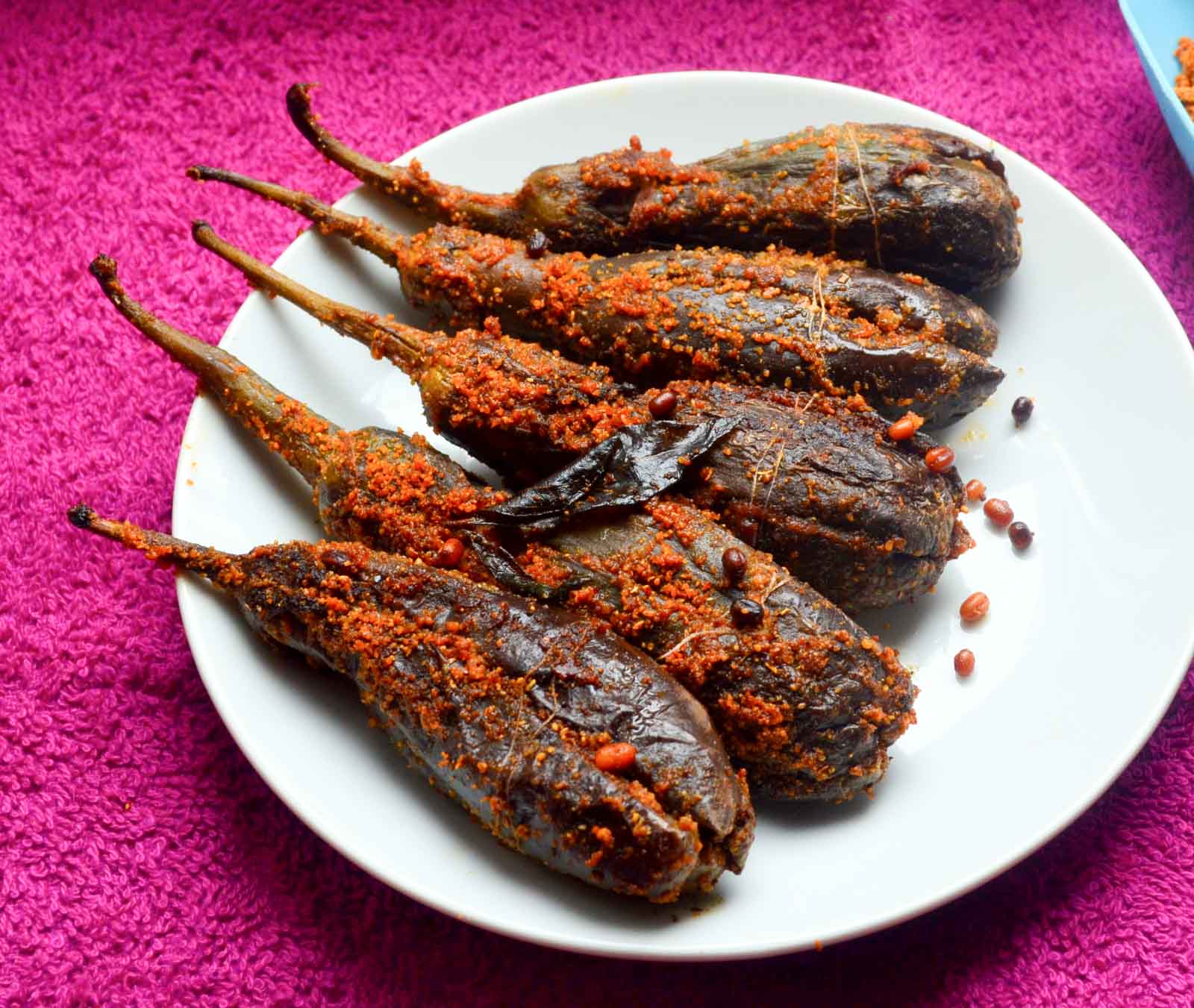 Menthi Vankaya is a South Indian Style Baingan Sabzi which is very popular among the Andhra Cuisine. No special occasion is complete without serving this scrumptious curry along with the entire meal. Baby brinjals are cooked with tamarind, cooled, stuffed with spice powder and fried.
You have to be very delicate while handling the brinjals not to break them apart. Process feels elaborate but is very simple to make and tastes divine. It is not exaggerating to say you'll crave for more even after you are full.
So if you are looking for South Indian Vegetarian Curries for Lunch, give this baingan sabzi a try.
Serve Menthi Vankaya along with Mixed Vegetable Sambar, Steamed Rice and Elai Vadam for a satisfying South Indian lunch with your family.
If you like this Baingan sabzi, you can also try other Baingan recipes for your vegetarian lunch such as
Ingredients
10

Small Brinjal (Baingan / Eggplant)

2 tablespoons

Tamarind Paste

, thick
1/4 cup

Water

Salt

, to taste
4 tablespoons

Oil

1 teaspoon

White Urad Dal (Split)

1 sprig

Curry leaves

For the menthi karam/spicepowder
2 tablespoons

Coriander (Dhania) Seeds

1 tablespoon

Chana dal (Bengal Gram Dal)

1 tablespoon

White Urad Dal (Split)

1 tablespoon

Sesame seeds (Til seeds)

1 teaspoon

Cumin seeds (Jeera)

1/2 teaspoon

Methi Seeds (Fenugreek Seeds)

3

Dry Red Chillies

, adjustable
2 tablespoons

Raw Peanuts (Moongphali)

, optional
How to make Menthi Vankaya Recipe - Andhra Style Fenugreek Spiced Baingan
To begin making the Menthi Vankaya recipe, in a pan, dry roast ingredients mentioned under methi karam/spice powder which includes coriander seeds, chana dal, urad dal, sesame seeds, cumin seeds, fenugreek seeds, dry red chillies and raw peanuts. This will take about 2 minutes.

Once everything is roasted well, cool it completely and grind into fine powder using a mixer grinder.

If you are adding peanuts, add them last after all the other spices are finely powdered. Otherwise, the powder becomes oily. Keep the powder aside to stuff in the brinjals.

Next, wash and pat dry the small brinjals thoroughly. Slit brinjals in such a way that you see an X at the base. Be careful not to slit open them completely.

In a bowl, add water with salt and immerse the brinjals in salt water for 5 minutes.

In a heavy bottomed pan, add half of the water, required salt and gently drop brinjals when water starts to boil. Make sure there is only one layer of brinjals. Do not put one brinjal over the other.

Cook covered until brinjals are 80% done. This will not take more than 6 to 10 minutes. Now, add tamarind paste. If there is not enough water left, add some more water.

Mix and cook for another 2 or 3 minutes until brinjals absorb all the salt and tamarind flavours. Remove from pan, cool them completely. Drain the remaining water.

In the meantime, take a regular sewing thread, measure the length equal to twice the diameter of brinjals and cut into 10 or 12 pieces.

After the brinjals are cooled down, stuff them with spice powder and wrap the thread around them gently. This ensures the spice powder does not come out while frying.

Heat oil in the same wide pan, fry urad dal until golden and add curry leaves. Fry until crisp and gently place stuffed and secured brinjals in the pan.

Fry the brinjals until they are completely cooked. Sprinkle the remaining spice powder on the top.

Turn the brinjals gently using a fork and and a spoon. Do not use a ladle as it may break the brinjals.

Once the brinjals are soft and cooked properly, remove the thread carefully and serve hot.

Serve Menthi Vankaya along with Mixed Vegetable Sambar, Steamed Rice and Elai Vadam for a satisfying South Indian lunch with your family
While securing with thread, there is no need to tie a knot. Keep in mind that the thread have to be removed after cooking. Just make sure that thread doesn't come out while cooking.