Mixed Vegetable Akki Roti Recipe

Neeru Srikanth
On

Wednesday, 14 December 2016 00:14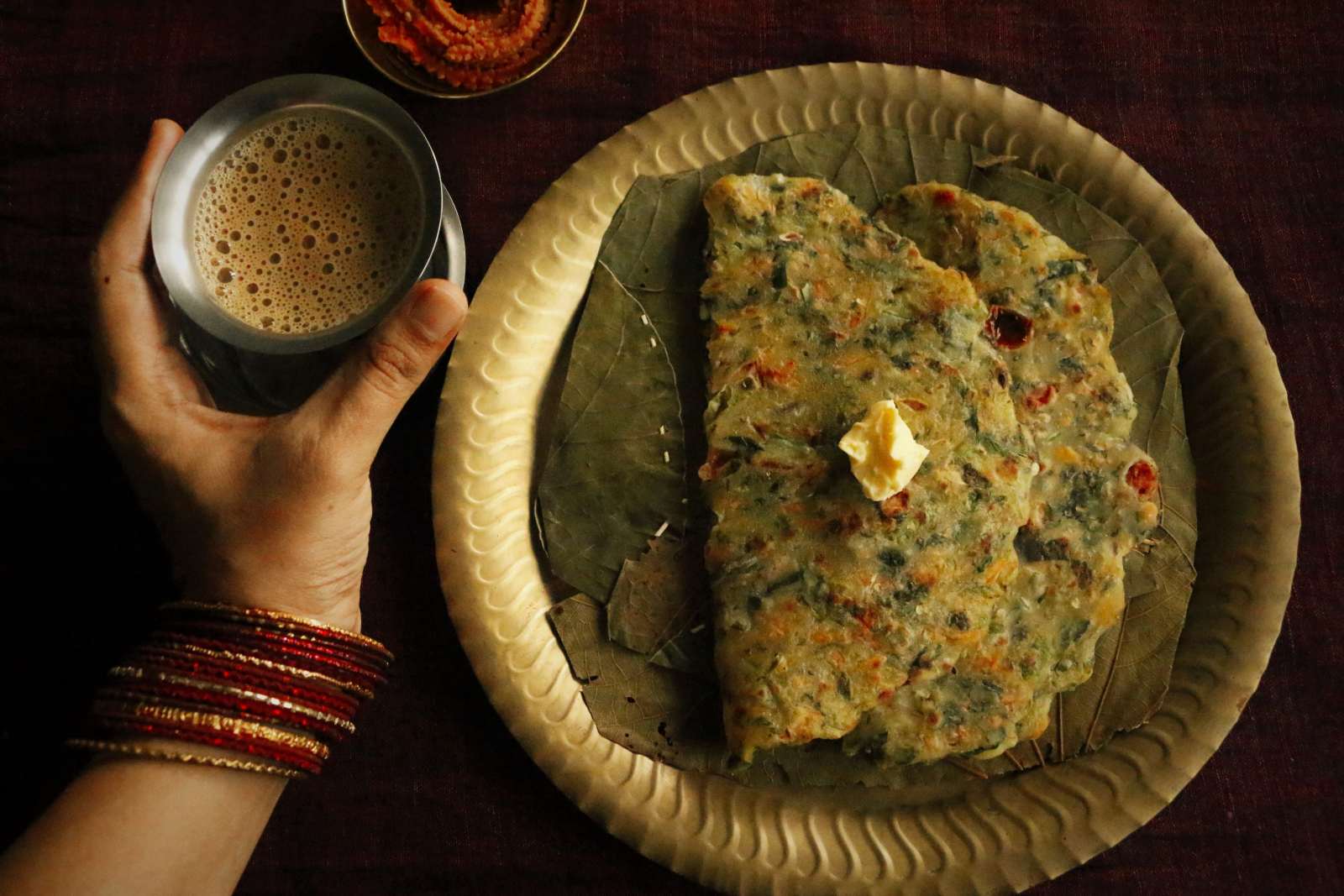 Mixed Vegetable Akki Roti is a famous recipe from Karnataka. The recipe in this article is a mix of all vegetables and greens which are slightly different from the regular akki roti. This dish cannot be mixed in advance or kept in the fridge since it tends to leave water. Hence you may cut the vegetables and keep them ready and mix it with rice flour and oils as and when needed. For kids, just omit the chili and the rest can be still the same. Mixed Vegetable Akki Roti is ideal for those who are following gluten-free diet.
Serve Mixed Vegetable Akki Roti with a dollop of ghee/butter or with podis.
Here are a few more flatbread recipes that are must try
Note: Any veggies, finely chopped or grated can be used to make the mix vegetable akki roti recipe. Just keep an eye on adjusting the moisture of the roti dough. It should be pliable and not mushy.
Course:
South Indian Breakfast
Ingredients
300 grams

Rice flour

1

Carrot (Gajjar)

, grated
1/4 cup

Chayote

, grated
1/4 cup

Cucumber

, grated
1/2

Green Bell Pepper (Capsicum)

, finely chopped
2 sprig

Curry leaves

1

Tomato

, small, deseeded and finely chopped

Green Amaranth Leaves

, small bunch finely chopped
2 teaspoons

Cumin seeds (Jeera)

,                                                                               Cumin seeds – 4 tsp
5

Green Chilli

, finely chopped (adjust)

Salt

, to taste

Oil

, as needed
How to make Mixed Vegetable Akki Roti Recipe
To prepare Mixed Vegetable Akki Roti Recipe, grate or chop all the vegetables required finely.

Mix Rice flour, a little oil, vegetables and cumin seeds. No water is needed unless that dough doesn't come together.Knead well until the dough is formed.

Oil your hands, pinch out a big lemon sized ball, take a butter paper or thick sheet like a zip lock and apply oil before you place the ball of dough on it.

Start making the akki roti by patting with your hands to make a roti flatbread as thin as possible.

Heat a roti tawa. Once hot, add a teaspoon of oil to it.

Take the akki roti with the butter paper sheet and put it on the pan and leave for a few seconds and gradually lift off the butter paper and removing the roti from it, such that it is transferred to the tawa. This may sound complicated but is easy once you do it.

Wait till the mixed vegetable akki roti is done on one side, which takes about a minute on medium high flame. Meanwhile, drizzle a few drops of oil evenly on the exposed side.

Flip the mixed vegetable akki roti and let it get cooked for a minute or more. Flip again and wait till done and crisp.

You can also place a lid on tawa while the roti is cooking if you want softer roti and not crisper ones. Serve Mixed vegetable Akki roti recipe with a dollop of ghee or butter, or with podis.