Mocha Panna Cotta Recipe

Madhuli Ajay
On

Saturday, 13 February 2016 00:59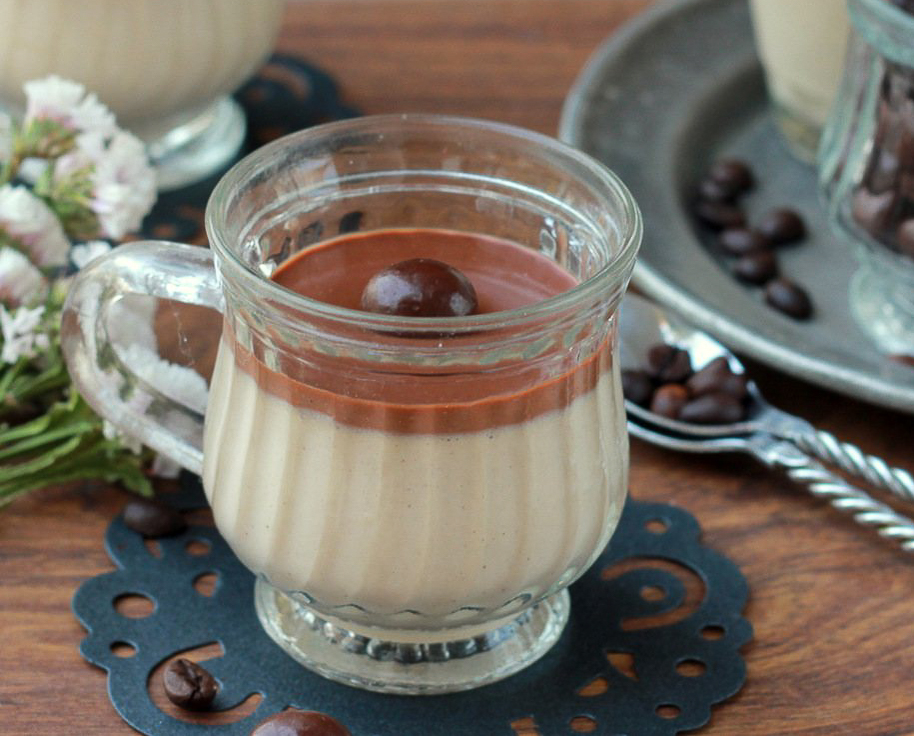 Panna cotta is a classic Italian dessert which literally translates to 'Cooked cream'. Even if the name sounds exotic, Panna Cotta is quite simple to make and uses very few ingredients. The classic Panna Cotta uses just cream, sugar, vanilla and gelatin and is served with a Berry sauce. It is a very versatile dessert and can be adapted to suit any taste or flavour. This creamy,silky, smooth Mocha Panna Cotta combines the Italian love for coffee and is served with a quick chocolate sauce! The Kahlua enhances the coffee flavour, but you can skip it if serving the Panna Cotta to children. Use good quality coffee as well as chocolate for best results. This Mocha Panna Cotta is an indulgent dessert, but a perfect end to a meal shared with your loved ones.
If you like this recipe, you can also try other Dessert recipes such as
Ingredients
For the Panna Cotta
1-1/2 cups

Fresh cream

1/2 cup

Milk

2 teaspoon

Gelatin

4 tablespoon

Sugar

4 tablespoon

Coffee Decoction

, freshly brewed (or 1-1/2 tablespoon instant coffee)
2 tablespoons

Kahlua

For the Chocolate sauce
1/4 cup

Heavy whipping cream

1/4 cup

Dark chocolate

, chopped
For Garnishing:

Dark chocolate

, Chocolate covered coffee beans for garnishing (optional)
How to make Mocha Panna Cotta Recipe
To begin making the Mocha Panna Cotta, sprinkle gelatine over the milk and leave it aside for 5-10 minutes.

In a saucepan, warm the cream and sugar. Cook on medium-low heat till the sugar dissolves, without allowing the cream to boil. Stir continuously.

Once the sugar has dissolved, add the coffee decoction and the soaked gelatin and milk mixture.

Stir and cook till all the gelatin crystals melt and dissolve completely.

Once well combined, take it off the heat, cool slightly and stir in the kahlua.

Filter the Mocha Panna Cotta mixture through a sieve, if required just to be sure that no gelatin crystals do not remain in the cream mixture.

Cool to room temperature and pour into cups, glasses or any moulds of your choice. Fill about 3/4th of the mould, leaving some space on top for the Chocolate sauce.

Refrigerate the Mocha Panna Cotta at least for 6 hours or preferably overnight and once set the Panna Cotta is ready to be served.

For the Chocolate sauce, warm the cream and pour over the chocolate in a heat proof bowl. Wait for a few seconds and mix gently till all the chocolate melts.

Once the chocolate melts, cool it to room temperature and spoon (about a tablespoon) over the set Mocha Panna Cotta.

Refrigerate Mocha Panna Cotta for at least half an hour, garnish with the chocolate coated beans (if using) and serve.