Moong Dal Halwa Recipe (Warm Lentil Pudding with Nuts and Spices)
Yellow dal pudding made with slivered almonds ghee & spices

Archana Doshi
On

Wednesday, 30 October 2013 15:31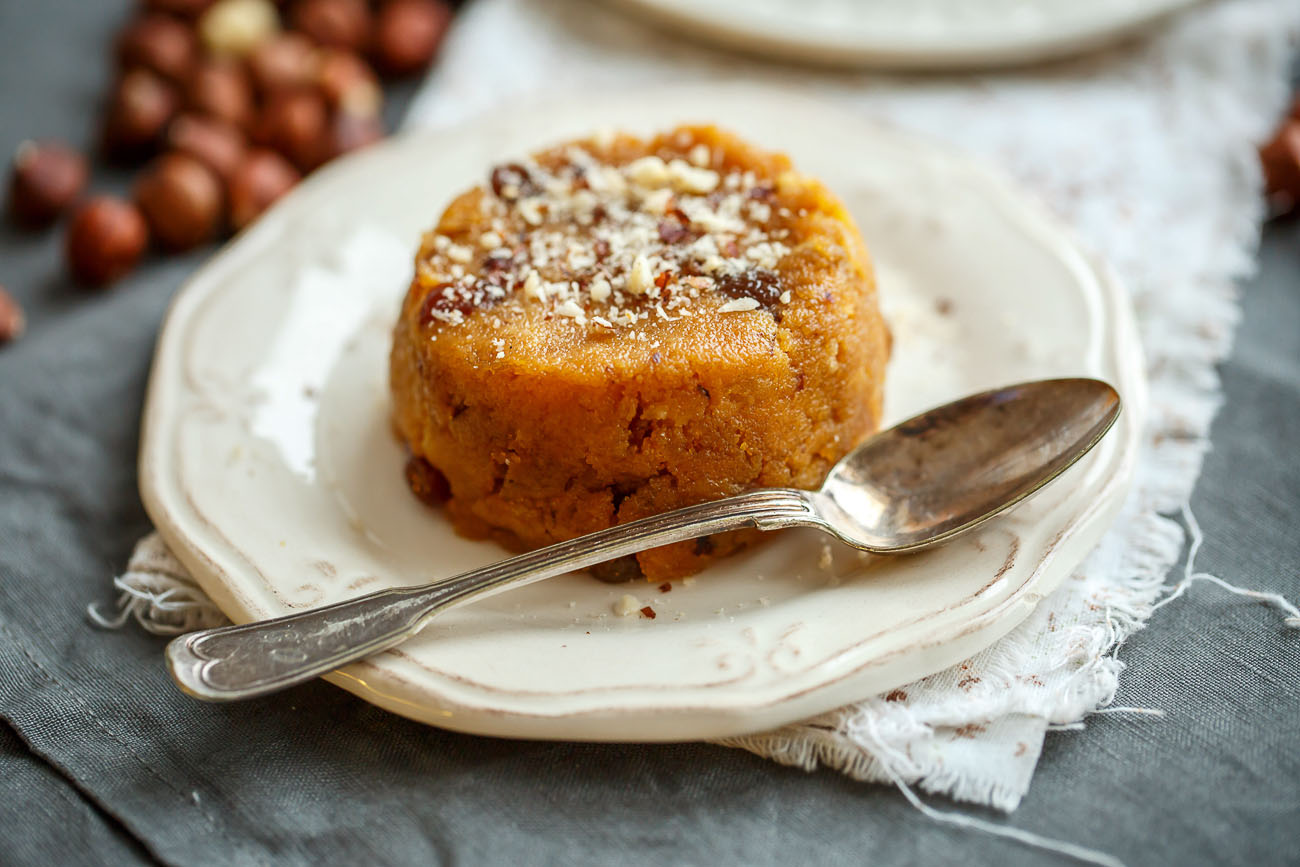 Moong Dal Halwa is a delicious lentil pudding that is made the roasted split yellow mung lentils that is then slow cooked in milk and ghee. Make this dish for a special occation or festival like Diwali or when you have a dinner party with an Indian Menu at home. It makes a perfect warm winter dessert as well.
The first time I had made this was when I was newly married and my in laws had come to visit me Boston for the very first time. Never in the slightest of my dreams would I have known that Moong Dal Nu Halwa was my father in laws most favorite of all the sweets. He relished it and praised it so much that it had become one of the most touching moments of my life. Come every winter the rich lentil pudding is made with much enthusiasm in many Gujarati homes as it is not only believed to keep the body warm but also a fantastic dessert for cold months of winter.
Serve Moong Dal Halwa Recipe (Warm Lentil Pudding with Nuts and Spices) as a dessert after a one pot meal of One Pot Spicy Vegetable Pulao Recipe with Coconut Milk or One Pot Vangi Bath Recipe.
If you like this recipe, try more recipes like
Ingredients
1 cup

Yellow Moong Dal (Split)

1 cup

Sugar

1 cup

Ghee

1/2 cup

Milk

1/4 cup

Slivered Almonds (Badam)

1/2 teaspoon

Cardamom Powder (Elaichi)

6

Saffron strands
How to make Moong Dal Halwa Recipe (Warm Lentil Pudding with Nuts and Spices)
To begin making the Moong Dal Halwa Recipe, soak the mung lentil in 2 cups of water for 3 hours. Drain the water and grind into a coarse mixture using the food processor adding just enough water for it to spin the processor.

Melt the sugar in 1-½ cups of water and boil it until it reaches a single string consistency in a saucepan. Warm the milk and soak the saffron in the milk allowing it to soften and release the flavor and color. You can optionally rub the saffron with your fingers in the milk for the color and flavor to get a more intense.

Heat ghee in a heavy bottomed pan on medium heat; add the ground lentil and reduce to the heat to low stirring the mixture continuously, allowing it to turn golden brown from its yellowish texture.

The above process of cooking the lentil in low heat is very crucial to a delicious tasting halwa. It takes a good half an hour for it to cook in the low heat and get to a beautiful golden brown state. Take care not to turn the heat to high to speed up the process.

The low heat cooking helps the lentil to cook well and turn brown evenly releasing the perfect rustic aroma.

Once the lentil is well cooked and reached a golden brown state; add the warm sugar syrup and saffron milk and stir to combine the mixture evenly.

Continue to stir on low heat until the mixture thickens releases itself from the sides of the pan; this process would take another 20 to 30 minutes. Turn off the heat and stir in the sliced almonds and serve hot.

Serve the Moong Dal Halwa as a dessert when you make elaborate lunches for your friends and family or during festive and special occasions or after a one pot meal of One Pot Spicy Vegetable Pulao Recipe with Coconut Milk or One Pot Vangi Bath Recipe.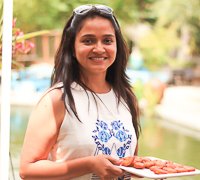 Archana Doshi is the founder of Archana's Kitchen. Archana launched Archana's Kitchen in 2007 as a way to keep track of her and family's recipes, and along the way grew it into one of the most popular cooking websites in the world. Archana is dedicated to helping home cooks be successful in the kitchen. Archana says "I hope you enjoy cooking recipes from my website where the sole effort is to make cooking simple for you. When you try out one of our recipes, we are longing to hear back from you. Do take your time to come back and share your comments, as your feedback means a lot to me"