Moong Dal Rasam/Pesara Pappu Charu Recipe (Lemon Infused Indian Lentil Soup)

Padma Veeranki
On

Saturday, 22 August 2015 07:02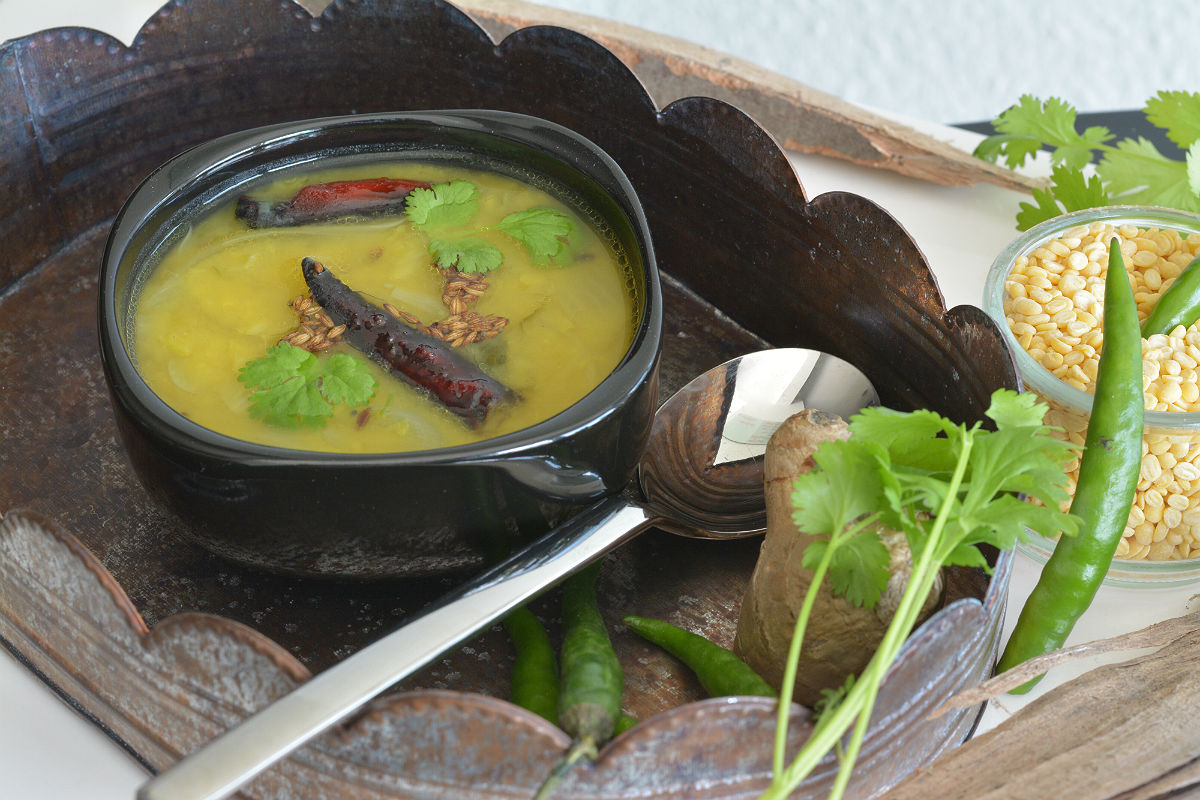 Pesara Pappu Charu Recipe also known as the Moong Dal Rasam is a very comforting and delicious lentil soup. The rasam has healing properties because the dal is infused with turmeric and cooked together with ginger, green chillies and coriander.
Rasam is a versatile dish and every region in South India has it's own twist. There are so many variations and possibilities to be creative with rasam. Moong Dal Rasam/Pesara Pappu Charu recipe uses neither pepper nor tamarind, but lemon juice right at the end to give that tangy hit. This rasam can be served as a warm soup during summer because it is known to keep the body cool.
Pesara Pappu Charu can also be served along with Vegetable of your choice, for a wholesome South-Indian meal.
Did you know: Apart from the ease of cooking it, split yellow moong dal is also very light to digest and easy on the system. Unlike other dals and pulses, moong dal has a low carb count. Most other dals, while high in protein come with high carbs, which are reduced in moong dal, so it is beneficial to increase the amount of moong dal in your diet.
If you like this recipe, you can also try other Dal recipes such as
Diet:
High Protein Vegetarian
Ingredients
1 cup

Yellow Moong Dal (Split)

1 teaspoon

Turmeric powder (Haldi)

2

Green Chillies

, slit length wise
1 inch

Ginger

, grated or cut into tiny chunks
1 sprig

Curry leaves

Salt

, to taste
1 tablespoon

Lemon juice

4 sprig

Coriander (Dhania) Leaves

, finely chopped
Ingredients For the Seasoning
1 tablespoon

Ghee

1 teaspoon

Mustard seeds

1 teaspoon

Cumin seeds (Jeera)

2

Dry red chillies

1

Asafoetida (hing)

, a generous pinch
1 sprig

Curry leaves
How to make Moong Dal Rasam/Pesara Pappu Charu Recipe (Lemon Infused Indian Lentil Soup)
To begin making the Moong Dal Rasam/Pesara Pappu Charu Recipe (Lemon Infused Indian Lentil Soup) first wash the moong dal thoroughly under running water. Repeat this 2 to 3 times.

Put the washed moong dal in a sauce pan along with 3 cups of water and the turmeric. Mix well, place over a medium heat and cook on a low heat until the dal is fully cooked. This may take about 15 minutes. You can also cook the dal in the pressure cook for 3 to 4 whistles and turn off the heat. Allow the pressure to release completely and the dal is ready for use.

Once the dal is cooked, it should be soft. Mash the dal up with a potato masher. Add the green chillies, ginger, coriander and curry leaves to it.

Add salt to taste, and place the saucepan on the heat. Simmer the rasam until the whole rasam mixture comes to a roaring boil. At any point, if you feel the rasam is too thick, add water as you go and continue to let it boil for about 10-12 minutes. Turn off the heat. Squeeze in the lemon juice and transfer to a serving bowl.

The next step, we will seasoning the Moong Dal Rasam/Pesara Pappu Charu Recipe. Heat ghee in a tadka pan over medium heat. Add the mustard seeds, cumin seeds and dry red chillies in quick succession.

Once the mustard seeds begin to crackle, add in the asafoetida, curry leaves and turn off the heat.

Pour the seasoning into the moong dal rasam. Stir and adjust salt to suit your taste.

Serve the Moong Dal Rasam/Pesara Pappu Charu along with Vegetable of your choice, for a wholesome south-Indian meal lunch or dinner.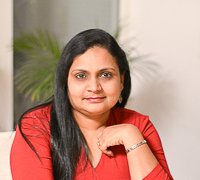 Padma is the voice behind MasalaKorb. She is a Biochemist by education and a full time blogger by passion. Her favorite quote "...no one is born a great cook, one learns by doing it" ― Julia Child.She loved travelling around the globe and exploring different cuisines. Her style is confined mostly to simple home cooking methods that are local and seasonal and keeping with authenticity. At Masalakorb you will discover recipes of Indian food with aromatic spices and herbs. It is her honest attempt to pen wonderful trivia through her posts and walk you through even the most basic recipes required in achieving that glorious Indian food that you have been craving for.