Murgh Malai Kebab Recipe - Chicken Malai Kebab
Make this Murgh Malai Kebab Recipe which is a creamy chicken kebab adapted from the Mughlai cuisine. The kebab has a rich creamy creamy taste along with earthy and aromatic flavours. It makes a great dish to serve for parties or even simply enjoy a delicious meal with your family along with chutney, herbed garlic bread, a chilled salad for a simple dinner.

Archana's Kitchen
On

Thursday, 15 December 2016 00:23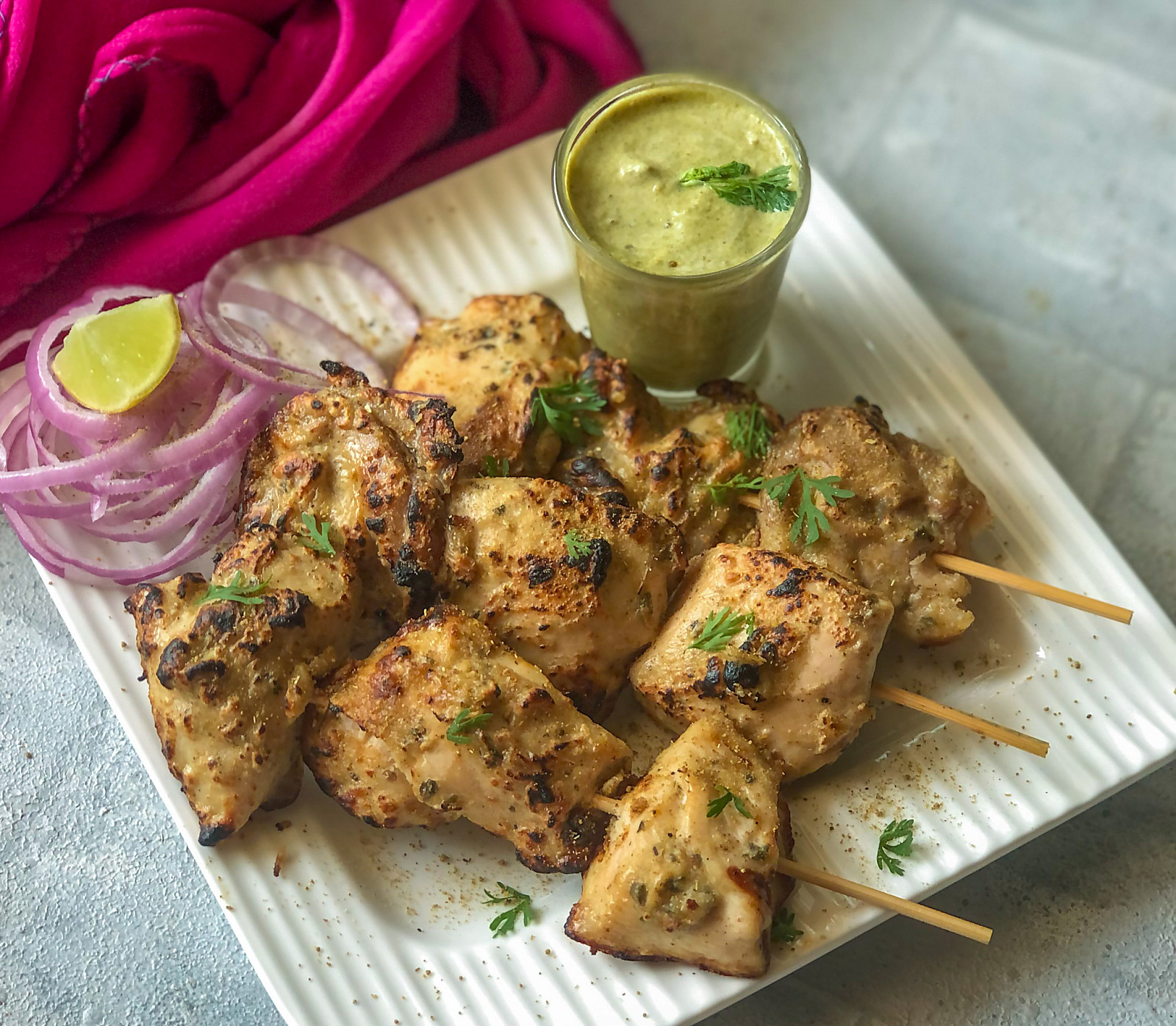 Murgh Malai Kebab Recipe is a rich creamy kebab recipe from the Mughlai cuisine. These melt in mouth Murgh Malai Kebab is dunked in a white margination of fresh cream, hung yogurt and cheese spread, with the addition of ginger- garlic-green chilli paste, further seasoned with some spice powders like nutmeg and cardamom lending their earthy notes to this royal dish.
Normally, these kebabs are made in tandoor over charcoal, however we have chosen an oven baking method and a surprise method of how one can add a smoky flavour to these kebabs.
Serve Murgh Malai Kebab Recipe as an appetizer along with Pudina Dahi Chutney Recipe and Lacha Pyaz Recipe
Here are few more Mughlai delicacies
Ingredients
400 grams

Boneless chicken

, cut into two inch cubes
To be ground into paste
2 inch

Ginger

8 cloves

Garlic

2

Green Chillies

For the marination
2 tablespoons

Fresh cream

2 tablespoons

Britannia Cheese Spread - Asli Pepper

2 tablespoons

Hung Curd (Greek Yogurt)

1/2 teaspoon

Cardamom (Elaichi) Pods/Seeds

1 teaspoon

Garam masala powder

1/2 teaspoon

Nutmeg powder

1/4 teaspoon

White pepper powder

1 tablespoon

Lemon juice

1 tablespoon

Corn flour

1 teaspoon

Kasuri Methi (Dried Fenugreek Leaves)

Salt

, to taste

Butter (Salted)

, for basting
How to make Murgh Malai Kebab Recipe - Chicken Malai Kebab
To begin making the Murgh Malai Kebab Recipe, prep all the ingredients for the marinade and keep it ready. Wash and pat dry the chicken too and set aside.

Make a paste of the ginger, garlic and green chillies. You could optionally add 2 tablespoons of water to blend into a paste.

To marinate the chicken, in a large mixing bowl, combine the fresh cream, hung curd, cream cheese, salt, ginger garlic and green chilli paste, garam masala powder, cardamom powder, nutmeg powder, white pepper powder, lemon juice, corn flour and kasuri methi. Mix well.

Add in the boneless chicken cubes and mix well until the chicken is evenly coated. Cover the bowl and set aside the Murgh Malai Kebab to marinate for a minimum of 3 hours. You can also refrigerate it for a longer time.

To bake in the oven, preheat the oven to 200 degree celsius for 10 minutes. Line a baking tray with aluminium foil, grease generously with oil.

Arrange the Murgh Malai Kebab in skewers, place them on the baking tray and bake for 10 minutes.

After 10 minutes, baste the Murgh Malai Kebab with butter and remaining marinade if any. Flip and bake for another 10-15 minutes or until done.

Remove from the oven when almost done. Turn on the flame on your gas stove, hold the skewers over the flame, for a slightly roasted and smoked flavour and colour.

Serve hot Murgh Malai Kebab Recipe as an appetizer along with Pudina Dahi Chutney Recipe Dip and Lacha Pyaz Recipe