Mushroom And Quail Egg Gougere Recipe
A choux pastry that is filled with sauteed mushroom and boiled quail egg.

Bhavita
On

Wednesday, 26 October 2016 00:27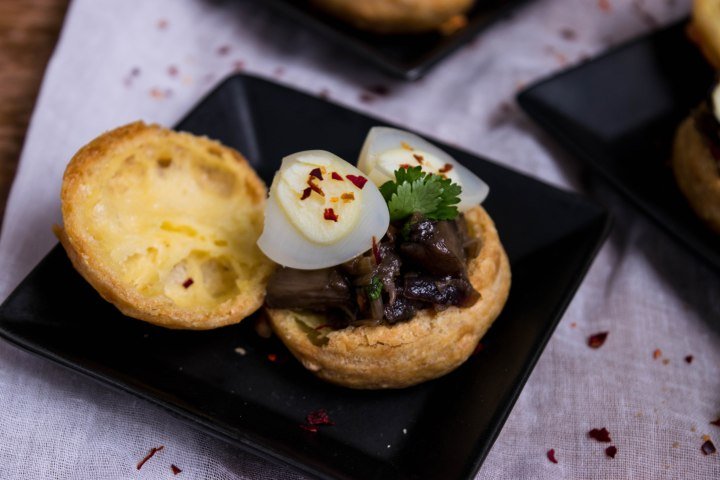 Gougeres, quintessentially French, is basically choux pastry or cheese puff. These can be had on their own and make quite a delicious snack but the addition of mushrooms and quail eggs takes it a notch further and also makes it quite filling.
Serve Mushroom And Quail Egg Gougere on its own as a snack for your house parties along with a glass of Pomegranate Mint Cocktail .
If you like this recipe, you can also try other Mushroom recipes such as :
Ingredients
For the choux pastry
100 grams

All Purpose Flour (Maida)

2

Whole Eggs

70 grams

Butter

Water

, as required
50 grams

Cheddar cheese

, grated
For the filling
400 to 500 grams

Button mushrooms

Butter

, as required
1

Onion

5 to 6 cloves

Garlic

Salt

, as required
1-1/2 teaspoon

Soy sauce

1 teaspoon

Balsamic Vinegar

5 to 6

Spring Onion (Bulb & Greens)

2 to 3 teaspoons

Red Chilli flakes

4 sprig

Coriander (Dhania) Leaves

2

Quail eggs

, as required (optional)
How to make Mushroom And Quail Egg Gougere Recipe
To begin making the Mushroom And Quail Egg Gougere recipe, preheat oven to 220 C. Lightly grease a baking tray with butter or baking spray and keep aside.

In a saucepan, add water and butter and heat gently till the butter melts. Bring to a rolling boil and take the saucepan off the heat. Immediately add the flour, all at once, beating well (I used a wooden spoon for this) until the mixture forms a ball. Keep aside to cool slightly.

Once the flour mixture has cooled, add the eggs one at a time, beating well after each addition. It will take a little time for the egg to mix in with the flour mixture, just keep at it, till you have a smooth mixture. Add the cheese and stir to mix.

Lightly sprinkle the baking tray with a little water. Place (lime size) spoonful's of the mixture on the baking tray.

Bake in the preheated oven for 30-35 minutes or until the gougeres are nicely brown and crisp.

Remove from the oven when done and slit each one to let the steam escape. Let the gougeres cool before filling.

Clean and cut the mushrooms. Chop the onions and garlic, slice the green onions, and keep aside.

Heat the butter in a wok, add the onions and sauté till it starts to change colour, then add the garlic and sauté for a minute or so, then add the mushrooms. The mushrooms will release water, cook till the liquids have almost dried up.

Add salt, soy sauce, balsamic vinegar, chili flakes and green onions. Further cook till the liquids have dried up completely. Add chopped fresh coriander.

To boil quail eggs (if using), put eggs in boiling water for one minute. Remove, cool slightly and peel.

The next step is to assemble the dish. Cut the gougeres in half, spoon mushrooms on one half, top with quail eggs, whole or cut in half (if using). You can either cover the gougere with the other half or serve open faced. Sprinkle some salt and chili flakes on the eggs if you like.

Serve Mushroom And Quail Egg Gougere on its own as a snack for your house parties.