Nellikai Chitranna Recipe (Gooseberry-Amla Rice)
Lipsmacking amla recipe for maincourse

Priya Chandrasekaran
On

Monday, 08 April 2013 16:50
Nellikai Chitranna Recipe is a super easy and delectable dish that is loaded with the goodness of gooseberries also known as amla. The sourness of the gooseberries along with chillies, peanuts, sesame oil when mixed along with rice, makes it a perfect one dish that can be packed into a lunch box along with buttermilk and papads.
Did You Know: Amla, can be partially attributed to its high vitamin-C content. Amla enhances food absorption, balances stomach acid, fortifies the liver, nourishes the brain and mental functioning, supports the heart, strengthens the lungs, regulates elimination of free radicals, enhances fertility, helps the urinary system, increases skin health, promotes healthier hair, acts as a body coolant, flushes out toxins, increases vitality, strengthens eyes, improves muscle tone and, acts as an antioxidant. Gooseberry contains chromium, which has a therapeutic value for diabetic patients. Indian Gooseberry stimulates the isolated group of cells that secrete the hormone insulin, thereby reducing blood sugar in diabetic patients and keeping their body balanced and healthy.

Serve Nellikai Chitranna along with Boondi raita during festivals or for a weekday dinner.
If you like this recipe, you can also try other Rice recipes such as
Ingredients
2 cups

Cooked rice

, grainy in texture
2 tablespoons

Sesame (Gingelly) Oil

2 teaspoon

Mustard seeds

2 teaspoon

White Urad Dal (Whole)

1 sprig

Curry leaves

1/4 teaspoon

Turmeric powder (Haldi)

2 tablespoons

Roasted Peanuts (Moongphali)

Salt

, to taste
1 teaspoon

Methi Powder (Fenugreek Powder)

Ingredients to grind into a paste
10

Amla (Nellikai/ Gooseberry)

4

Dry red chilli
How to make Nellikai Chitranna Recipe (Gooseberry-Amla Rice)
To begin making the Nellikai Chitranna Recipe (Gooseberry-Amla Rice), wash the nellikai, dry them well with a towel. Cut into 2 inch pieces removing the seeds along the way.

Note: Methi powder can be prepared by dry roasting 2 tablespoons of methi seeds and then grinding it into a fine powder. This powder can be stored in an airtight container for a few days.

Blend the dry red chillies along with the chopped nellikai (gooseberries) until it forms a paste without adding any water.

In a wide heavy bottomed pan, heat the oil and add the mustard seeds. After it crackles, add the urad dal and roast until light brown. Add in the curry leaves and the turmeric powder and saute for a few seconds. Then add the peanuts and roast them for a couple of minutes.

Now, add the nellikai red chilli mixture. Stir to combined all the ingredients well. Turn the heat to low and stir well for another 10 minutes until the rawness from the nellikai goes away.

Finally, add the roasted methi powder, rice, salt to taste and combine all the ingredients well. Cover the pan and simmer on low heat for a couple of minutes. Turn off the heat and allow the mixture to rest for about 5 minutes before serving. Optionally top it with a tablespoon of sesame oil and serve.

Serve the Nellikai Chitranna (Gooseberry-Amla Rice) along with papads and other main course dishes for lunch or even pack it into a lunch box with some buttermilk.

Serve Nellikai Chitranna along with Boondi raita during festivals or for a weekday dinner.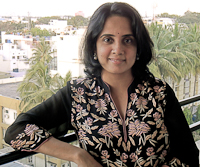 "The journey of cooking has been a wonderful learning process for me, till this moment. It was all trial & error when i started off". Priya loves cooking and her family & friends love her masterpieces.Her culinary experiments have no geographical boundaries, be it, Indian/Italian/American/ Mexican or Thai. To Priya, it's all about crafting a dish with lots of love in it.