Nigella Seed Beetroot Rice Recipe
This Beetroot rice is perfect for days when you want to eat some delicious but easy to make.

RUBY PATHAK
On

Friday, 26 January 2018 10:00
The purple roots of the superfood vegetable, beetroot is consumed as salad, soup, stir fried and in curries all over the world. Cooking healthy recipes with a touch of the spice, Nigella seeds when combined with the beetroot and then mixed with rice adds to the essential vitamins and freshness to the dish. Here is a meal prep idea for kids that you can pack for their lunch. The sweetness of beetroot and the dark pink coloured rice is the main attraction for your kid to finish in no time. When extra chillies are added to the main recipe the whole family will love the mild spicy yet simple cooking of yours.
Did you know: Nigella Seeds or Onion Seeds or Kalonji Seeds are an South Asian Spice that is mostly used in flavouring of curries, rices and salads. They have an onion-peppery taste which adds great flavour to any dish that it is added to. Onion seeds come with a whole host of benefits including that of managing diabetes, fights acne, increases memory power, alleviates asthma and also aids in weight loss.
Be sure to buy Nigella seeds that are jet black in colour. Spices must always be bought in small quantities and stored in air tight containers away from moisture.
Serve Nigella Seed Beetroot Rice along with Tomato Onion Cucumber Raita, Tadka Raita or any other raita of your choice.
If you like this recipe, you can also try other Rice recipes such as
Ingredients
2 cups

Basmati rice

, cooked
2 cups

Beetroot

, finely grated
1 teaspoon

Kalonji (Onion Nigella Seeds)

1/2 teaspoon

Turmeric powder (Haldi)

1/8 teaspoon

Black pepper powder

1

Green Chilli

, finely grated
1 teaspoon

Cooking oil

1 cup

Water

Salt

, to taste

Coriander (Dhania) Leaves

, for garnish (chopped for garnish)
How to make Nigella Seed Beetroot Rice Recipe
To bgein making the Nigella Seed Beetroot Rice recipe, firstly cook the rice and keep it aside. Let it cool down.

Heat a heavy bottomed wok with oil, add half the nigella seeds and the green chillies.

Add the beetroot and salt, toss it well for 2 minutes.

Pour the water and bring to a boil then reduce to low heat and cover to cook the vegetable.

Stop the flame when few spoons of water is left in wok. Add the cooked rice, mix it well and let it cook for 2 minutes. Check for seasoning.

Serve warm on dinner plate with coriander leaves, black pepper and half of nigella seeds on top for garnish.

Serve Nigella Seed Beetroot Rice along with Tomato Onion Cucumber Raita, Tadka Raita or any other raita of your choice.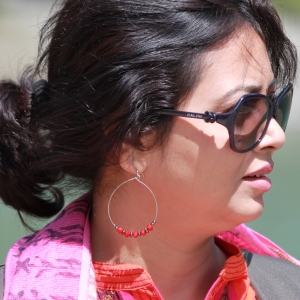 Apart from being a co-director for our online fashion brand I am one self taught and passionate recipe developer. My family and friends love my cooked recipes for the last 20 years both when I was staying abroad and also at present in my homeland. My mission is to make cooking fun and make it better, beautiful, simple, tasty, healthy using organic ingredients. Finally turn my hobby to a career for the rest of my life which at present is my dream food business, TASTY FUSION. I am really thankful to my parents and family for inspiring and supporting me. Grateful to food networks of USA,AUSTRALIA AND INDIA to feed my passion and bring it to life. Online Recipe Websites, recipe books, Magazines are fresh air that fuel my hobby and creativity. Love to innovate,experiment recipes from world cuisine. Yoga, Gym Workout, Travel, Home making, Music are few of my interests. I just love my Life. For collaboration and information,please contact me at: ruby_pathak@yahoo.com Appreciate your interest in my page.