Sometimes simple food is all you need to satisfy your appetite. A dish that requires less cooking techniques will always help you to pack better for your everyday lunch box. This will in turn create less confusion and makes you think better to pack healthy and at the same time delicious too. To ease your everyday worries on packing hot food, Archana's Kitchen has come up with a Healthy Lunch Box Plan. But to pack warm meals for the lunch is a huge task so here we have found a solution that can keep your food warm till you dive to open to see what is inside. When we don't have microwaves to heat the food at work, these Vaya Tyffyn carrier will keep your food hot, exciting and delicious to eat as well. All you need to ensure is you pack the food piping hot into the Vaya Tyffyn and you will have a warm comforting meal for lunch.
In today's Lunch Box meal we have packed a simple, yet wholesome recipe made by stir frying the broccoli and potato separately and tossed it with the basic set of condiments.The Indian subzi is accompanied along with some tawa parathas and fresh grapes.
Pack your yummy kids lunch box meal in a more sophisticated way in a Vaya Tyffyn. These lunch boxes are leak resistant and keeps your food warm and fresh.
1. Broccoli And Aloo Poriyal Recipe (Broccoli & Potato Stir Fry)
Stir frying the vegetables, brings out the fresh taste and in addition retains the nutrients present in both of these super foods. Broccoli is filled with Vitamin C that helps in detoxification.You can also add a combination of vegetables like carrots and potatoes, green beans and sweet potato etc., If you are looking for more vegetable recipes here are some :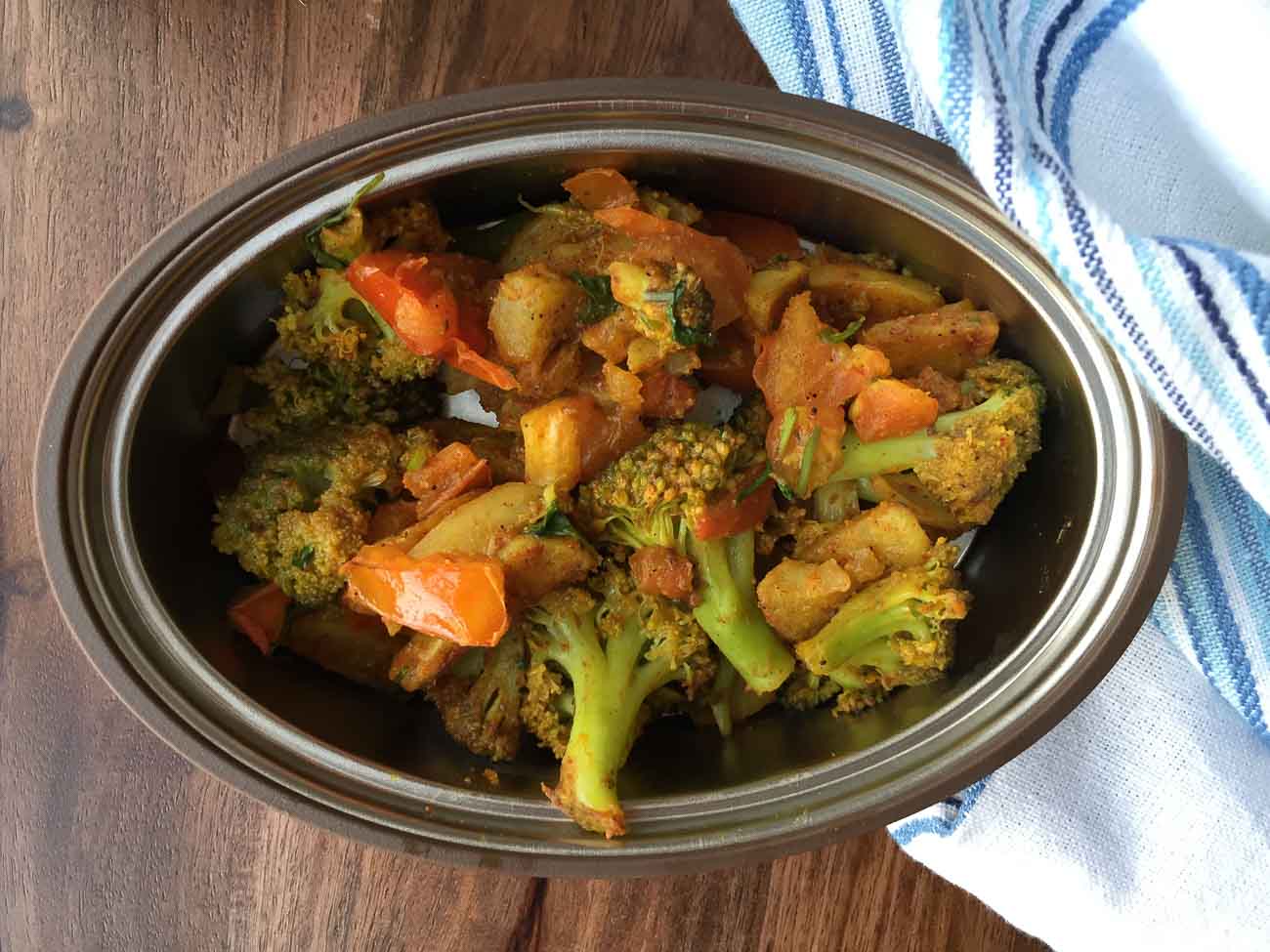 2. Tawa Paratha & Grapes
Tawa Paratha makes a great substitute for puris and is the best to pack for most of the lunch box as it will remain fresh and not turn soggy. We have also added fresh fruits into your diet to keep the nutrients up and helps to refresh your palate. You are free to pair it up any sort of seasonal fruits of your choice.