Orange Zested Shortbread Cookie Recipe (Egg Free/Eggless)

Archana's Kitchen
On

Sunday, 27 September 2015 00:04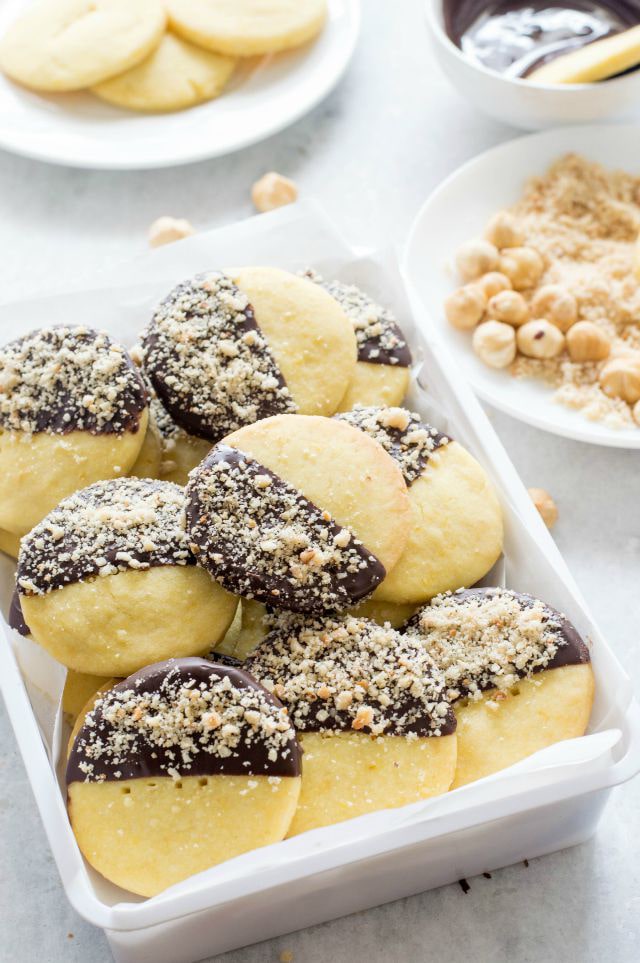 Orange Zested Shortbread Cookies Recipe makes a rich, melt-in-the-mouth kind of cookie that is everybody's favourite! These cookies can be prepared with minimal number of ingredients. They're versatile and form the base for many variants. In addition, this recipe is eggless/egg-free making it easier for vegetarians to consume too. This recipe uses the winning combination of orange and dark chocolate, but you can also flavour and shape them as you desire to make them apt for many occasions.
Serve Orange Zested Shortbread Cookies Recipe (Egg Free/ Eggless) with Masala tea recipe and Baked Mathri.
Did you know: Dark chocolate is packed with so many nutrients to positively impact health, that it is now called a superfood. Made from the seed of the cacao tree, it is one of the best sources of antioxidants and pure dark chocolate (not to be mistaken with sweetened milk chocolate) can lower the risk of heart disease. Also loaded with healthy substances like flavonoids and theobromine, dark chocolate with at least 70% (or higher) cacao (or cocoa, which is cacao in its roasted, ground form) has the potential to lower blood pressure, improve blood flow, raise HDL (good cholesterol) and prevent LDL (bad cholesterol) from oxidation.
Here are a few more cookie recipes that you might be interested in:
Ingredients
2 cups

All Purpose Flour (Maida)

1/4 teaspoon

Salt

1 cup

Butter (Unsalted)

, at room temperature
1/2 cup

Caster Sugar

1 teaspoon

Vanilla Extract

1 teaspoon

Orange Zest (Rind)

For the covering
200 grams

Dark chocolate

, semi sweet
1/2 cup

Hazelnut

, slightly toasted and powdered (or cashew nuts)
How to make Orange Zested Shortbread Cookie Recipe (Egg Free/Eggless)
To begin making the Orange Zested Shortbread Cookies, in a bowl mix flour and salt and keep aside.

In a large mixing bowl, add softened butter and sugar using a hand mixer until the mixture looks smooth and fluffy. Add the vanilla extract and the orange zest and beat in.

Gradually add the add the flour and mix just until incorporated.

Once you have a cookie dough mixture, shape the dough into a ball and flatten it into a 1/4 inch thick disk. Place it on a baking sheet, wrap the Orange Zested Shortbread Cookie Dough in a cling wrap. Place it in the refrigerator for at least an hour and allow the cookie dough to firm up. This process is important, as this process will make the cookie have a perfect texture once baked.

After an hour, when you are ready to bake the cookies, preheat the oven to 180 C.

Remove the cling wrap and place the cookie dough in the oven to bake.

Bake until the cookies are golden in color for about 15 to 20 minutes. Once baked, remove from the oven and allow it to cool on a wired rack.

The next step is to make the Chocolate Dipping Sauce.

Finely chop the chocolate and melt it using a double boiler method or in microwave. Keep stirring intermittently until all the chocolate is melted.

Dip one end of cooled cookies into the chocolate and sprinkle powdered hazelnut or cashew nut on both the sides. Place on a wired rack and allow the chocolate to set. Once chocolate hardens store in a air-tight container.

Serve the Orange Zested Shortbread Cookies as a tea time snack for tea parties or even as a snack for kids.