Palak Paratha Recipe-Spiced Spinach Flatbread

Archana Doshi
On

Monday, 18 August 2014 14:19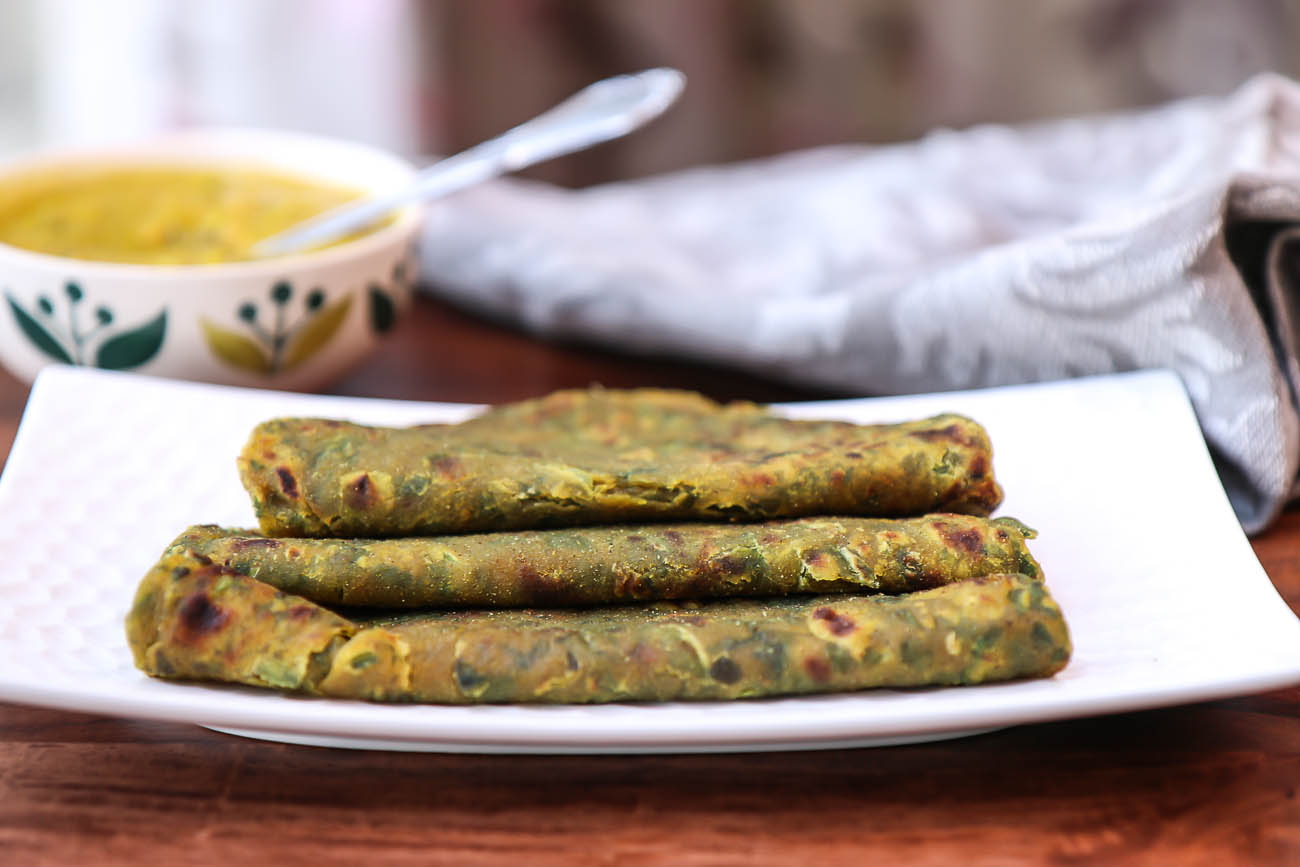 The Palak Paratha Recipe is one of those recipes that is simple, nutritious and super tasty. I learnt this recipe from my mother in law. I have had so many different versions of the paratha, over the many years, but her recipe stood out. The secret ingredient is Saunf (fennel seeds) that adds to the additional flavor and taste and not to miss out the green chillies.
Did you know: Spinach is one the many green leafy vegetables that have been recommended by nutritionist over the years to avoid the risk of developing diabetes. Know more
Do give the recipe of Palak Paratha a try in your kitchen. It makes a great lunch box for kids when smeared with jam or sweet lime pickle.
You can serve the Palak Paratha for dinner along with Batata Nu Shaak or Baingan Bharta or any other Dry Vegetable or Vegetables in Gravy combination.
Here are more types of paratha recipes you can try
Course:
North Indian Breakfast
Ingredients
200 grams

Spinach Leaves (Palak)

, washed and finely chopped
2

Green Chillies

, optional
2 cups

Whole Wheat Flour

1 teaspoon

Fennel seeds (Saunf)

, roasted and coarsely pounded
1 teaspoon

Turmeric powder (Haldi)

1 teaspoon

Cumin powder (Jeera)

Salt

, to taste

Black pepper powder

, to taste

Ghee

, for smearing (optional)
How to make Palak Paratha Recipe-Spiced Spinach Flatbread
To begin making the Palak Paratha recipe, in a large bowl combine all the ingredients and knead adding little water at a time to make firm and smooth dough. Add one tablespoon of oil to coat the dough and knead again. Cover and set aside for 15 minutes.

Knead once again and divide the dough into 8 portions. Preheat the iron skillet on medium heat.

Roll the dough portions into balls and flatten them with the palm of your hand. Toss them in flour and roll them out into circles of approximately 3 inches in diameter. Drizzle a little ghee and spread it on the rolled dough.

We need to get a triangle shape, to do so, first fold into a semi-circle, then fold the semi-circle into half again. You get a mini triangle shape. Tossing the triangle in a little flour, roll it out gently into a big triangle. Continue the same process of rolling with the remaining dough portions.

With skillet on medium high heat, place one rolled out palak paratha on the skillet. After a few seconds, you will notice air pockets popping out. At this point flip the palak paratha and smear about 1/2 a teaspoon of ghee. Using a flat spatula do a light pressing and turning motion to cook to the paratha.

Flip to the other side and press and turn the paratha in a similar way. You will notice brown spots around the parathas and it will be slightly crisp. Remove from heat and place on a platter or serve hot.

Continue the similar process with the remaining rolled portions and stack the cooked paratha one above the other and serve hot.
No Oil Method
You can skip smearing paratha with oil for cooking, instead cook it directly over the flame like Chapati until the paratha is fully cooked from both the sides. Serve the paratha hot with Raita and Chutney.

Serve the Palak Paratha for dinner along with Batata Nu Shaak or Baingan Bharta or any other Dry Vegetable or Vegetables in Gravy combination.