Pan Fried Rice Balls Filled With Cheese Recipe

Karthika Gopalakrishnan
On

Friday, 13 May 2016 00:39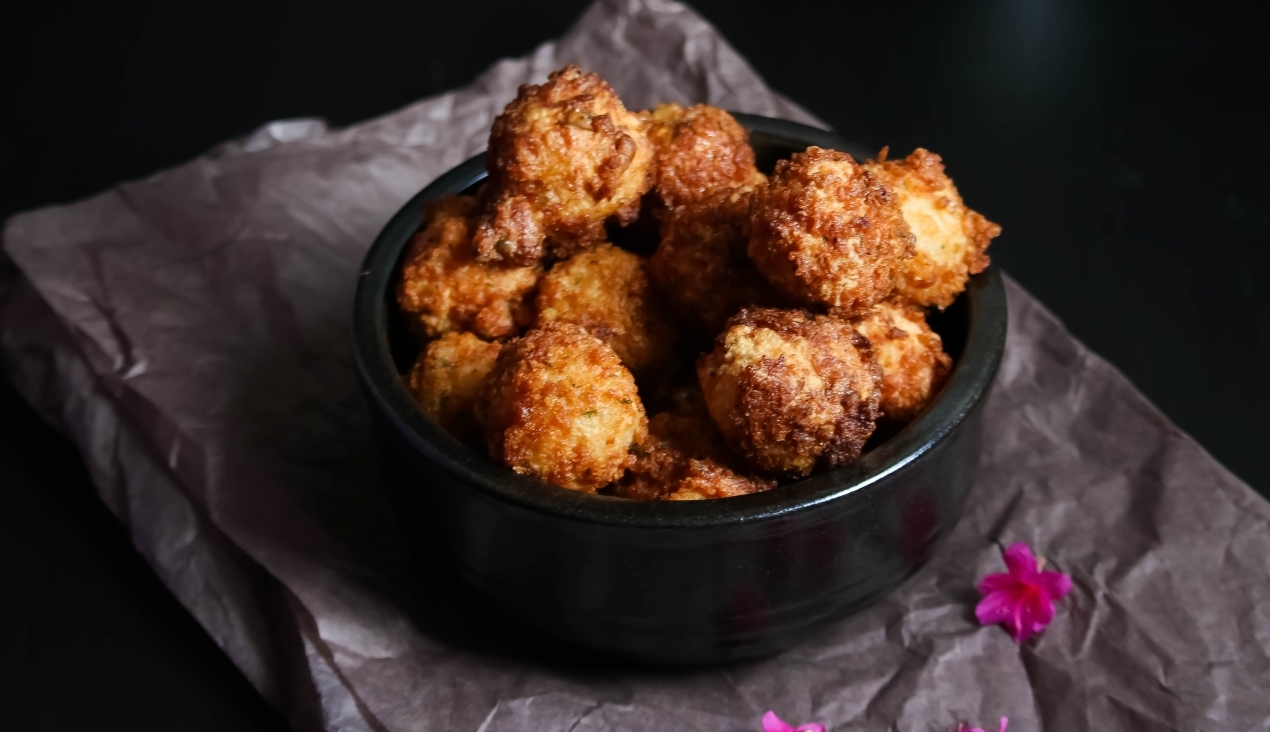 Pan-fried Rice Balls are the classic recipe of Italy which is commonly known as Arancini. These rice balls are such a fresh treat stuffed with gooey cheese. The rice balls are usually prepared with grain rice and coated with bread crumbs on the outer side with cheese inside. Peas and corn can be added to the stuffing. These cheesy rice balls are such a pleasure to eat and it's going to be on your menu for evening snack as kids love the cheesy rice balls.
Pan Fried Rice Balls Filled With Cheese can be served with Marinara sauce or ranch.
You may also like to try other Italian recipes and enjoy with your family.
Ingredients
2 tablespoon

Extra Virgin Olive Oil

2 tablespoon

Butter (Unsalted)

1

Onion

, finely chopped
2 cups

Jasmine Rice

1 teaspoon

Salt

1 cup

Sweet corn

1/4 cup

Parsley leaves

, finely chopped
1 cup

Parmesan cheese

, grated
1 cup

Mozzarella cheese

, cut into small cubes
1 cup

All Purpose Flour (Maida)

3

Whole Eggs

, beaten with a fork
1 cup

Whole Wheat Bread crumbs

Oil

, for deep frying
How to make Pan Fried Rice Balls Filled With Cheese Recipe
To begin with the Pan Fried Rice Balls Filled With Cheese Recipe, first in a heavy bottomed pot, heat oil over medium heat and add some butter.

As the butter melts, add diced onion and saute until soft for about 4-5 minutes

Add rice and give a stir to coat with oil.

Now add 5 cups of water to the rice and 1 teaspoon of salt. Cover and cook until water has been completely absorbed by the rice.

Stir in the corn and cook covered for another 5 minutes and check if the rice has cooked and absorbed all the water.

Allow it to cool. Once cooled, combine parsley and parmesan cheese to the mixture.

Make rice balls using hand and stuff each ball with a small cube of mozzarella cheese in the centre. The cheese cube should be totally covered with the rice mixture.

Arrange flour in a bowl, 3 beaten eggs in another and breadcrumbs in the third ball

Coat the rice balls with all purpose flour. Shake off the excess flour. Dip the balls in the beaten egg. Finally, roll balls in breadcrumbs until it is evenly coated with it. Repeat for the remaining balls.

Heat some oil in skillet over medium flame. Once hot add the coated rice balls in batches and cook until they turn golden brown.

Your Pan Fried Rice Balls Filled With Cheese Recipe is ready to be served.

Serve the Pan Fried Rice Balls Filled With Cheese Recipe with classic Marinara sauce or ranch for evening snack.