Paneer And Grapes Platter Recipe - Healthy Party Appetizer
You must try this Indian Style Party snack/appetizer put together on a skewer with Grapes and Paneer taking inspiration from the classic combination of Cheese, Cherry & Pineapple.

RUBY PATHAK
On

Thursday, 22 February 2018 09:00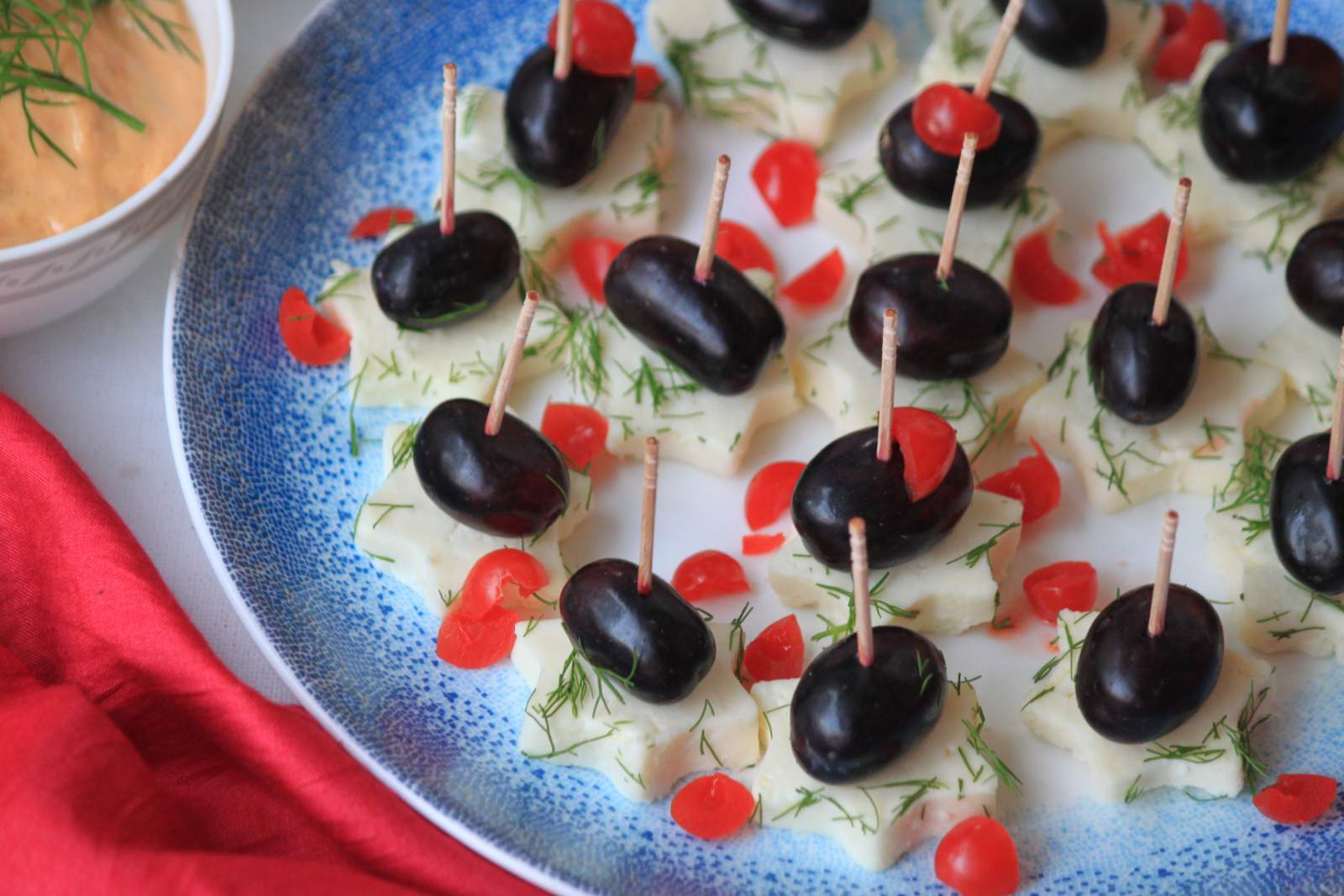 Do you have a party coming up? Are you tired you serving the same old Pineapple and Cheese platter? Here's a new and improved version and an Indian version of a fruit and cheese platter - Paneer and Grapes! You can get creative and cut out the paneer using small cookie cutters.
Serve Paneer and Grapes Platter along with appetizers/Starters such as Peri Peri Fish Fingers Recipe or Cauliflower Croquettes Recipe as an Indian Party Appetizer.
If you like this recipe of Grapes & Paneer Platter, here are a few more Indian Party Appetizers you can serve at your parties
Ingredients
200 grams

Paneer (Homemade Cottage Cheese)

, cut into dices
20

Black grapes

, washed and halved
20

Toothpicks

2 teaspoons

Extra Virgin Olive Oil

5 teaspoons

Dill leaves

, chopped
2 teaspoons

Parsley leaves

, chopped
2 teaspoons

Canned Cherries

, for garnish
How to make Paneer And Grapes Platter Recipe - Healthy Party Appetizer
To make the Paneer And Grapes Platter, cut the paneer into 1 inch cubes. You can either cut it into small cubes or use a shaped cutter.

In a bowl, mix in the olive oil, chopped dill and parsley leaves. Use a brush to oil the paneer cubes/pieces.

Place a piece of halved grape and a piece of chopped cherry on top of the paneer cube.

Pass a toothpick through the centre of the cherry, grape and paneer stack. You can even finely chop cherries and add as a garnish. It is your choice.

Serve Paneer and Grapes platter with at your Indian Dinner Parties along with other appetizers/Starters such as Peri Peri Fish Fingers Recipe or Cauliflower Croquettes Recipe