Peach Cobbler Scones Recipe

Monika Manchanda
On

Monday, 10 August 2015 07:18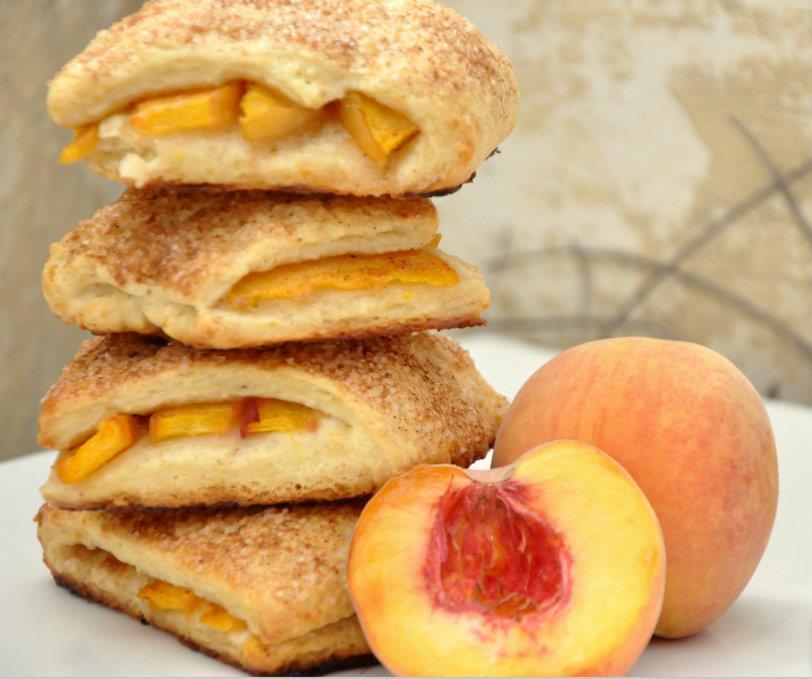 Peach Cobbler Scones are a delicious tea time treat infused with the fruity goodness of fresh peaches, the warmth of cinnamon and richness of butter. Scones are typical a British tea time snack that falls somewhere between a single-serving cake and leavened sweet bread. The main distinguishing factor is the use of baking powder as a rising agent, rather than yeast and the addition of several kinds of fruits, nuts and berries to add colour and sweetness.
The high quantity of butter makes it quite similar to short-crust pastry. These Peach Cobbler Scones make a perfect tea time snack and are best served warm, with a cup of tea to go with it. But they're also a good treat to be packed away for school or the odd day when you need to assuage mid-day munchies with an indulgent snack.
Some more scone recipes that you can try are:
Ingredients
3 cups

All Purpose Flour (Maida)

1/4 cup

Sugar

, granulated
3 teaspoons

Baking powder

3/4 teaspoon

Salt

3/4 cup

Butter (Unsalted)

, chilled and cubed
1

Whole Eggs

, beaten
1 cup

Buttermilk

, cold
1 teaspoon

Vanilla Extract

2

Peaches

, sliced (you may use tinned peaches but be sure to drain them completely)
For cinnamon sugar
2 tablespoons

Sugar

, granulated
1 teaspoon

Cinnamon Stick (Dalchini)

, ground
How to make Peach Cobbler Scones Recipe
To begin making Peach Cobbler Scones, place a rack in the center of the oven and preheat it to 180 C.

In a large mixing bowl, sift together the flour, sugar, baking powder and salt. Cut the butter into small cubes. Add the cubes to the flour and gently rub them into the flour mixture, till they disintegrate and the flour begins to resemble coarse meal or bread crumbs.Set this aside for some time.

Meanwhile, in another bowl combine the beaten egg, vanilla and 3/4 cup of buttermilk, retaining the rest for later use. Beat this together lightly. Add this mixture to the flour mixture and knead it to combine all the ingredients and make a soft dough. Do not over-knead. It is alright for the mixture to still be a little rough.

Cover the bowl and chill the mixture for 10 minutes in the refrigerator.

Take the dough out from the refrigerator and gently roll the dough into an even circle of about 1/2 inch thickness. Dust with flour if the dough is sticky. And if you feel you have had to use too much flour to dust, you can always use a pastry brush to brush away the extra dry flour, later.

Brush half of the rolled out dough with buttermilk (the reserved 1/4 cup). Arrange peach slices, in a single layer, across the buttermilk moistened dough. Sprinkle with half of the cinnamon sugar mixture. Carefully pick the empty side of dough and fold over the layer of peaches.

Press the edges of the dough to seal them together. Using a floured knife or a pizza cutter, slice dough into even pieces (about 8-10).

Place the scones on lined baking sheets or silpat leaving enough room for them to expand. Brush each scone with buttermilk, and sprinkle with remaining cinnamon sugar.

Bake for 15-18 minutes, until golden brown and cooked through.

Serve the Peach Cobbler Scones as a tea time snack along with a cup of tea or coffee. It even make a great breakfast party snack.