Penne Arrabbiata Pasta Recipe
Give this lip-smacking Penne Arrabbiata pasta a try for dinner. It simply just takes 20 minutes to make when you have a a ready tomato puree. Serve it for a quick weeknight dinner along with a Thai Papaya Salad for fusion dinner.

Archana Doshi
On

Tuesday, 10 May 2016 00:39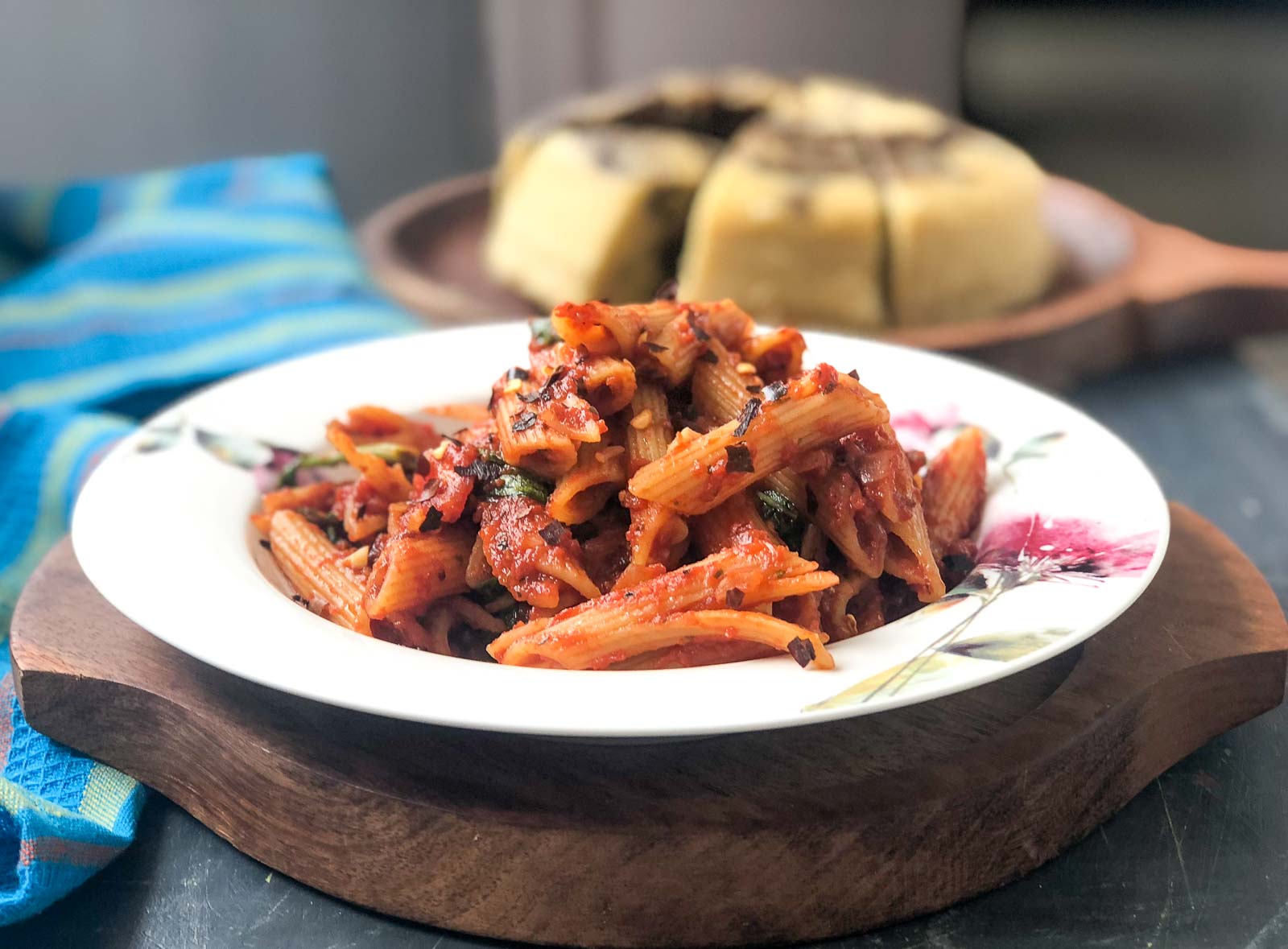 The Penne Arrabbiata Pasta is a delicious pasta which is made from a rich and spicy tomato basil sauce. The addition of the garlic, along with black pepper, red chilli flakes and the basil leaves, brings out the fresh flavours of this Tomato Basil Spicy Penne Arrabbiata Pasta.
Serve Penne Arrabbiata Pasta Recipe along with Thai Green Papaya Salad Recipe and a glass of wine for your weekend night dinner.
If you liked the Penne Arrabbiata Pasta Recipe, do try our other Pasta Recipes :
Ingredients
2-1/2 cups

Penne pasta

1

Onion

, finely chopped
4 cloves

Garlic

, finely chopped
2 cups

Homemade tomato puree

1 tablespoon

Red Chilli flakes

1 teaspoon

Mixed Herbs (Dried)

1 teaspoon

Whole Black Pepper Corns

, coarsely pounded

Salt

, to taste
1 teaspoon

Sugar

3 tablespoons

Olive Oil

Basil leaves

, a few sprigs
How to make Penne Arrabbiata Pasta Recipe
To begin making the Penne Arrabbiata Pasta Recipe we first have to cook the pasta.

In a large pot, add water and bring it to a boil. Once the water has boiled, add a teaspoon of salt.

Add the pasta to the boiling water and let it cook in the boiling water until it is al dente ( just cooked). This process should take a good 12-15 minutes.

Once the pasta has cooked, drain the water and run the cooked pasta under running water to stop the cooking process.

Drizzle some oil on top of pasta and make sure to coat all of the pasta with the oil so that the pasta doesn't stick to each other.
To make the Arrabiatta Pasta Sauce
Place a pan on medium heat, add oil and garlic and onion and saute for a few seconds until the onions turn soft.

Once the onions have softened, add the tomato puree, chilli flakes, mixed herbs, pounded black peppercorns, salt and sugar.

Cook the arrabbiata sauce together for a few minutes till the the sauce comes together and you can smell the aromas in the air.

Add the cooked Penne Pasta to the spicy arrabbiata sauce and keep mixing till the sauce thickens and pasta is well coated with the sauce.

Once done, turn off the heat, check the salt and spices and adjust according to taste. Transfer the Penne Arrabbiata Pasta to a serving bowl. Finally sprinkle the parmesan cheese on the top and serve hot.

Serve Penne Arrabbiata Pasta Recipe along with Thai Green Papaya Salad Recipe and a glass of wine for your weekend night dinner.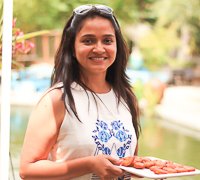 Archana Doshi is the founder of Archana's Kitchen. Archana launched Archana's Kitchen in 2007 as a way to keep track of her and family's recipes, and along the way grew it into one of the most popular cooking websites in the world. Archana is dedicated to helping home cooks be successful in the kitchen. Archana says "I hope you enjoy cooking recipes from my website where the sole effort is to make cooking simple for you. When you try out one of our recipes, we are longing to hear back from you. Do take your time to come back and share your comments, as your feedback means a lot to me"