Perfect Christmas Roast Potatoes Recipe

Uma Raghuraman
On

Friday, 23 December 2016 00:00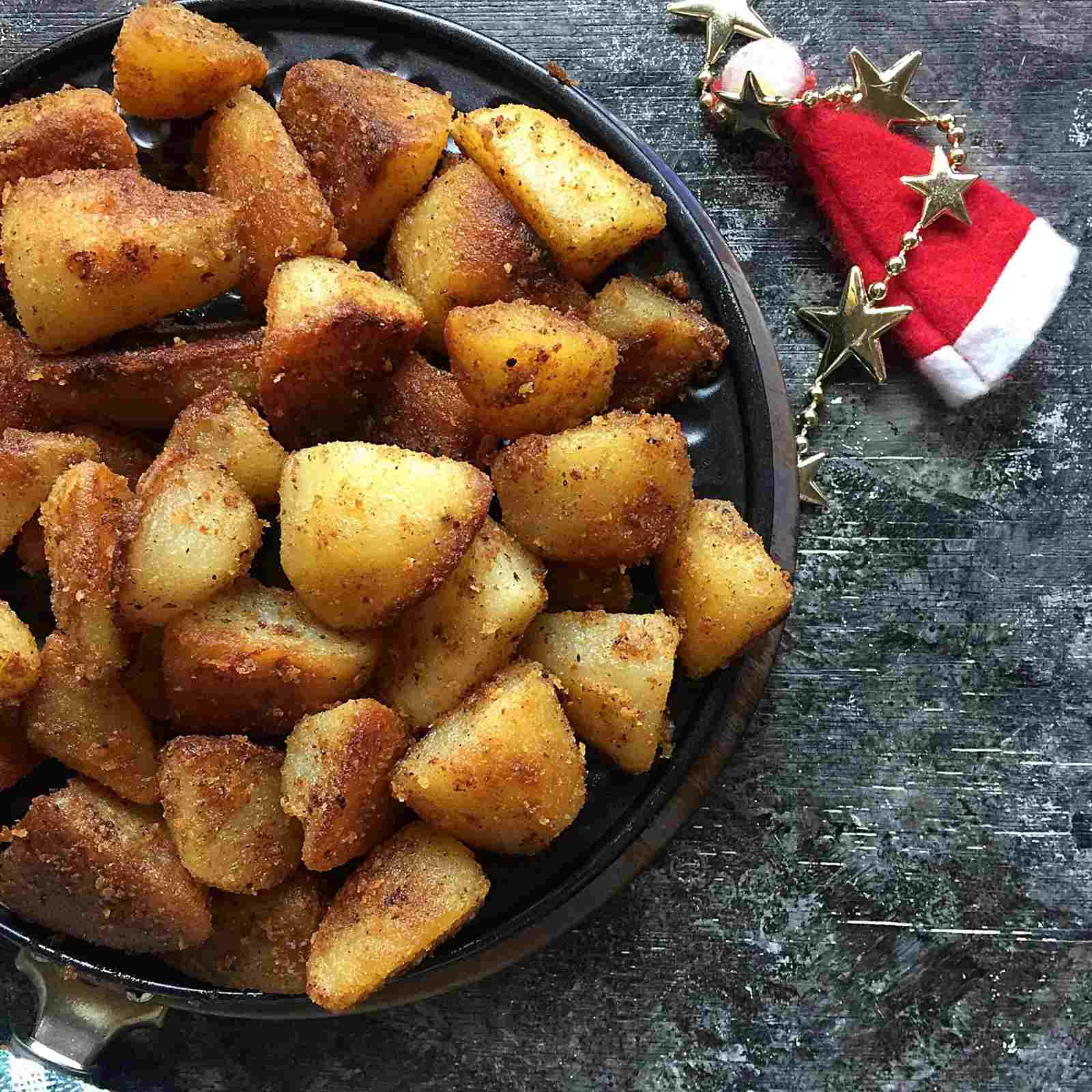 Potatoes are a delicious vegetable, and roasted potatoes are just irresistible. Cooking roasted potatoes for Christmas is a custom in many families and getting the perfect taste and texture needs loads of practise or a simple fool proof recipe. Here is a great Perfect Christmas Roast Potatoes Recipe that will give you perfectly roasted potatoes that are super crispy on the outside and soft inside. You can always add your choice of herbs to the roasted potatoes.
Make these Christmas Roast Potatoes for a Christmas dinner get together, or as an evening snack along with tea.
Other Christmas Recipes that you can try this festive season are:
Ingredients
1/2 kg

Potatoes (Aloo)

, peeled and cut into big chunks
1 tablespoon

Corn flour

, 1 tablespoon flour 
1/2 teaspoon

Red Chilli powder

, optional
1/2 teaspoon

Garlic powder

, optional
1/2 teaspoon

Onion powder

, optional

Salt

, to taste
1 tablespoon

Butter (Salted)

1/4 cup

Oil
How to make Perfect Christmas Roast Potatoes Recipe
To begin the preparation of Perfect Christmas Roast Potatoes, boil 3-4 cups of water with 1/4 teaspoon salt.

When the water comes to a rolling boil, add the chopped potatoes and cook for just 3 minutes.

Drain the potatoes in a colander and allow it to cool for 5-6 minutes.

Mix the corn flour, red chilli powder, garlic powder, onion powder and salt (adjust) in a bowl.

Once the excess water is drained, sprinkle the flour generously over the potatoes and toss them to coat evenly.

Heat a pan with butter and oil over low flame.

When the oil heats up add the flour coated potatoes into the pan and spread them so that the potatoes do not overlap and have space to fry comfortably.

Roast the potatoes for 35-40 minutes tossing them every 5-7 minutes so that they get roasted uniformly.

Your delicious Perfect Christmas Roast Potatoes are ready for the celebration.
Note :
Alternatively, you can also bake the potatoes in your oven. After coating the potatoes with flour, add the oil+ butter into a heated baking pan. Spread the potatoes in the pan and bake the potatoes in a preheated oven at 180 degrees C for 45 minutes, stopping every 10 minutes to toss them so that they roast uniformly.
Recipe adapted from Angela Nelson