Potlakaya Perugu Pachadi Recipe (Curd and Snake Gourd Chutney)

Aparna Parinam
On

Saturday, 12 November 2016 00:00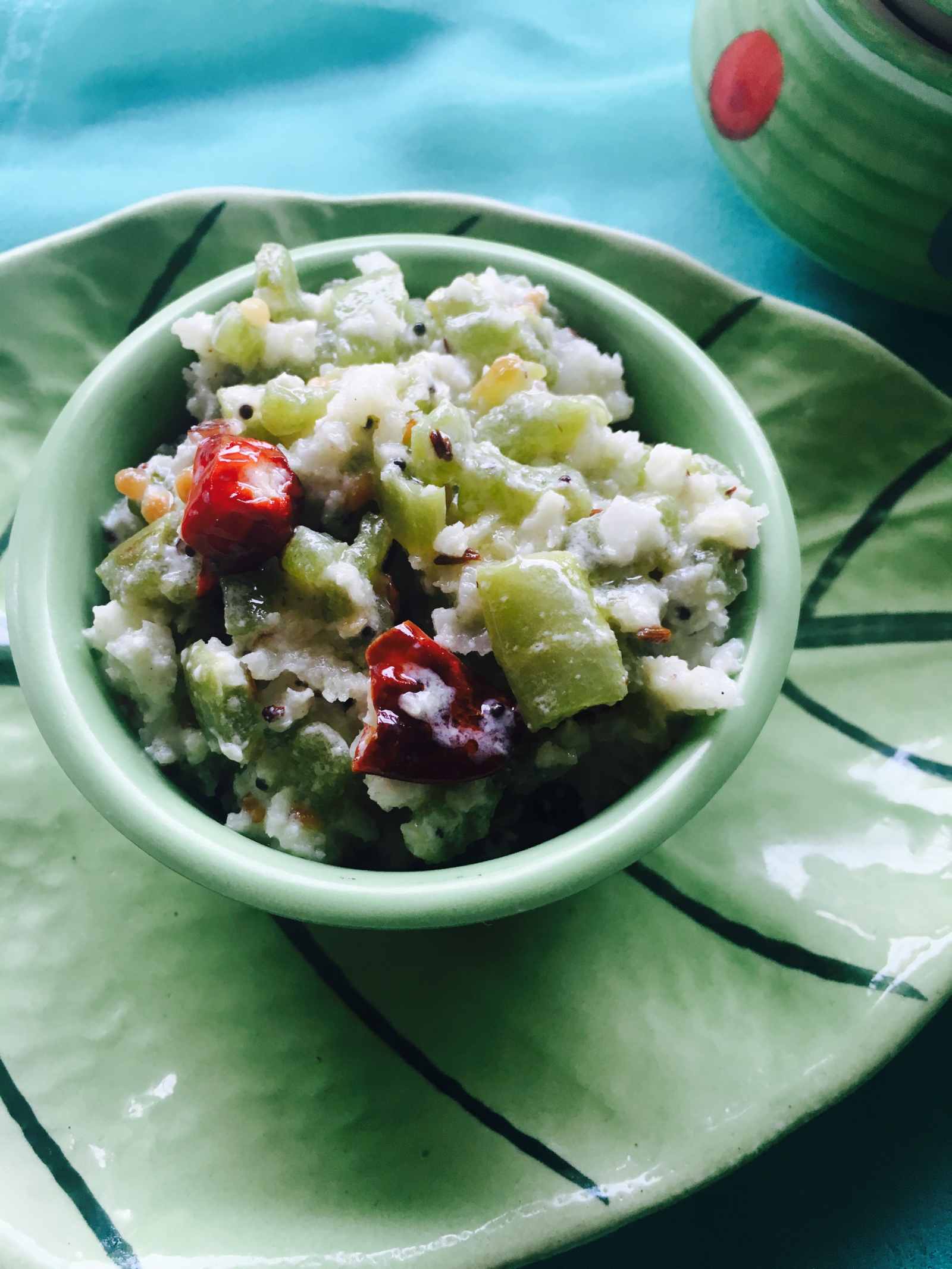 Potlakaya Perugu Pachadi is a very simple and easy to prepare relish, which can be made within a few minutes. I remember the first time my mother made this dish, I fell in love with this gentle and unassumingly tasty dish. The soothing curd coupled with the ever sober snake gourd makes for an excellent combination.
Savour the Potlakaya Perugu Pachadi with some rice for a filling weekday lunch.
Other recipes that you can make with snake gourd are:
Ingredients
1

Snake gourd (pudulangai)

, finely chopped (approximately 1 cup)
1 cup

Curd (Dahi / Yogurt)

1/2 cup

Fresh coconut

, grated
1 teaspoon

Cooking oil

1/4 teaspoon

Turmeric powder (Haldi)

Salt

, to taste
For seasoning:
1

Dry red chilli

, broken into pieces
1/2 teaspoon

Cumin seeds (Jeera)

1/2 teaspoon

Mustard seeds

1 teaspoon

Cooking oil

1/4 teaspoon

Asafoetida (hing)
How to make Potlakaya Perugu Pachadi Recipe (Curd and Snake Gourd Chutney)
To begin the preparation of Potlakaya Perugu Pachadi Recipe, first heat a small pan and add oil. Add the finely chopped snake gourd pieces. Fry for a few seconds. Add salt and cover the pan.

Let it cook for 2-3 minutes. Ensure the pieces do not get burnt, by checking in between.

Once the pieces are cooked, add grated coconut and mix well. Turn off the flame, and let it cool down.

For the seasoning, heat a small pan, add jeera and mustard.

Let the mustard seeds splutter. Add red chilli pieces, hing and saute. If you prefer, add turmeric and put off the flame.

Transfer the cooked snake gourd pieces and coconut to a bowl.

Add curd. Add the seasoning and mix well.

Serve this gentle Potlakaya Perugu Pachadi with hot rice for a weekday lunch.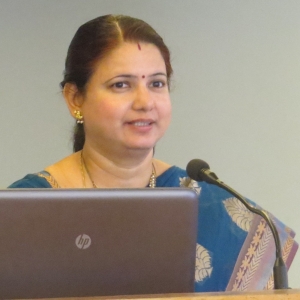 Cooking is devotion - this is my mantra! I am a pharmacist by profession and live in Margoa, Goa. Am also, a tireless vegetarian food and travel lover. I believe in making traditional dishes and preserving the recipes. Through my blog: www.tangytales.com, I endeavor to share healthy vegetarian recipes with you. I salute to all the devoted mothers and fathers (which may be rare….), grandmothers, and all the wonderful women, who have dedicated their immense time towards cooking, for years at a stretch….to ensure their kids and their loved ones, eat tasty and healthy food ! We all love to eat good tasty food, but it isn't imperative that all of us love to cook too. This is because each one of us is not aware of the joy of cooking! I truly believe anybody can cook!