Protein Rich Soy Dosa Recipe
Healthy breakfast with soy flour-rice flour & urad dal

Karthika Gopalakrishnan
On

Wednesday, 22 March 2017 00:10
Are you looking for quick fix breakfast which is healthy too? Then, this Protein Rich Soy Dosa Recipe is the perfect dish which can be prepared in a whisk of an eye. Overnight soaked Urad dal is ground and soya flour are combined together and later rice flour is added to prepare these brownish healthy and delicious dosas. Soya flour is a good source of protein, minerals, omega 3 fatty acids and fiber, thus helps in managing diabetes. Soy is a low-fat source of protein and it is the only plant protein which contains the same protein quality as meat or eggs. And what makes it more interesting is they don't have cholesterol. Prepare this Protein Rich Soy Dosa Recipe for your breakfast and serve with Karanataka Style Goraikai Kara Recipe or any chutney of your choice.
If you like this recipe, here are a few more varieties of dosa that you might also like
Note: You can add chopped onions, chilies and coriander leaves in the batter to provide a twist to soy dosas
Course:
South Indian Breakfast
Diet:
High Protein Vegetarian
Ingredients
1/4 cup

Soy flour

1/4 cup

White Urad Dal (Whole)

, soaked overnight
3/4 cup

Rice flour

1 cup

Water

, (divided)

Salt

Cooking oil

, to smear on dosa
How to make Protein Rich Soy Dosa Recipe
To begin making Protein Rich Soy Dosa Recipe, soak urad dal in water for about 4 hours or overnight. Drain the water completely from the dal and grind them into a fine paste with 1/4 cup of water.

Combine urad dal, rice flour, and soya flour together in a large bowl.

Add the 3/4 cup water to the flour and combine them together. The batter should be in the consistency of dosa batter. Adjust water if required.

Season the batter with salt.

Heat the dosa tawa. Once the tawa is hot, take a ladleful of batter and pour on the heated tawa. Spread it in a circular motion.

Smear little oil on the dosa and along the edges of it.

Cook until the dosa becomes brownish. Flip over the other side and cook until both the sides of dosa become light brownish.

Repeat the same procedure for the remaining batter.

Serve Protein Rich Soy Dosa Recipe with Karanataka Style Goraikai Kara Recipe or any chutney of your choice.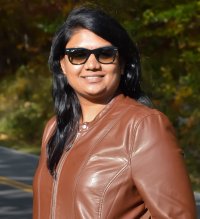 Karthika Gopalakrishnan is a software Engineer by Profession. Being a foodie from childhood, she loves to immerse herself in the aroma of spices and their delicacies. According to her, cooking is a therapy which unwinds the hassles and bustles of a day. As said, the easiest way to enter into the heart of a person is through his food, she loves to bring a unique flavor of every recipe with right composition of spices and love.