Puliyodharai / Puliyogare Recipe (using Millets)
In association with NutriFoods India

Archana Doshi
On

Sunday, 01 March 2015 00:19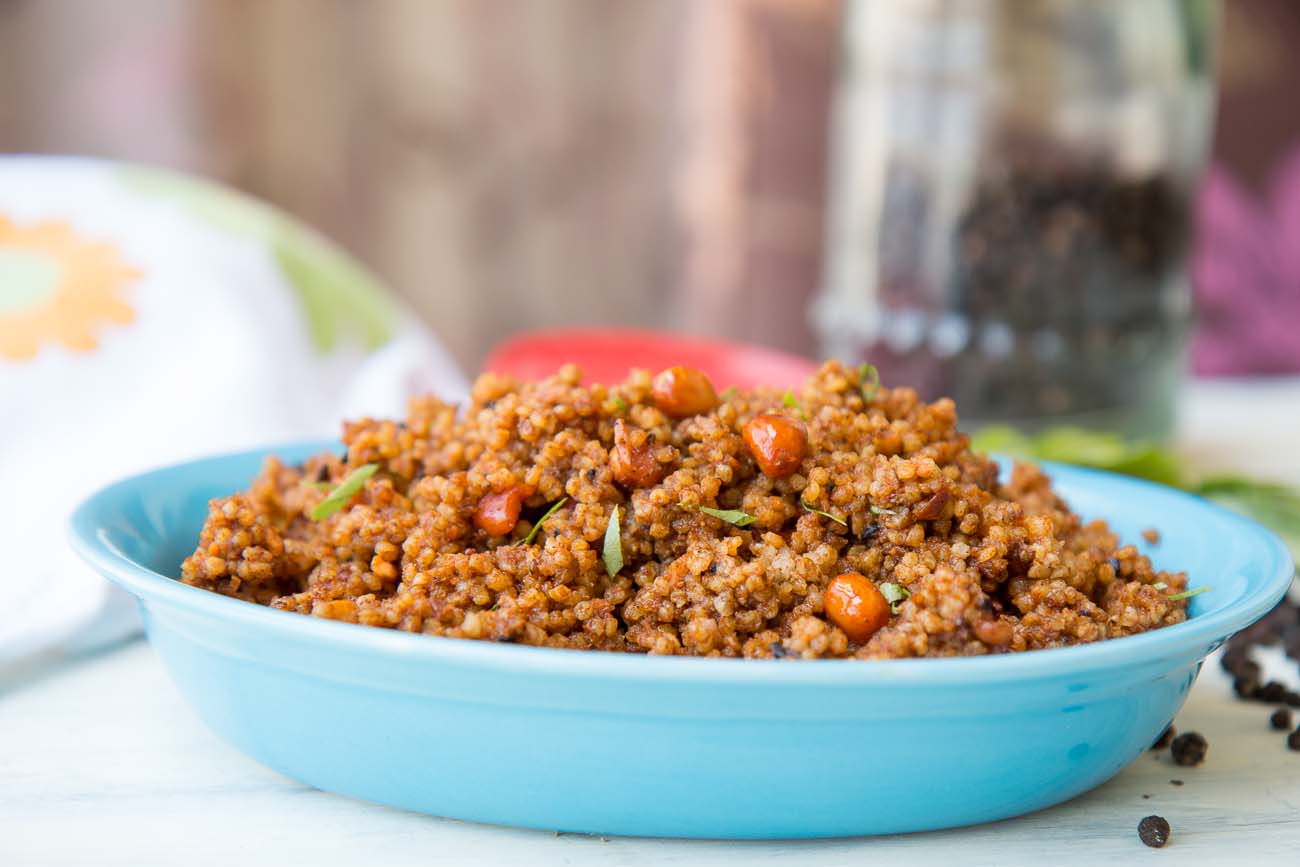 Puliyodharai/ Puliyogare is a tangy spicy South Indian dish that is made from rice and a spicy tamarind paste. In an earnest effort to introduce millets to my family, I try my best to work on substituting rice with millets. The result of the Millet Puliyodhare was simply delicious. In fact, it felt more wholesome and filling. If you are going for a picnic or long journey and need food that can stay fresh without being refrigerated, then Puliyogare is the right choice. But for me, I can relish this flavorful millet anytime of the week.
Here are few more similarly easy food recipes to try
Notes: You can make it sweeter by adding more of jaggery. Add asafoetida and peanuts generously. Also the authentic taste is derived from the use of sesame oil. It takes at least 30 minutes for the millets to imbibe all the flavors after combining with the mixture.
Ingredients
Main Ingredients 
1 cup

Foxtail Millet

Salt

Sesame (Gingelly) Oil

, or gingelly oil
Ingredients for Pulikachal (Puliyodharai / Puliyogare Spice Mix)

Tamarind

, lemon sized
1/2 teaspoon

Jaggery

1/4 cup

Roasted Peanuts (Moongphali)

Salt

, as needed

Water

, as needed
Ingredients To Roast and Grind For Pulikachal
2 tablespoons

Chana dal (Bengal Gram Dal)

4

Dry red chillies

3 teaspoons

Methi Seeds (Fenugreek Seeds)

1 teaspoon

Whole Black Peppercorns

Ingredients For the Seasoning of Pulikachal
1 tablespoon

Mustard seeds

4

Dry red chillies

1 tablespoon

Chana dal (Bengal Gram Dal)

1/2 teaspoon

Asafoetida (hing)

1 1/2 teaspoon

Turmeric powder (Haldi)

8

Curry leaves

5 tablespoon

Sesame (Gingelly) Oil
How to make Puliyodharai / Puliyogare Recipe (using Millets)
Method for Making Pulikachal
Soak the tamarind in water for at least one hour and extract the juice. Keep the juice aside

Take all the ingredients listed under Roast and Grind and dry roast them until it turns golden brown. Cool them completely and grind to a fine powder.

Heat oil in a pan, add the mustard seeds, red chillies and allow it to crackle and roast for a few seconds. Add the tamarind extract, turmeric powder, salt, curry leaves and asafoetida. Add enough water to make it thin and allow it to boil for atleast 20 minutes or until the volume reduces to half.

Once the volume has reduced to half, add the jaggery and the ground spice powder. Allow this mixture to boil for another 5 minutes or until the mixtures starts to thicken. Turn off the heat and cool the pulikachal. Add the roasted peanuts and keep aside. This this the Pulikachal mixture to make the Tamarind Rice. You can store this mixture in the refrigerator for about a week and use it as and when required.
Method to cook the Millets
Millets cook in a similar way to rice. Based on the kind of millet you use the cooking times will differ. In this recipe I am using foxtail millet that cooks fairly easily. Place the millet into the pressure cooker, along with 2 cups of water and salt.

Close the cooker, place the weight on and pressure cook for two whistles. After two whistles turn the heat to low and simmer for about 3 minutes and turn off the heat. Allow the pressure to release naturally, as the millets will continue to cook under the existing pressure. Once the pressure is released

Allow the pressure to release naturally, as the millets will continue to cook under the existing pressure. Once the pressure is released, open the cooker and fluff up the millets and allow them to air out a bit, before mixing it with the Puliyodharai mix
Method to Make the Puliyodharai / Puliyogare Recipe
You can now mix the pulikachal with steamed millet in small quantities depending upon how tangy and how spicy you want the rice to be. Allow the millet to rest in this tangy pulikachal for atleast 20 minutes before serving.

The Puliyodharai / Puliyogare - Spicy Tamarind Millet is now ready to be served.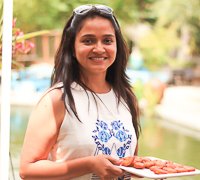 Archana Doshi is the founder of Archana's Kitchen. Archana launched Archana's Kitchen in 2007 as a way to keep track of her and family's recipes, and along the way grew it into one of the most popular cooking websites in the world. Archana is dedicated to helping home cooks be successful in the kitchen. Archana says "I hope you enjoy cooking recipes from my website where the sole effort is to make cooking simple for you. When you try out one of our recipes, we are longing to hear back from you. Do take your time to come back and share your comments, as your feedback means a lot to me"