Eggless Pumpkin Cheesecake Recipe
Pumpkin cheesecake is a baked dessert made with cream cheese, cooked pumpkin, dark chocolate and brown sugar which is mixed in right proportion to get a creamy batter and is baked in the oven and set in the fridge till it is set to the right consistency. Serve the creamy cheesecake with chocolate shavings on top as a dessert after a nice meal on a Sunday.

Uma Raghuraman
On

Sunday, 25 December 2016 00:08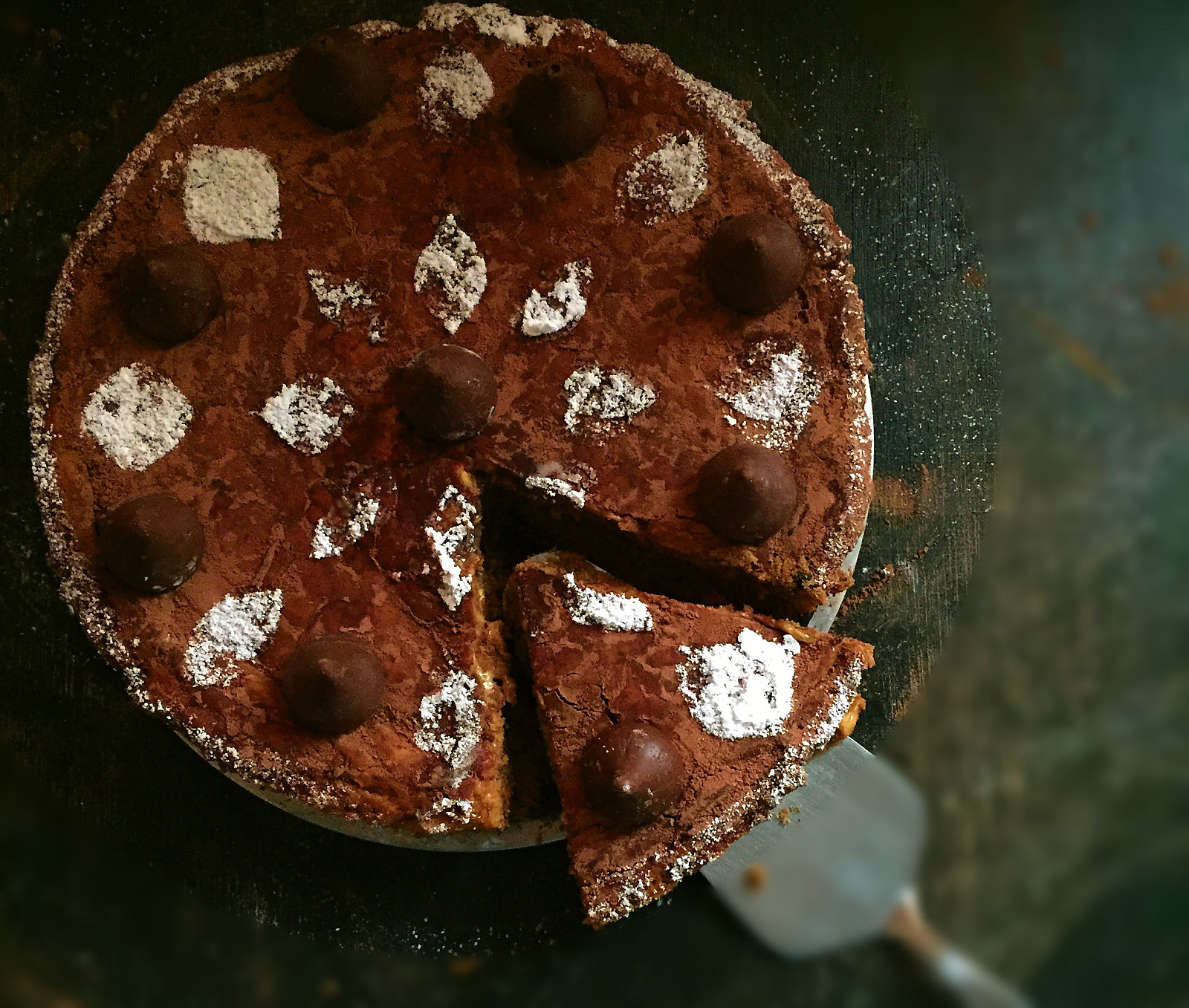 Eggless Pumpkin Cheesecake Recipe is a delicious Cheesecake, with just a few ingredients, this cheesecake recipe is easy to bake. Pumpkin Cheesecake is delicately spiced with ginger and cinnamon, the dark chocolate in the cake makes it a decadent dessert.
Whether it is a weekend party or any celebration, bake this cake ahead of time and refrigerate. Slice the Eggless Pumpkin Cheesecake, drizzle some chocolate sauce and enjoy!
Serve the Eggless Pumpkin Cheesecake Recipe along with Fresh Fruit Bowl and some Mango Iced Tea Recipe by the side to enjoy your weekend.
If you like this recipe, you might also like other cheesecake recipes like
Ingredients
3 cups

Kaddu (Parangikai/ Pumpkin)

, chopped coarsely
360 grams

Cream cheese

1 cup

Brown Sugar (Demerara Sugar)

100 grams

Dark chocolate

1/2 teaspoon

Dry ginger powder

1/2 teaspoon

Cinnamon Powder (Dalchini)

1 teaspoon

Butter (unsalted)

, (for greasing)

Salt

, a pinch
For the base layer: 
20

Oreo biscuits

, (or any chocolate biscuits without cream)
2 teaspoons

Butter (unsalted)

, melted
For dusting & frosting
1 cup

Caster Sugar
How to make Eggless Pumpkin Cheesecake Recipe
To begin preparing the Eggless Pumpkin Cheesecake Recipe, line a 6-inch cheesecake pan with parchment paper (cut to size) on the bottom of the pan.

Grease the sides of the pan with butter.

Remove the cream part of the oreo biscuits and grind biscuits to a fine powder.

Add the melted butter and mix well.

Transfer the ground mixture to the cheesecake pan spread them uniformly and gently press the top layer using a flat ladle or the back of a spoon.

Preheat the oven at 180 degrees C for 10 minutes and then bake the biscuit layer for 7 minutes. Remove and set it aside.

Add the pumpkin and one-half of the cream cheese (180 gms) to the mixer. Now add the brown sugar and grind it to a smooth paste.

Transfer it to a large mixing bowl and add the cinnamon and dry ginger powder. Remove 1/4 cup of this mixture and set it aside.

To the remaining mixture, add the other half of the cream cheese and using a metal whisk/hand mixer, mix without any lumps and pour the mixture over the biscuit layer in the cheesecake pan.

Break the dark chocolate into smaller pieces and put them in a glass mixing bowl. Microwave the chocolates for one minute on high and then stir with a spoon to get silky melted dark chocolate.

To this add the 1/4 cup pumpkin cheese puree mixture and mix well. Add blobs of this chocolate mixture using a spoon inside the pumpkin cheese mixture leaving a gap of at least 1" between each blob.

Using a chopstick or a sharp knife make swirls on the chocolate blobs for a swirl effect.

Cover the cheesecake using an aluminum foil and bake the cake in a preheated oven at 180 degrees C for 50 minutes. Once baked, remove the foil completely and allow it to cool.

Once cooled completely, transfer the cheesecake to a refrigerator and allow it to chill for at least 6-8 hours before you serve.

Just before serving, you can frost or garnish the cheesecake either with icing sugar, chocolates or fresh fruits.

Serve the Eggless Pumpkin Cheesecake Recipe along with Fresh Fruit Bowl and some Mango Iced Tea Recipe by the side to enjoy your weekend.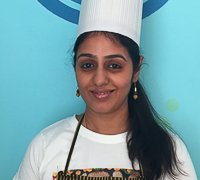 Masterchefmom aka Uma Raghuraman is passionate about cooking and loves to experiment with Indian and World cuisine. She shares her experiences step by step and amazing recipes through her blog, www.masterchefmom.blogspot.in. A self taught and compulsive baker she tries to bring in right balance of taste, nutrition and presentation to all her dishes. A mother to two teenagers and having been with children as a school teacher for over five years, she understands child psychology and the role played by food in influencing their eating habits.