Pumpkin Pistachio Risotto Recipe

Madhuli Ajay
On

Saturday, 03 December 2016 00:00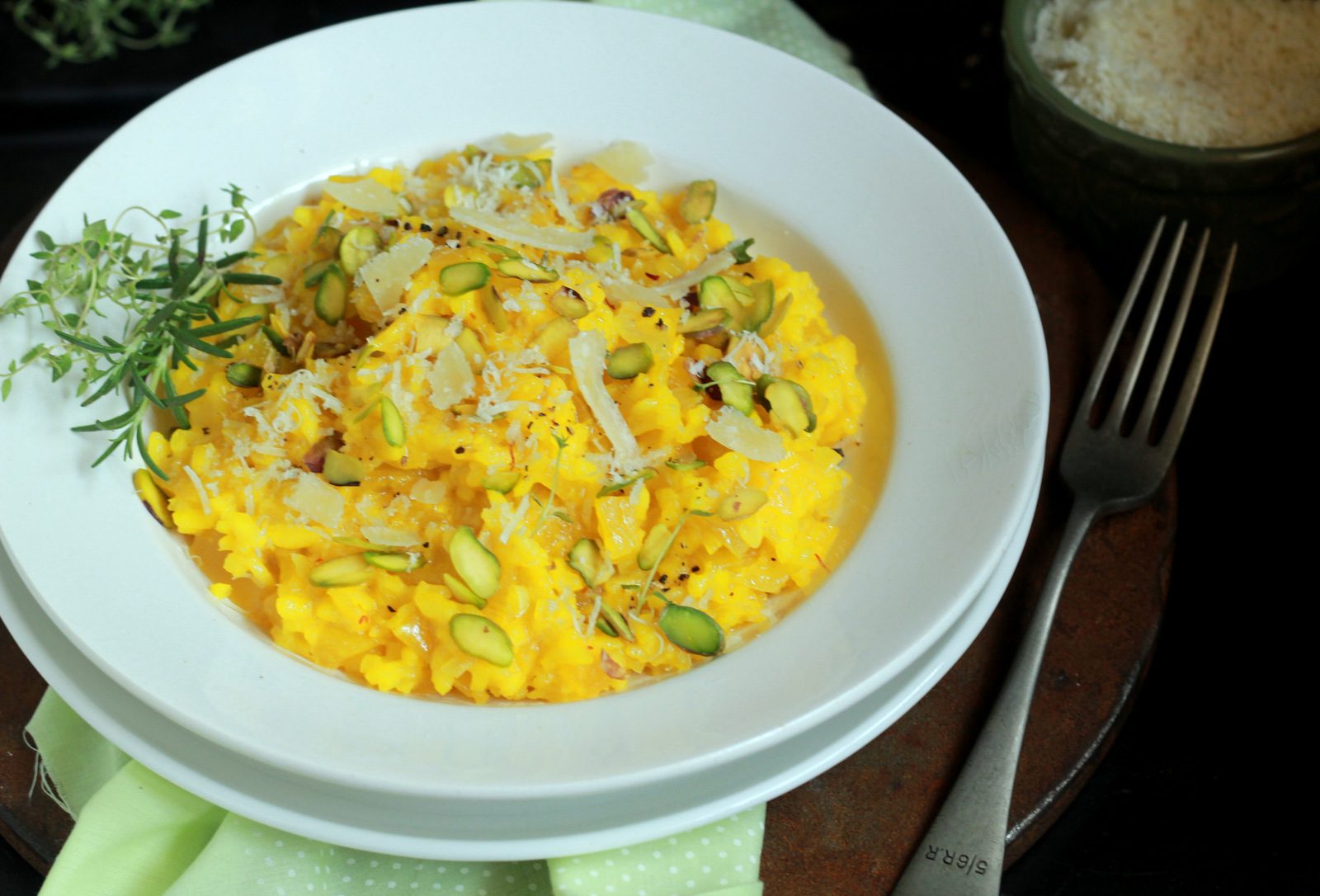 Pumpkin and Pistachios are paired together to make this aromatic Italian style rice preparation. The humble pumpkin adds its characteristic sweetness to this creamy rice. This Pumpkin Pistachio Risotto recipe is very simple but requires some patience, since the rice needs to be constantly stirred. You can add some dry white wine to the rice if you like. It is best to serve this risotto as soon as it is made.
Pumpkin Pistachio Risotto makes for a comforting weeknight meal.
Other recipes you can try with pumpkin are:
Ingredients
1 cup

Arborio rice

1

Onion

, finely chopped
2 cups

Kaddu (Parangikai/ Pumpkin)

, chopped 
2-3 cloves

Garlic

, minced
1 tablespoon

Extra Virgin Olive Oil

1 pinch

Saffron strands

, optional
3 cups

Vegetable stock

, (or as required)
1/4 cup

Parmesan cheese

, grated
2 tablespoon

Butter (Salted)

2 teaspoon

Rosemary

, chopped (you can also use sage or basil leaves)
1/2 teaspoon

Whole Black Peppercorns

, crushed
2-3 tablespoon

Pistachios

, chopped or sliced
How to make Pumpkin Pistachio Risotto Recipe
To begin making the Pumpkin Pistachio Risotto, first warm the stock.

Heat oil in a pan. Add garlic and onion.

Sauté till the onion just softens, but does not brown.

Add the rice and stir.

Sauté for a minute till the rice starts getting translucent.

Add a ladleful of the warm stock.

Crush the saffron with salt and add to the rice.

Stir and cook till the stock almost evaporates.

Add another ladleful of stock. Stir and cook again.

Repeat till the rice is just cooked, till it still has a bite to it.

Take it off the heat.

Add herbs, pepper, cheese and butter.

Mix and keep covered for a minute or two till it becomes creamy.

Garnish with pistachios and your Pumpkin Pistachio Risotto is now ready to be served.