Quinoa Chocolate Cookies Recipe

Divya Shivaraman
On

Thursday, 27 August 2015 00:10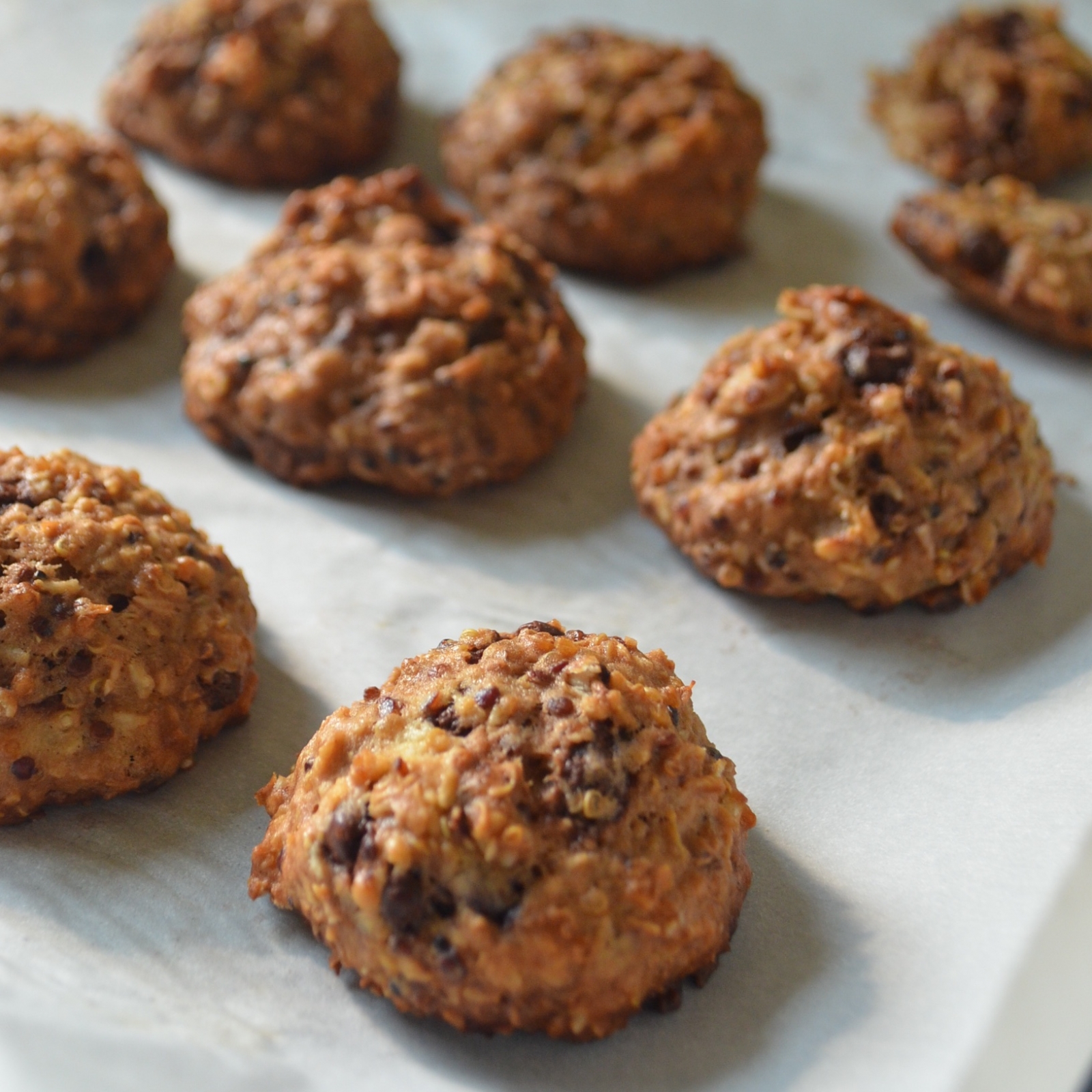 Quinoa Chocolate Cookies Recipe is an excellent way of adding quinoa to your children's diet. Cookies make great kid-friendly snacks and these cookies include healthy ingredients with a deeper flavor of coconut. The come together easily, are baked quickly and can be stored at room temperature for weeks, making them an excellent snack for mid-morning munchies, a snack-box treat or even a tea-time bite. Quinoa Chocolate Cookies are so delicious they'd be great for adults too! Along with a strong cup of Masala Chai.
Did you know: Quinoa has been called a superfood with good reason! For starters, this whole-grain is naturally gluten-free. In addition, it is packed with iron, vitamin-B, magnesium, phosphorus, potassium, calcium, vitamin-E and fibre. However, what makes quinoa truly unbeatable, nutritionally, is that it contains every essential amino acid, unlike other grains, which makes it a complete protein.
Other recipes you can try with quinoa are:
Ingredients
1 cup

Quinoa

, cooked
1 cup

All Purpose Flour (Maida)

1/2 cup

Instant Oats (Oatmeal)

1/2 cup

Dessicated Coconut

3/4 cup

Coconut Sugar

1 tablespoon

Vanilla Extract

1 teaspoon

Salt

1 teaspoon

Baking powder

1/4 cup

Coconut Oil

1

Ripe Bananas

, mashed
1

Whole Eggs

2 tablespoons

Chia Seeds

1-1/2 cups

Dark Chocolate Chips
How to make Quinoa Chocolate Cookies Recipe
To begin making Quinoa Chocolate Cookies, first preheat your oven to 180 C, while you prepare the cookie dough.

The first step to prepare the cookie dough is to crack an egg into a medium-sized bowl. To this add the vanilla essence, salt, oil and beat it all together until well combined.

Next, add the sugar to this mixture and beat once again. To this, add in the cooked quinoa, all purpose flour, shredded coconut, oats, baking powder, mashed banana and combine it all well.

Scatter the chia seeds into the mix along with 1/2 cup of chocolate chips and stir once again.

Line a baking sheet with wax paper or parchment paper on which you will bake the cookies. Using a small ice cream scoop, place scoops of the mixture on the paper, leaving an inch between them. This space allows the cookies to spread as they bake.

Place the baking sheet in the preheated oven and bake the cookies for 12 to 15 minutes, until they're golden.

When done, take the sheet out of the oven and place it on a wire rack to cool completely. The cookies continue to bake while they are hot out of the oven.

Meanwhile, prepare the chocolate frosting by melting the remaining 1 cup of dark chocolate chips in a water bath. To do this, place a saucepan of water on the heat.

Place the chocolate chips in a heatproof bowl and place the bowl over the saucepan with water, such that the water does not come in contact with the heatproof bowl.

With a spatula or a whisk gently stir the chocolate chips, which will start melting due to the heat generated below. When the chocolate has melted completely, take it off the heat and allow it to settle for a couple of minutes.

By now, the cookies would have cooled too. Dip the cookies into the chocolate and set them down to cool again. As it cools a second time, the chocolate will set, coating them evenly.

Once done, allow it to cool and store the Quinoa Chocolate Cookies in a airtight container.

Serve the Quinoa Chocolate Cookies as a tea time snack along with a cup of Masala Chai or even pack them into the snack box for kids.