Quinoa With Grilled Zucchini & Chickpea Recipe
A healthy and wholesome dinner or lunch recipe made of quinoa, grilled zucchini and chickpeas. High in protein it is a great recipe for people looking for a low carb recipes.

Jyothi Rajesh
On

Thursday, 31 December 2015 00:04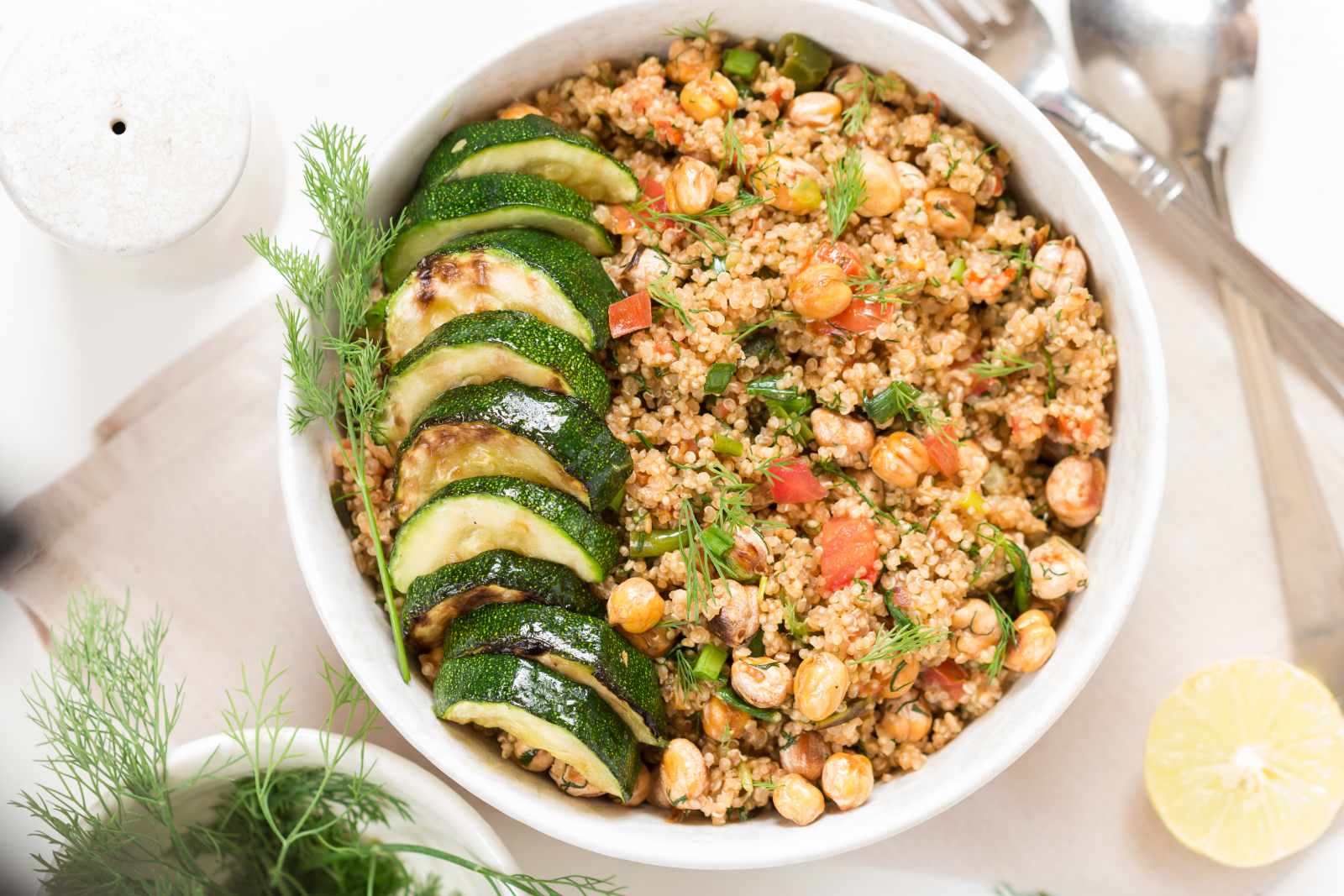 Quinoa (Pronounced as "Keen-wa") is a small grain that resembles couscous in texture once it's cooked. It's gluten-free, high in iron content, with soluble fibers that makes it easy to digest. It's a grain that is high in protein. Quinoa is very healthy and it's a very versatile grain. Quinoa serves as a nice substitute for rice without all the calories and it is protein rich.
The Quinoa With Grilled Zucchini & Chickpea Recipe recipe makes a delicious and healthy veggie bowl which would be a great addition to your lunch or dinner menu. The addition of grilled eggplant along with the zucchini and roasted the chickpeas brings are delicious flavors and taste to the dish. The Quinoa is wonderfully flavored with green onions, green chilies, tomatoes, garlic, dill leaves and dried oregano for flavor. A robust flavor packed quinoa with veggies is light yet filling lunch box recipe. It is one of that comfort food in a bowl that you would like to try again and again.
Serve Quinoa With Grilled Zucchini & Chickpea Recipe with Olive & Tofu In Harissa Curry Recipe for a wholesome lunch or dinner.
Here are more recipes with Quinoa to try
Ingredients
1 cup

Quinoa

2 cups

Water

1 teaspoon

Salt

1

Green zucchini

, diced
1/2 cup

Kabuli Chana (White Chickpeas)

, soaked overnight
1/4 cup

Spring Onion (Bulb & Greens)

, finely chopped
2

Tomatoes

, finely chopped
2

Green Chillies

, finely chopped
2 cloves

Garlic

, crushed
1 cup

Dill leaves

, chopped
1 teaspoon

Dried oregano

Salt

, to taste

Olive Oil

, for cooking
How to make Quinoa With Grilled Zucchini & Chickpea Recipe
To begin making the Quinoa With Grilled Zucchini & Chickpea Recipe, first soak chickpeas overnight.

Preheat the oven to 180 degree centigrade. Drain water from chickpeas and leave it on a kitchen towel and pat it dry. Place the dry chickpeas on a baking tray in single layer. Drizzle 1 teaspoon of oil over the chickpeas, sprinkle some salt and roast it in the oven for about 20 to 30 minutes until the chickpeas begin to change color and turn crisp.

Once the chickpeas turn crisp, remove from oven and cool it completely. You can store this in airtight container or zip lock bag for about 3 days.

Place the quinoa in a saucepan, add 2 cups of water, salt and a teaspoon of olive oil. Bring it to a brisk boil. Once it comes to a brisk boil, turn the heat to low, cover the pan and cook until water is completely absorbed.

Once all the water is absorbed, turn off the heat. Let the quinoa rest in the pan for about 10 to 15 minutes. Then open the pan and fluff up the grains using a fork.

In a wide heavy bottomed pan add a tablespoon of olive oil. Add chopped spring onions, green chilies, finely chopped garlic cloves and zucchini. Stir fry on medium high heat until the zucchini is lightly roast (about 2 minutes)

Once the zucchini is roasted, add chopped tomatoes and sauté till tomatoes become soft.

Stir in dill leaves, the cooked quinoa and roasted chickpeas and toss gently until everything is mixed. Finally sprinkle some dried or fresh oregano and toss again. Check the salt and spices and adjust to suit your taste.

Turn off the heat and serve.

Serve the Quinoa With Grilled Zucchini & Chickpea immediately- squeeze a teaspoon of lime juice over just before serving. Also garnish with some green onions.

Serve Quinoa With Grilled Zucchini & Chickpea Recipe with Olive & Tofu In Harissa Curry Recipe for a wholesome lunch or dinner.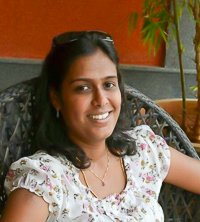 Jyothi Rajesh is an engineer by profession. Food and any thing related to food is her passion. She loves to cook, style and photograph food. She spends half of my week teaching Robotics to children and the rest of my week she get lost in cooking and photography. She cook for two reasons. First, cooking is, in all honesty, a way to show that she cares about people. It gives her great pleasure to make something that someone enjoys! Second, "I love the quest … the quest for great ingredient combinations, for unexpected flavors, for those "wow" recipes."