Ragi Kanji / Porridge (Baby Food - 6 months onwards)
A classic homemade porridge with Ragi / Finger Millet that can be fed to your babies from 6 months onwards

Archana's Kitchen
On

Saturday, 17 February 2018 10:00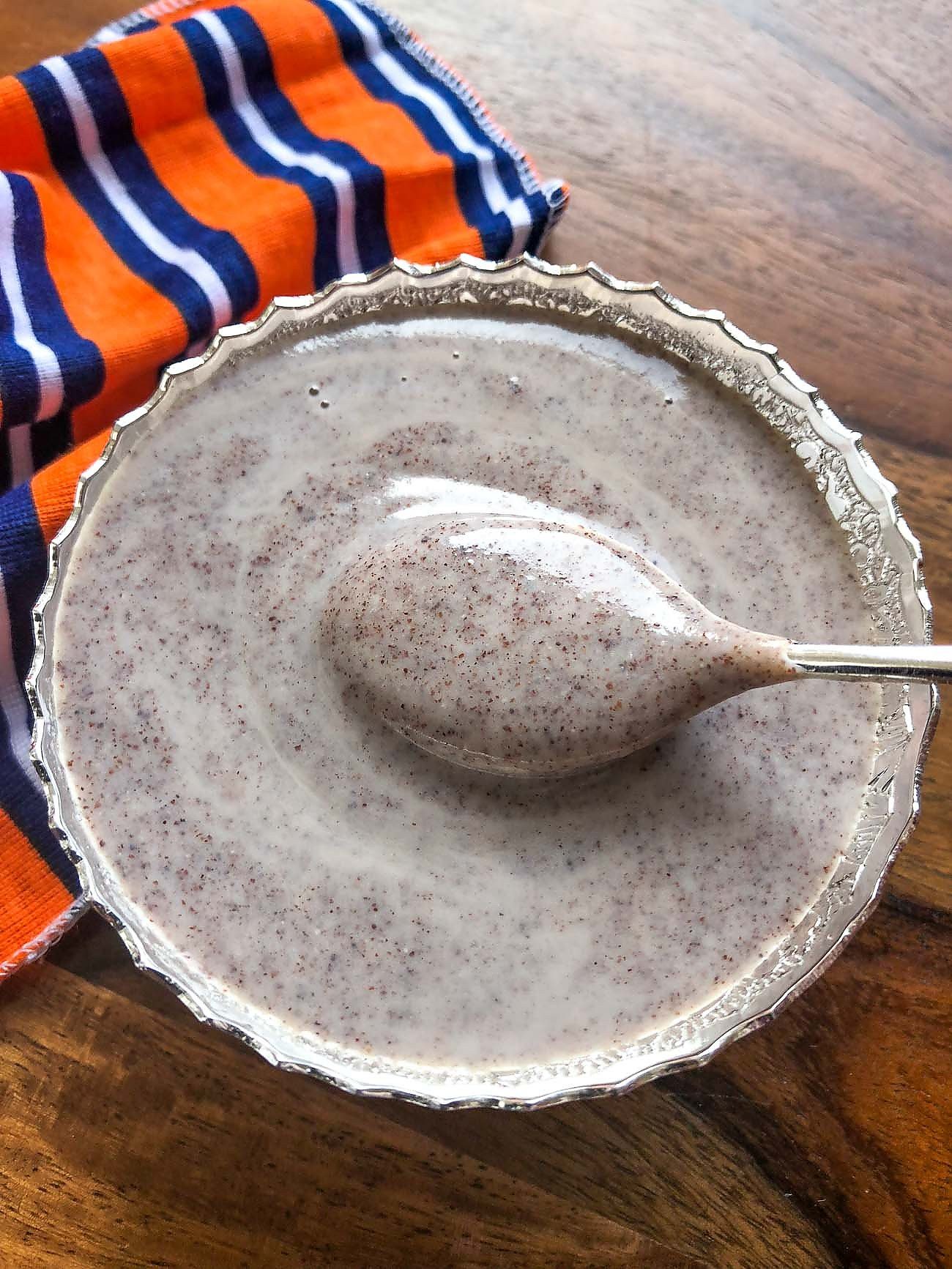 Kanji or Porridges are a great way to start solid meals for a baby. A baby is usually ready for solid meals around the time they are 6 months but some are ready as early as 4 months. So go ahead, be brave and give you baby a solid meal. Rice is usually the grain that is fed to babies, but Ragi is one of the other grains that has always been one of the baby weaning grains, especially in South India.
Ragi also known as finger millet or nachni is one of the many grains that has made a come back in the recent years and regarded as the most healthiest form of whole grain. A whole grain is a grain that contains the bran, germ and endosperm while refined grains are processed and only the endosperm remains. Ragi is a crop that can be grown in the harshest of weathers and therefore a perfect grain for the Indian subcontinent.
Serve Ragi Porridge/ Kanji to your babies who are over 6 months of age.
If you like this recipe, here are a few more Baby/toddler recipes
Diet:
High Protein Vegetarian
Ingredients
2 tablespoons

Ragi Flour (Finger Millet/ Nagli)

, Homemade powder
1/2 Cup

Water

50 ml

Breast Milk Or Formula
How to make Ragi Kanji / Porridge (Baby Food - 6 months onwards)
To begin making Ragi Porridge/Kanji, make sure to stock up on Ragi powder. Ragi powder is best made at home as it will not contain any preservatives or added sugar as in cases on store bought powders.

Here's How to make Ragi Powder at home.

In a small pan, add 1/2 cup water and 2 tablespoons of ragi powder. Stir well to combine before placing it on heat.

Once combined, place it on heat and keep stirring the baby ragi porridge continuously until it thickens.

Once done, turn off the heat and allow it to cool completely.

Add in the breast milk or formula and stir until all combines well.

If you add formula to the porridge, make sure to add a little water so that the formula melts into the porridge/kanji. Do not add formula directly to the pan while its cooking.

Let the porridge be cooled to room temperature or warm - whichever way your baby prefers.

Serve Ragi Porridge/ Kanji to your babies who are over 6 months of age.