Rava Kesari Bhath - South Indian Sooji Halwa Recipe
Give this delicious Rava Kesari Bath a try for the festivals, it's simple and delicious and all it takes is just 15 minutes. Serve this Rava Kesari along with Upma for breakfast along with a hot cup of filter coffee.

Archana Doshi
On

Friday, 16 June 2017 10:15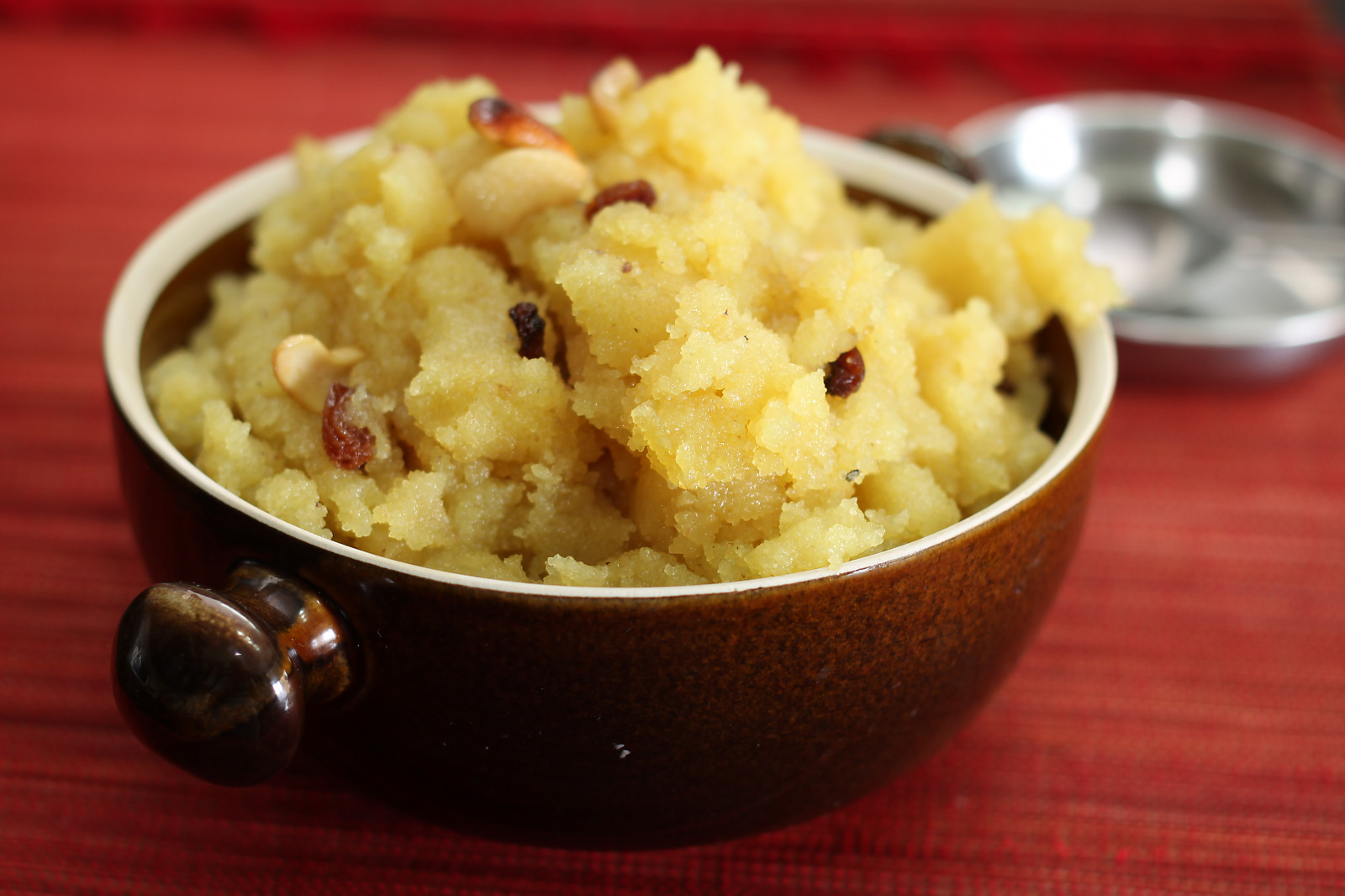 Rava Kesari Bhath/Sooji Halwa Recipe is a pudding made from semolina, flavored with saffron and other spices topped with nuts. In most parts of Southern India, Kesari is served as part of an offering to God during festivities.
Serve the Rava Kesari Bhath/Sooji Halwa Recipe along with Vegetable Rava Upma and the combination is known as Chow Chow Bhath.
Here are some other popular breakfast and tiffin delicacies from the state of Karnataka that are also equally enjoyed by all:
Ingredients
How to make Rava Kesari Bhath - South Indian Sooji Halwa Recipe
To begin making the Rava Kesari Bhath (Sooji Halwa) Recipe, we will first begin by boiling the water, milk, sugar, saffron and cardamom in a sauce pan and stirring until the sugar melts. Keep the liquid mixture aside on simmer in another stove.

In wide heavy bottomed pan heat ghee on medium heat; add the semolina (rava/sooji) and roast until the semolina gives out a roasted aroma and also turns light golden color. Take care not to let it over brown.

Gradually begin to stir in the hot liquid mixture you prepared earlier. Take care to keep the heat in medium as the mixture will splutter around as you pour the hot liquid to the semolina.

Keep stirring the mixture and the semolina will continue to thicken. Once it has thickened it will begin to leave the sides of the pan. Cover the pan and simmer the Rava Kesari Bhath for a couple of minutes stirring occasionally.

You will notice the semolina is cooked and when you stir the whole Rava Kesari Bhath comes away from the sides of the pan. At this stage, turn off the heat, cover the pan with a lid and let the Rava Kesari Bhath to rest for a few minutes.

In another small pan; heat the ghee on medium heat; add the cashew nuts and raisins and roast them until the cashew nuts turn golden brown.

Turn off heat and stir this to the Rava Kesari Bhath

Serve the Rava Kesari Bhath along with Vegetable Rava Upma for breakfast or even savor this as a sweet after a delicious meal.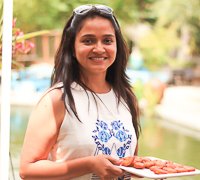 Archana Doshi is the founder of Archana's Kitchen. Archana launched Archana's Kitchen in 2007 as a way to keep track of her and family's recipes, and along the way grew it into one of the most popular cooking websites in the world. Archana is dedicated to helping home cooks be successful in the kitchen. Archana says "I hope you enjoy cooking recipes from my website where the sole effort is to make cooking simple for you. When you try out one of our recipes, we are longing to hear back from you. Do take your time to come back and share your comments, as your feedback means a lot to me"