Ribs With Guava Barbecue Sauce Recipe
Lamb ribs smeared in Chinese spices and a freshly made guava sauce and barbecued

Shaheen Ali
On

Friday, 31 March 2017 00:13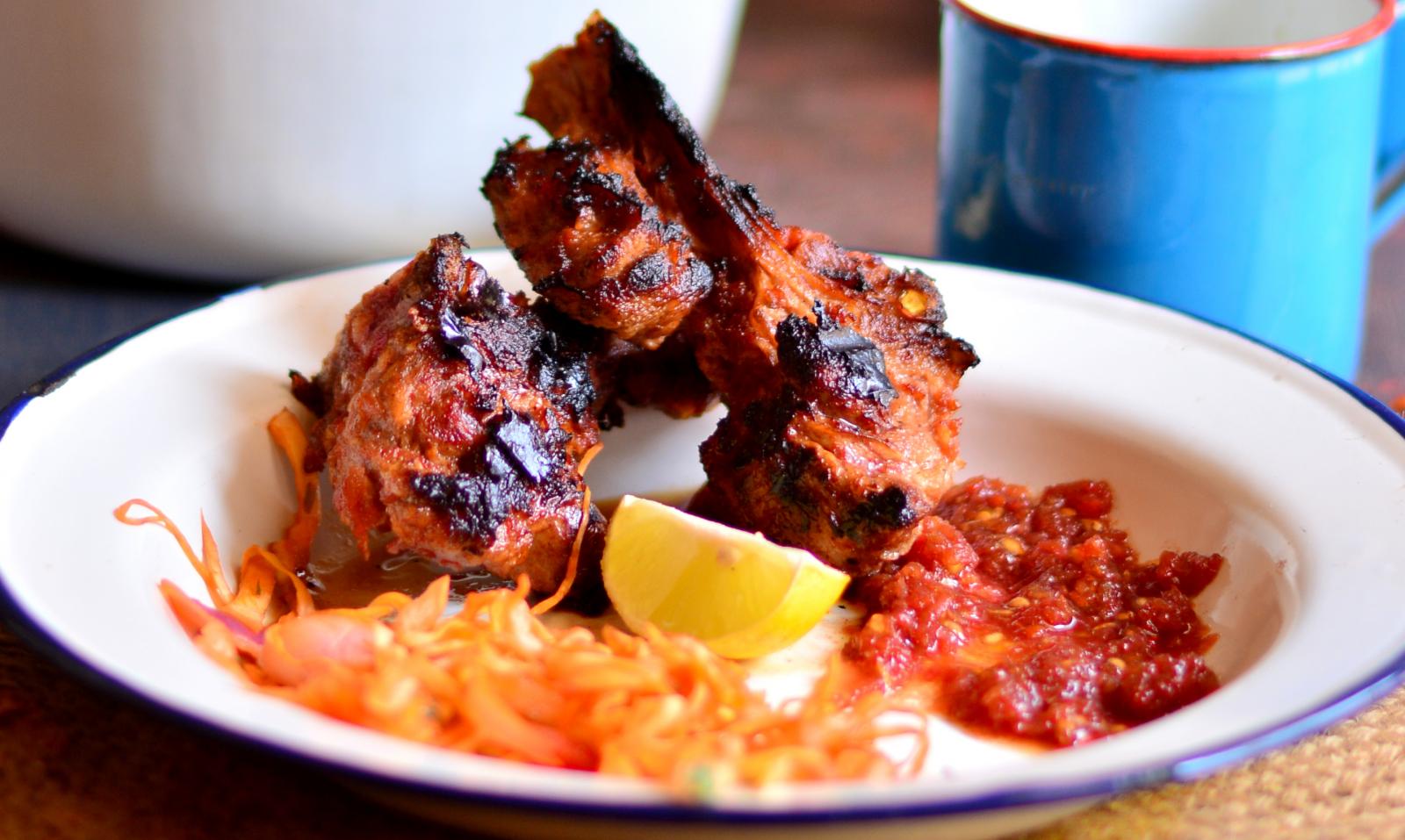 Ribs With Guava Barbecue Sauce Recipe is a non vegetarian delicacy which has Chinese flavours embedded in lamb ribs marinated in a guava sauce and barbecued again. This adds in a fruity and smoky flavour to the lamb barbecue. This recipe is apt to be in the barbecue party menu. Ribs With Guava Barbeque Sauce Recipe is served with rice and salad with lemon wedges to make it a complete meal.
If you like this recipe, here are more recipes to try for grilling & barbecue party
Ingredients
For Ribs:
4

Lamb ribs

, 2-3 ribs attached to bone
2 tablespoon

Sugar

, (adjust)
1 tablespoon

Kosher salt

1 tablespoon

Mustard seeds (Rai/ Kadugu)

1 teaspoon

Chinese 5 Spice Powder

1/2 teaspoon

Black pepper powder

, fresh ground (adjust)
1/2 teaspoon

Cinnamon Powder (Dalchini)

1/4 teaspoon

Clove powder (Laung)

1 tablespoon

Vinegar

1 teaspoon

Lemon juice

For Guava Barbecue Sauce:
2 cups

Guava puree

, (peel guavas and puree them in a grinder)
1/3 cup

Apple cider vinegar

3 tablespoons

Homemade tomato puree

3 tablespoons

Lemon juice

1 tablespoon

Soy sauce

1 tablespoon

Worcestershire sauce

2 tablespoons

Ginger

, minced
1

Spring Onion (Bulb & Greens)

, minced
1 clove

Garlic

, minced
1/4 cup

Water

Salt

, to taste
1/2 teaspoon

Black pepper powder

, freshly crushed (adjust)
1/2 teaspoon

Red Chilli flakes
How to make Ribs With Guava Barbecue Sauce Recipe
To begin making Ribs With Guava Barbecue Sauce Recipe, make guava barbecue sauce first.

Get all the ingredients ready and puree guava in a mixer grinder, after deskinning.

In a saucepan, combine the guava paste with the vinegar, tomato paste, lemon juice, soy sauce, worcestershire sauce, ginger, scallion, garlic, red chilli flakes, and water and bring the mixture to a boil.

Cook the sauce in low flames till it is reduced to 1-1/4 cups.

Add salt and pepper if required, since soy sauce and worcestershire sauce have salt and spice in them.

Switch off and keep the guava barbecue sauce side to cool.

Now to prepare the barbecued ribs, prepare the barbecue grill.

Take a large mixing bowl and combine sugar, salt, dry mustard, Chinese five-spice powder, pepper, cinnamon powder and cloves powder to make a dry mix. Sprinkle the mixture over the ribs.

Place the ribs on the wire rack above the hot charcoal, bony side down. Brush or spray some vinegar and lemon juice on top of ribs while grilling.

Continue to grill for 20-30 minutes with the help of a long tong.

Turn the ribs around carefully by holding then with a tong (but keep them bony side down) and spray once more with lemon juice and vinegar.

Cover and grill until the meat is tender.

Transfer the grilled ribs to a plate and brush the Guava Barbecue Sauce on both sides of the ribs and again grill directly over the fire for about 1 minute per side, until glazed and bubbling.

Transfer the ribs to a serving platter and let rest for 5 minutes.

Cut down between the bones and arrange the Ribs With Guava Barbecue Sauce Recipe on a platter and serve it with some rice, and salad with lemon wedges to make it a complete meal.