Rich Decadent Chocolate Souffle Recipe

Jyothi Rajesh
On

Sunday, 03 January 2016 00:51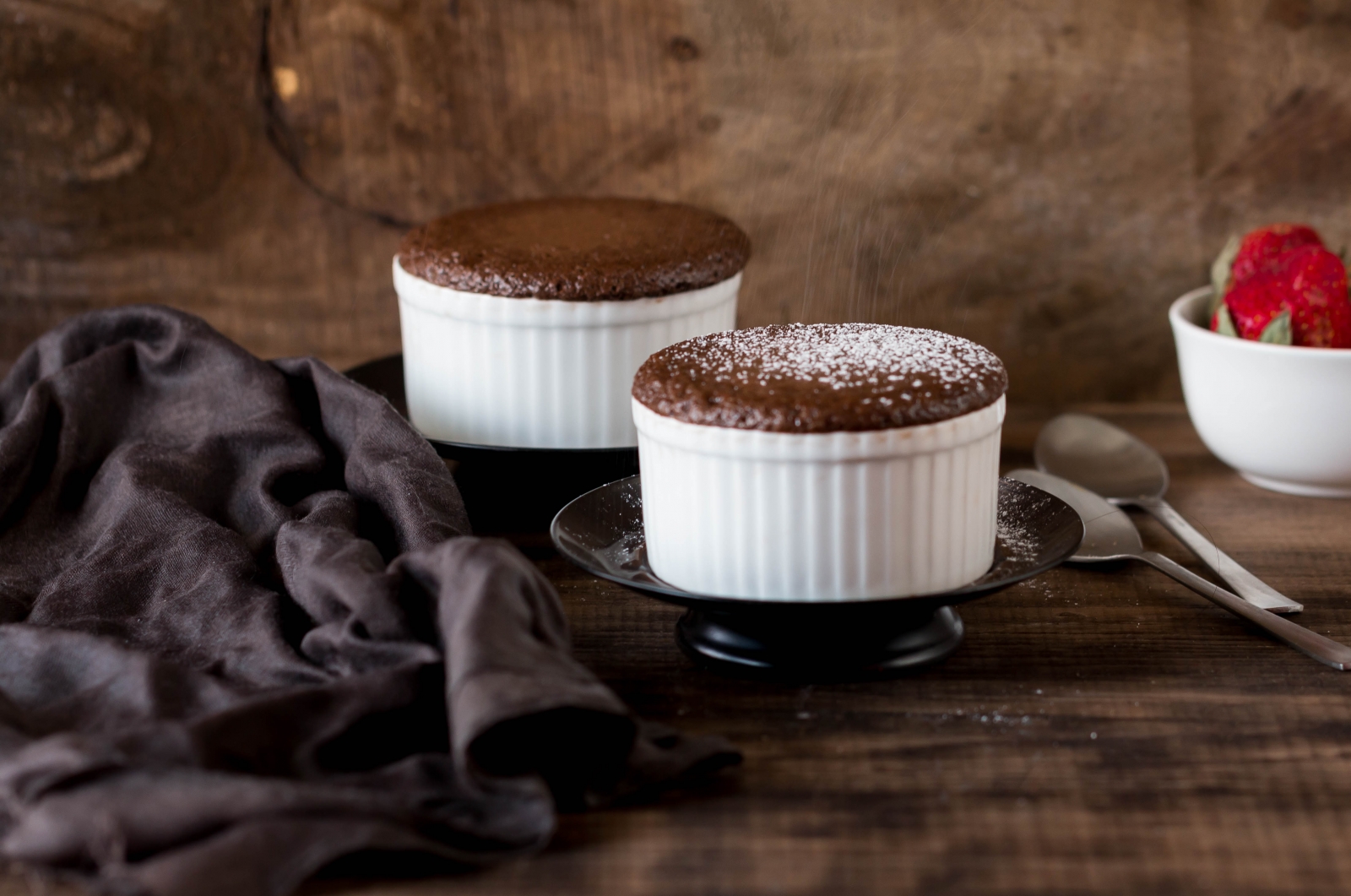 Rich Decadent Chocolate Souffle Recipe is an airy classic French dessert and a perfect way to treat your loved ones. Make this simple souffle this festive season, it makes a perfect New Years eve dessert whether you're entertaining a large party or just treating your family. Using a few staple ingredients, you can whip up a dessert quite easily.
Souffles have a reputation of being temperamental and that is one of the reason we always dread making them. But actually it's quite easy to get the signature height all if you keep a few tips and tricks in mind. It's best to make these chocolate souffles in individual ramekins. Top it with a dusting of powdered sugar, or a dollop of whipped cream to jazz it up. It's best to eat the souffles either immediately after they are made or when slightly cooled down as the height tends to deflate as time goes by. Serve it at your New Year Party this year and wow your guests!
Try some of the other easy to make party desserts like
Ingredients
100 grams

Dark chocolate

7 tablespoons

Butter (Unsalted)

, (at room temperature)
2 tablespoon

Sugar

2

Egg yolks

4

Egg whites

1/2 cup

Sugar

1 teaspoon

Vanilla Extract

1/2 teaspoon

Salt

2 teaspoon

Cream of Tartar

Icing Sugar

, for dusting

Heavy whipping cream

, sweetened, to serve
How to make Rich Decadent Chocolate Souffle Recipe
To begin making the Rich Decadent Chocolate Souffle Recipe first grease individual ramekins with butter generously.

Next dust 1 tablespoon white sugar into the ramekins and coat all the sides of the ramekins. This sugar coating will ensure the souffle is held to the bowl when they start to rise.

Then, preheat oven to 200 degrees C with rack in lower third.

In a microwave safe bowl, add chocolate and 3 tablespoon butter and melt in 20 seconds intervals to take the chocolate out and whisk it.

Whisk until chocolate butter mix is melted and a smooth mix is formed. Then, add 1 egg yolk and whisk well. Next add salt, vanilla essence and whisk again, till combined and set it aside.

Next, add egg whites into a bowl of a stand mixer and whisk until creamy. Now add cream of tartar or vinegar if you are using that and continue to whisk. Whisk until you see the egg whites begin to turn stiff.

Gradually add remaining ¼ cup sugar in slow streams and whisk until the egg whites form soft peaks and look glossy. This may take 2-3 minutes. You have to keep whisking and add the sugar gradually at this stage.

Spoon in 1/3 rd of egg whites into the chocolate mixture and using a spatula fold into the chocolate mixture. Continue adding the egg whites in parts and fold into the chocolate mixture, folding gently taking care not to deflate the egg whites. Be gentle and using the folding technique.

Spoon the mixture into ramekins evenly with batter all the way up to the top. Then smooth the surface using a spatula to get a nice flat top.

An important tip to make the souffle get a nice beautiful height is to run your thumb at the perimeter of the ramekins and create a small channel along the edge. Do this to get a good ¼ to ½ inch perimeter channel in the ramekins. Clean the outer surface of the ramekins using a kitchen towel and pop the ramekins into the oven and bake it for 13 to 15 minutes or until it's risen well and cooked.

Once souffle is done and risen, remove it from the baking tray using kitchen towel, as I found using oven mittens could disturb and break the souffle at the top.

Dust with confectionery sugar, add a dollop of sweetened whipped cream and serve immediately.