Roasted Beet & Walnut Dip Recipe
Give this Roasted Beet & Walnut Dip Recipe a try, it is a quick, simple and nutritious recipe that can be served as a dip or used as a spread for wraps or even sandwiches

Archana Doshi
On

Tuesday, 18 November 2014 05:30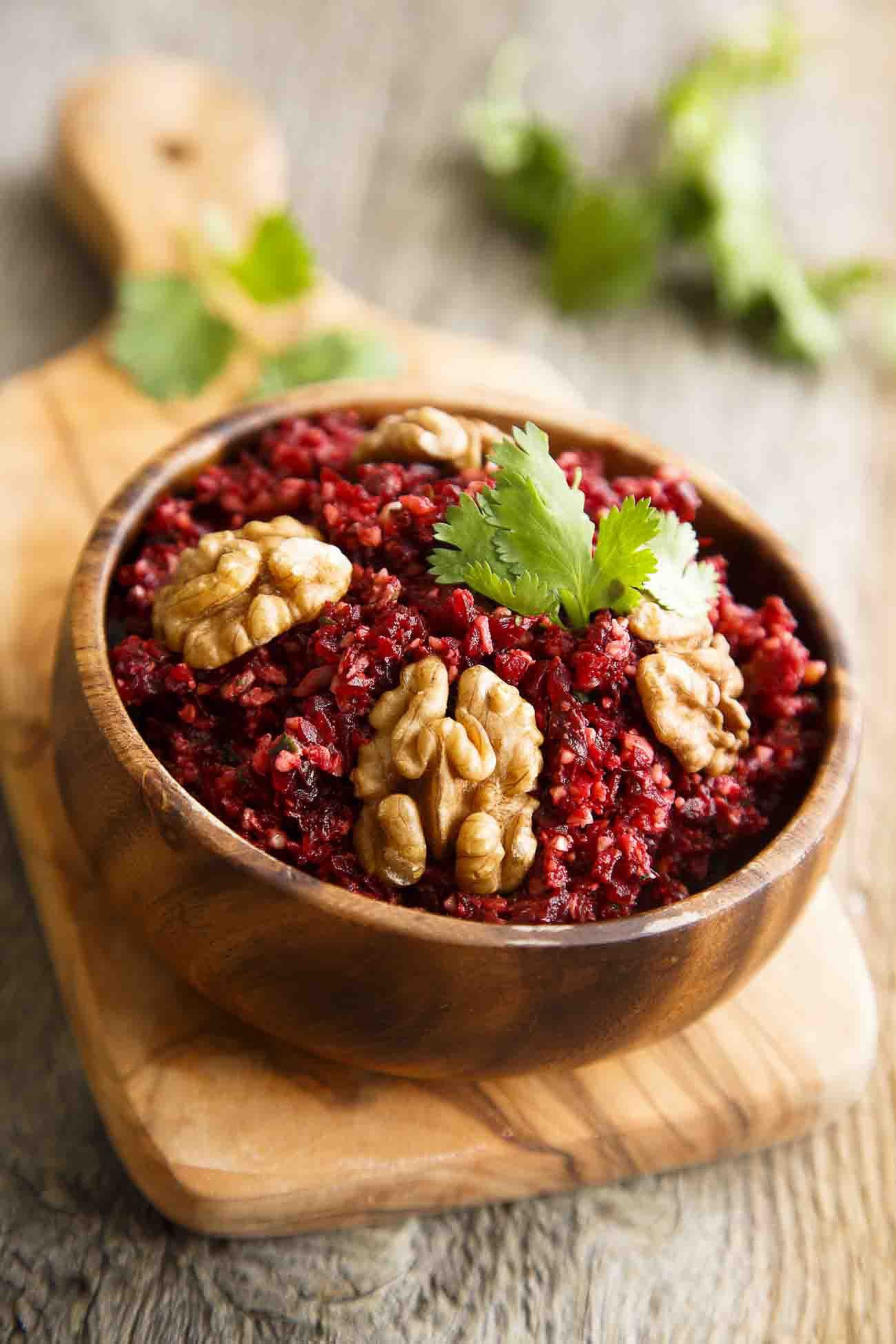 The Roasted Beet & Walnut Dip Recipe is a quick, simple and nutritious recipe that can be served as a dip or as a spread for wraps or even sandwiches. The beets in this recipe are not roasted the traditional way in the oven, but they are part steamed and part roasted in a wok. The roasted beets are combined with spring onions, just one clove of garlic and walnuts that add to the density and taste makes this dip delicious and wholesome.
The Roasted Beet & Walnut Dip Recipe make a great dip for your party appetizers or it can be spread on any kind of bread and added to a sandwich.
Serve the Roasted Beet & Walnut Dip Recipe along with Homemade pita bread to enjoy your Snack.
If you are looking for more Dip recipes here are some:
Ingredients
2

Beetroot

, peeled, steamed and cut into large chunks
1 clove

Garlic

2

Spring Onion (Bulb & Greens)

, finely chopped
1 tablespoon

Olive Oil

1 teaspoon

Whole Black Peppercorns

1/2 cup

Walnuts

, chopped
1/2 teaspoon

Cumin powder (Jeera)

Salt

, to taste
1

Lemon juice

2 sprig

Coriander (Dhania) Leaves
How to make Roasted Beet & Walnut Dip Recipe
To begin making the Roasted Beet and Walnut Dip or Spread Recipe, steam the peeled beets. I like steaming the beets before roasting them, as it cuts down the time taken to roast the beets. Roasting the beetroots can be done on the stovetop in a wok or in the oven. The process of roasting brings out the rustic flavors of the vegetable.

Heat a tablespoon of olive oil in a wok; add in the garlic cloves, the spring onions and the steamed beet roots. Stir fry on medium high heat until you get a nice roasted flavors from the beet. The process will not take more than 4 to 5 minutes.

Once the beetroots are well roasted, we will blend the roasted beets along with the remaining ingredients, including the juice from one lemon and pulse to get a slightly coarse, almost smooth dip (spread).

You can drizzle in some olive oil while pulsing to give it a smoother texture.

Transfer the dip to a serving dish and stir in the chopped coriander leaves. Check the salt and spice levels and adjust to suit your taste. You can use the Roasted Beet & Walnut Dip as a spread for kids sandwiches or even wraps. It tastes delicious and is wholesome too.

Serve the Roasted Beet & Walnut Dip Recipe along with Homemade pita bread to enjoy your Snack.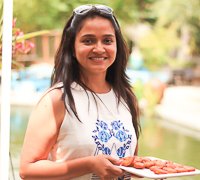 Archana Doshi is the founder of Archana's Kitchen. Archana launched Archana's Kitchen in 2007 as a way to keep track of her and family's recipes, and along the way grew it into one of the most popular cooking websites in the world. Archana is dedicated to helping home cooks be successful in the kitchen. Archana says "I hope you enjoy cooking recipes from my website where the sole effort is to make cooking simple for you. When you try out one of our recipes, we are longing to hear back from you. Do take your time to come back and share your comments, as your feedback means a lot to me"