Roasted Tomato And Basil Bruschetta Recipe

Madhuli Ajay
On

Thursday, 31 December 2015 00:23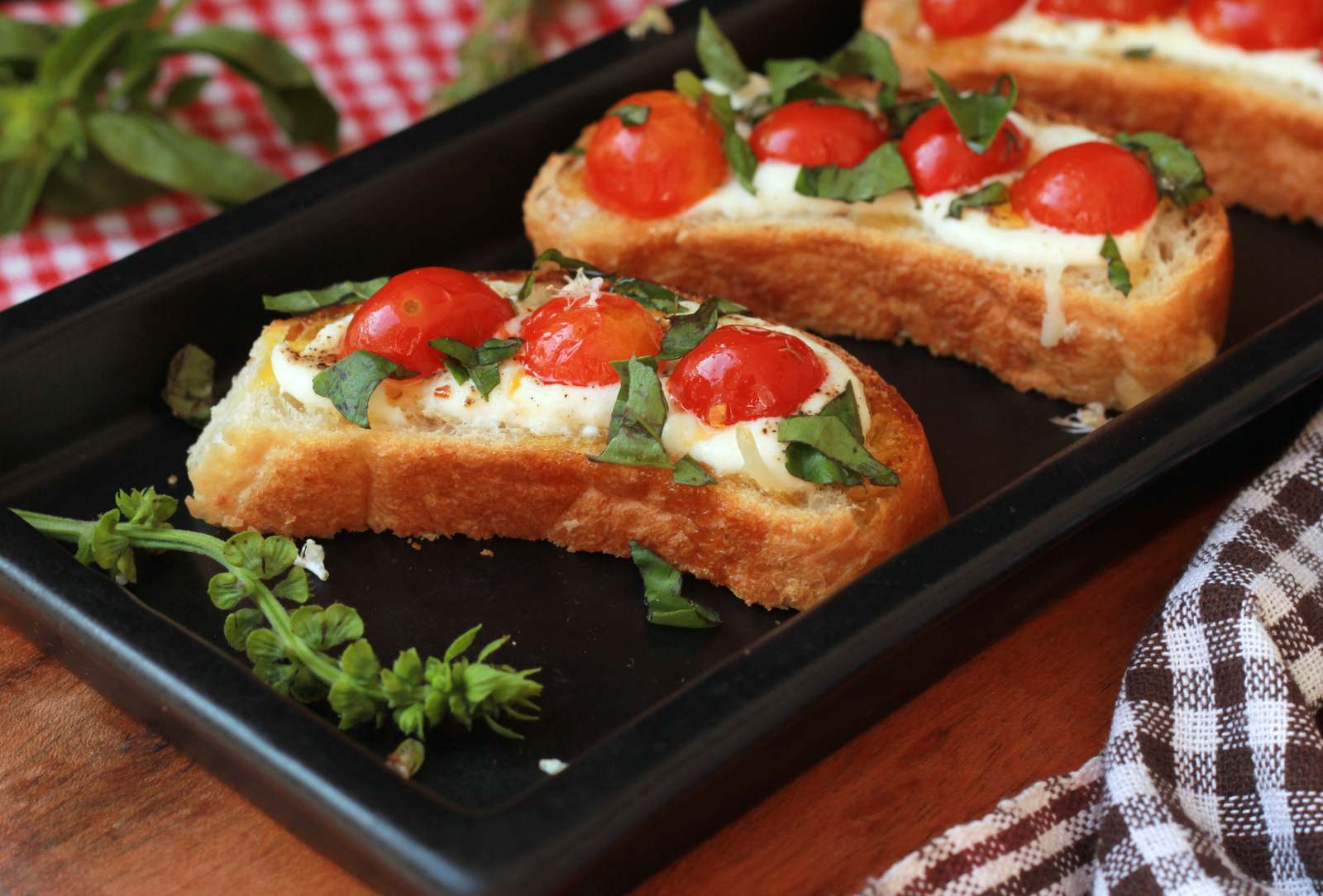 Bruschetta is a quintessential Italian starter (antipasto), in which sliced crusty bread is rubbed with garlic and typically topped with fresh Tomatoes, Basil and Olive oil. Few, simple, fresh ingredients are required to make this quick appetizer bursting with flavour. This recipe uses Cherry tomatoes, since they are more flavourful, but you can use large tomatoes too. Roasting the tomatoes and garlic enhances the flavour. The Ricotta cheese adds creaminess to the Bruschetta. You can swap this with Basil pesto ,if you like. Use any Italian crusty bread like Ciabatta or French bread like Baguette or the Indian Brun-pav (with the crusty top) to make this Roasted Tomato and Basil Bruschetta.
Serve Roasted Tomato and Basil Bruschetta along with Baked Pasta with Cottage Cheese and Spinach for a weeknight dinner.
Other recipes that you can try are:
Ingredients
1

Baguette

, cut into thick slices (about 8-9 slices)
250 grams

Cherry tomatoes

, halved
5 cloves

Garlic

, finely chopped
2 tablespoon

Olive Oil

4 sprig

Fresh Thyme leaves

, or 1/2 teaspoon dried
1/4 cup

Ricotta Cheese

1 teaspoon

Whole Black Peppercorns

, coarsely pounded 

Sea salt

, to taste

Chilli oil

, to drizzle

Basil leaves

, 1 bunch, torn/chiffonade
How to make Roasted Tomato And Basil Bruschetta Recipe
To make the Roasted Tomato and Basil Bruschetta Recipe, first preheat the Oven to 200 degree Celsius.

In a Roasting pan, coat the Cherry tomatoes and garlic cloves with Olive oil.

Mix the Thyme leaves and sprinkle some crushed sea salt , crushed black pepper on the tomatoes.

Place the tomatoes in the preheated oven and roast for 10-12 minutes. (Time may vary depending on the size and type of tomatoes). Once done, remove from the oven

Meanwhile, lightly toast the baguette slices on a Griddle/grill pan on the stovetop but drizzling some olive oil on the top and keep aside.

In a small bowl, mix the Ricotta Cheese with some salt and remaining crushed black pepper

Spread a spoonful of Ricotta cheese on the slice. Top this with the roasted cherry tomatoes.

Garnish generously with the fresh Basil leaves and drizzle the Bruschetta with Chili oil and serve immediately.

Serve Roasted Tomato and Basil Bruschetta along with Baked Pasta with Cottage Cheese and Spinach for a weeknight dinner.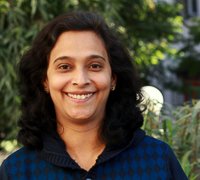 Giving up a lucrative career tinkering with Analytical equipments, Madhuli Ajay chose to tinker in her Food lab- developing new recipes & satisfying her culinary travel cravings. She has been sharing heirloom recipes on her blog 'My Foodcourt' for the past 9 yrs. Madhuli bakes to feed her soul. Testing recipes & photographing food for a cookbook, has fuelled her food photography passion. Based in the gorgeous 'Wine Capital' of India Nashik, Madhuli also loves spending time in her little kitchen garden.