Roasted Tomato And Pumpkin Soup Recipe
Italian spiced roasted tomatoes and pumpkins pureed to delicious and hearty soup

Hina Gujral
On

Friday, 14 November 2014 10:07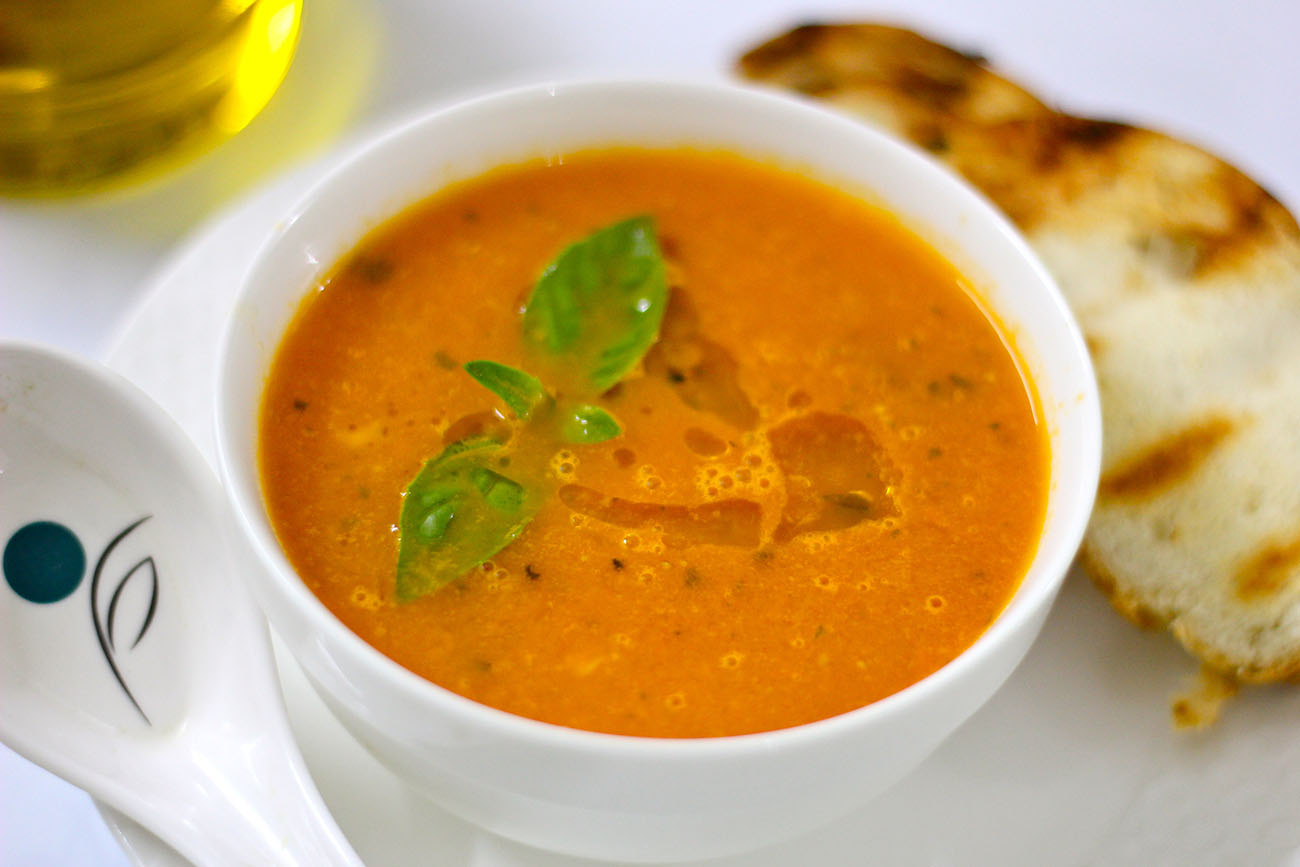 Roasted Tomato and Pumpkin Soup is a hearty old-fashioned favorite soup, flavors of roasted tomato and garlic add smoky taste to the soup. This soup combines the goodness of fall harvest - pumpkin and tomato and served with hunks of country style bread can make a great weeknight fix as well. To make this soup healthy - quantity of oil is trimmed down and no cream is been has been used. You can serve Roasted Tomato And Pumpkin Soup Recipe with Mexican Cornbread Recipe or Garlic Knot Recipe.
If you like this recipe, try more recipes like
Note: I have used KitchenAid Cordless Blender to blend the soup in the pot itself. You can use regular blender/food processor as well to puree the soup.
Ingredients
3

Tomatoes

150 grams

Kaddu (Parangikai/ Pumpkin)

, cubed
1

Leek

, roughly chopped
2 cloves

Garlic

, crushed
2 tablespoon

Balsamic Vinegar

, (or juice from one lemon)

Salt and Pepper

, to taste
1 liter

Vegetable stock

2 tablespoon

Extra Virgin Olive Oil
How to make Roasted Tomato And Pumpkin Soup Recipe
To begin making the roasted pepper and pumpkin soup we will first have to prepare the tomatoes and roast the pumpkin.

Blanch the tomatoes. Remove the skin and cut tomato into half. See video of how to blanch the tomatoes. Keep this aside.

Into a large wok heat a tablespoon of olive oil on medium heat. Add in the chopped leeks and saute until translucent but not brown. Add in the garlic cloves and the diced pumpkin, sprinkle some salt and roast the pumpkin until it is soft and tender. You can optionally cover the pan and so the steam created helps the pumpkin cook faster. Roasting on a wok is faster, but you can optionally roast the pumpkin in the oven that is loosely covered with foil.

Once the pumpkins are roasted, add roasted tomatoes and saute for another couple of minutes. Add in the remaining ingredients the the vegetable broth. Check the salt and pepper levels and adjust to suit your taste.

At this stage, you can use a hand blender and blend all the ingredients to make a smooth puree. If you don't have a blender, then allow the soup mixture to cool a bit and use the mixer (regular blender) to make the pumpkin tomato puree.

Once the soup is pureed, you can warm the Roasted Pumpkin and Tomato soup just when you are ready to serve to maximize the nutrient content. Continuous reheating reduces the nutrition value, hence just warming it before you are ready to serve is a great idea to preserve nutrition.

Serve the Roasted Pumpkin and Tomato Soup topped with basil leaves and with Mexican Cornbread Recipe or Garlic Knot Recipe.