Roasted Vegetable Pizza Recipe With Oat Flour Crust
Pizza crust made with oat flour and nicely roasted veggies on top with pizza sauce

Archana Doshi
On

Wednesday, 05 February 2014 18:20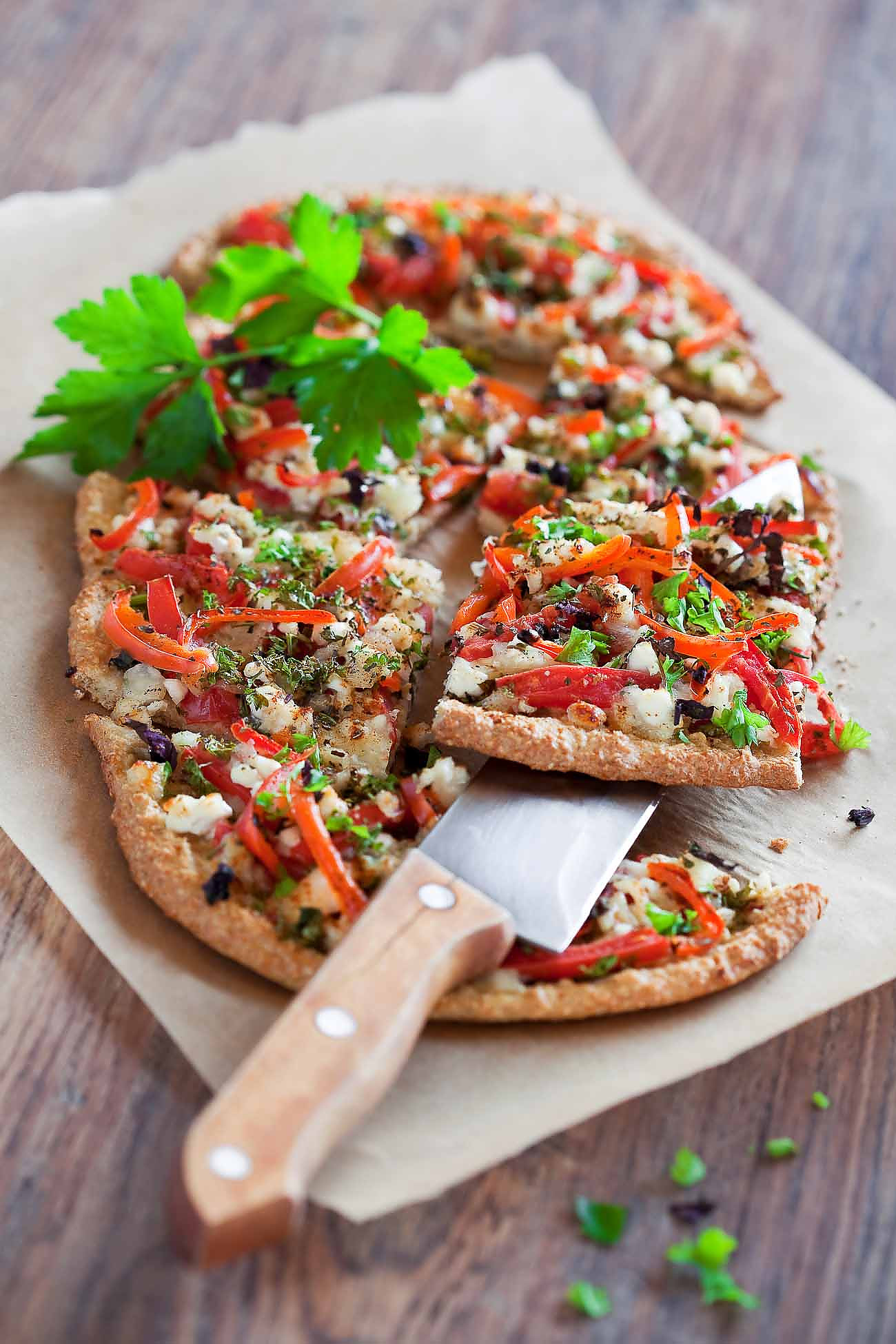 Roasted Vegetable Pizza with Oat Flour Crust is a one such experiment I did in a quest to include the whole grain oats along with the whole wheat flour that I generally use and the result was a very soft crust and lightly crisp around the edges. Making the Oat flour is very simple, all you have to do is to blend the oats in a processor or even a blender and the oat flour is ready in less than a minute. In this oats pizza I have used roasted mushrooms and red bell pepper as a topping and it goes perfectly well with cheese. I have used fresh mozzarella cheese in the recipe, but you can experiment with a variety of cheeses like feta cheese as well.
Serve Roasted Vegetable Pizza Recipe With Oat Flour Crust along with Zucchini Zoodles with mushroom Meatball Recipe, Tomato & Beetroot Soup Recipe and a dessert like Vanilla Panna Cotta Recipe with Cocoa & Mint.
Take a look at more pizza recipes that you can also try
Ingredients
Ingredients for the Oat Flour Pizza Crust
1 cup

Instant Oats (Oatmeal)

, ground into flour
2 cups

Whole Wheat Flour

2 teaspoons

Baking powder

2 tablespoons

Olive Oil

1 teaspoon

Salt

1 tablespoons

Sugar

Lukewarm Water

Ingredients for the Roasted Vegetable Pizza Topping
2 cups

Pizza Sauce

, or tomato basil sauce
100 grams

Mozzarella cheese

, grated or in slices
200 grams

Button mushrooms

, quartered
1

Red Bell pepper (Capsicum)

, thinly sliced
1

Onion

, thinly slices

Olive Oil

, as needed

Pizza seasoning

, or dried oregano to taste

Salt

, to taste

Black pepper powder

, coarse, freshly ground to taste
How to make Roasted Vegetable Pizza Recipe With Oat Flour Crust
To make the Oats Flour grind the regular oats into a fine powder using a blender or a food processor. Oats grinds very easily and hence its super easy to make the oat flour.

In a large mixing bowl, combine the flours, salt, sugar and baking powder.

Combine and mix the flour, salt, sugar, and the baking powder in a medium sized bowl. Next add in the lukewarm water a little at a time to the flour and knead the dough. Add in the olive oil to the dough and knead to mix well. The dough will be very sticky after all ingredients are combined. Add in some additional wheat flour if required to make the dough smooth. Knead the dough for about 5 to 6 minutes. If you have a stand mixer you can use that as well to ease the process.

Cover the dough and allow the dough to rest for about half an hour.

While the dough is resting we will prepare the topping for the pizza.

In a heavy bottomed pan, add in a tablespoon of olive oil.

Add in the red bell pepper and onions and roast until they are tender and lightly browned.

Add in the mushrooms and stir fry on high heat until just a bit tender. Season with required salt and crushed black pepper and keep the topping aside.

After the rise, divide the dough into two halves to make two smaller pizzas or you can leave it as it is to make a large pizza. The size of the pizza will depend on how thick or thin you roll it.

Preheat the oven to 220 C.

Dust the pizza pans with flour and some cornmeal or semolina. This will prevent the dough from sticking to your pizza pan.

Bake the crust for 5 to 7 minutes, then take out of the oven. Layer the pizza first with the sauce, then the roasted vegetables and the cheese. Place the pizza back in the oven and bake until you notice the crust is beginning to brown and the cheese is bubbling.

Once baked, remove the pizza from the oven and allow it to rest for a couple of minutes before slicing and serving. You can also optionally sprinkle some oregano or pizza seasoning and serve.

Enjoy the Roasted Vegetable Pizza with Oat Flour Crust with friends and family during parties or even for a weeknight dinner.

You can serve Roasted Vegetable Pizza Recipe With Oat Flour Crust along with Zucchini Zoodles with mushroom Meatball Recipe, Tomato & Beetroot Soup Recipe and a dessert like Vanilla Panna Cotta Recipe with Cocoa & Mint.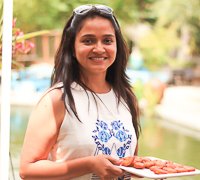 Archana Doshi is the founder of Archana's Kitchen. Archana launched Archana's Kitchen in 2007 as a way to keep track of her and family's recipes, and along the way grew it into one of the most popular cooking websites in the world. Archana is dedicated to helping home cooks be successful in the kitchen. Archana says "I hope you enjoy cooking recipes from my website where the sole effort is to make cooking simple for you. When you try out one of our recipes, we are longing to hear back from you. Do take your time to come back and share your comments, as your feedback means a lot to me"