Sabudana Khichdi Recipe-Savory Tapioca Pearl Breakfast Pudding
A gluten free dish popular across India especially during the fasting days. You can relish this dish anytime of the year as it is super tasty, light and flavourful.
In association with Figaro Olive Oil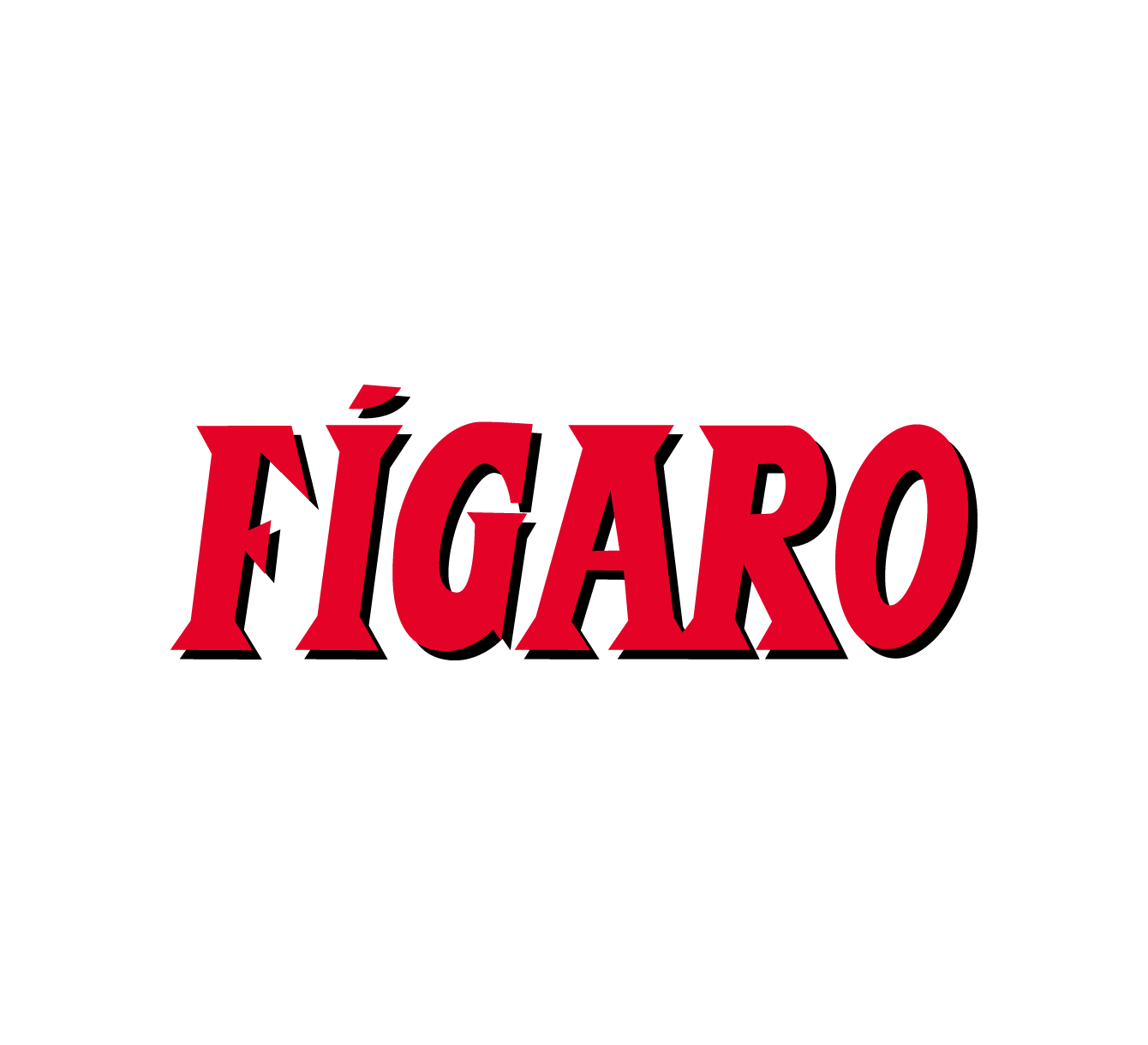 Archana Doshi
On

Friday, 16 June 2017 08:08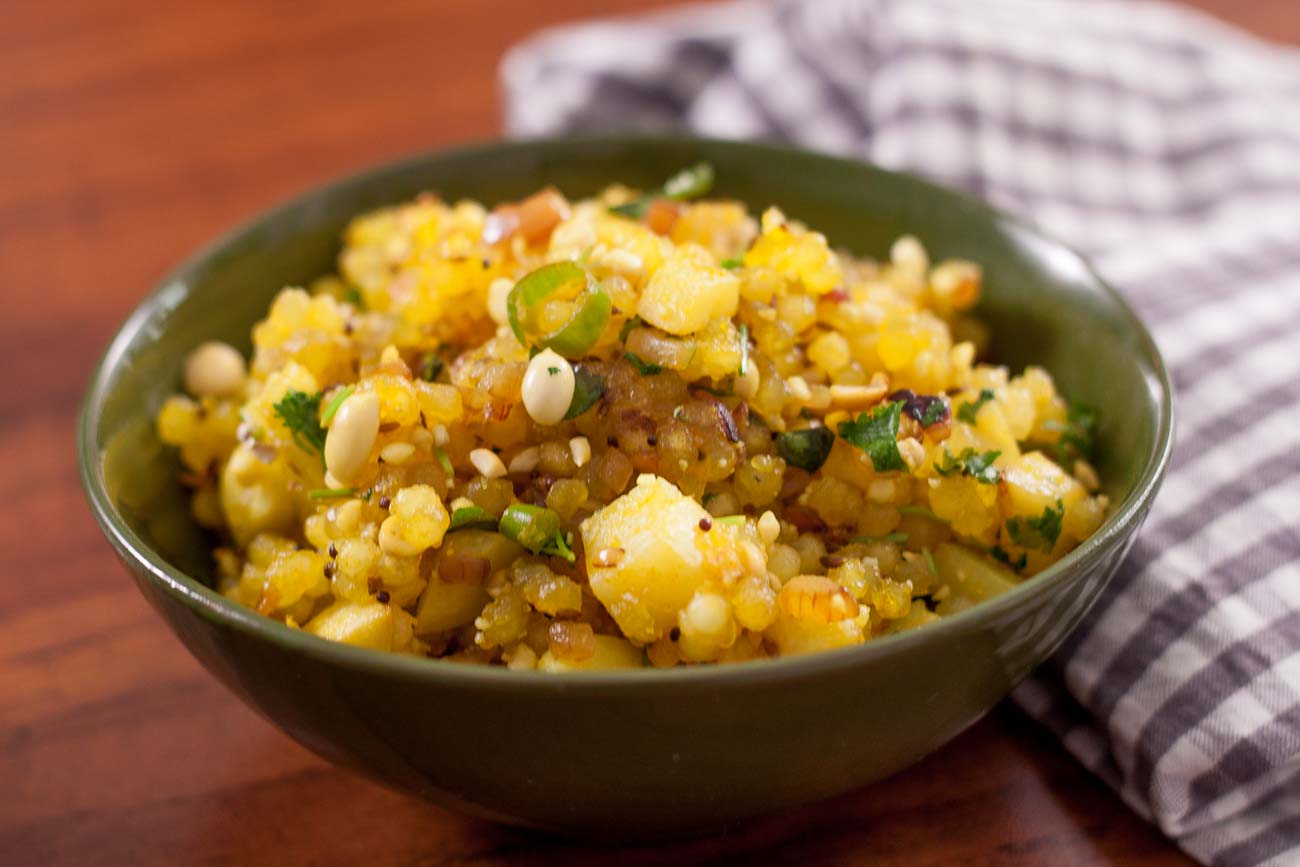 Sabudana Khichdi Recipe is a simple to cook and delicious to eat recipe. It is healthy and widely used as fasting food in many Indian homes. The recipe is extremely low in fat and full of starch or carbohydrates and hence is a great food for a quick boost of energy. Although it is often served in India for breaking fasts during religious festivals, it is just as delicious for a non-fasting meal. There are different varieties of tapioca available in the market; some that are translucent and there are some that are white in colour. Either one of them can be used for making this dish. The cooking time of the Sabudana varies according to the type of sabudana that you use.
Did You Know: Cooking in olive oil actually boosts your immune system, if you have children, it great to include olive oil as part of their diets, and you will see their immunity system improve & they will fall ill less often.
Serve the Sabudana Khichdi Recipe along with Nellikai Pachadi Recipe (Amla/ Gooseberry Raita) to enjoy your meal.
If you are looking for more Khichdi recipes here are some :
Course:
North Indian Breakfast
Ingredients
1 cup

Sabudana (Tapioca Pearls)

, soaked in 1 cup water
1

Potato (Aloo)

, boiled and cubed
1/2 teaspoon

Mustard seeds

1/2 teaspoon

Cumin seeds (Jeera)

5

Curry leaves

, finely chopped
1

Onion

, finely chopped
2

Green Chillies

, finely chopped
1 inch

Ginger

, grated
1/4 teaspoon

Turmeric powder (Haldi)

1

Lemon juice

1/4 cup

Roasted Peanuts (Moongphali)

, coarsely pounded
2 tablespoons

Figaro Pure Olive Oil

2 sprig

Coriander (Dhania) Leaves

, chopped

Salt

, to taste
How to make Sabudana Khichdi Recipe-Savory Tapioca Pearl Breakfast Pudding
To begin making the Sabudana Khichdi, wash and soak the sabudana in enough water for 4 to 5 hours or even overnight . Using a colander, drain the excess water. Drain the water completely as if the sabudana has more water then they will clump up while cooking.

Heat oil in a large pan on medium heat; add mustard seeds, cumin seeds and allow them to crackle. Stir in the curry leaves, green chillies, ginger, potatoes and turmeric powder. Saute for a few seconds, then stir in the salt and sabudana. Mix well to combine all the ingredients.

Cover the pan with a lid and simmer on low heat for about 5 minutes or until the sabudana is cooked. Stir occasionally. You can optionally sprinkle water, if your sabudana does not get cooked. But take care when you add water, you should only sprinkle water. Most times, keeping them on low to medium heat cooks the sabudana.

To check readiness, the tapioca would have changed its colour from white to translucent and it should be soft and tender not mushy.

Each tapioca ball will be separate and not like a lump of mass. Once cooked; stir in the crushed peanuts, lemon juice and coriander leaves. Turn off the heat; cover the pan and allow it to rest for about 5 minutes.

Serve the Sabudana Khichdi Recipe along with Nellikai Pachadi Recipe (Amla/ Gooseberry Raita) to enjoy your meal.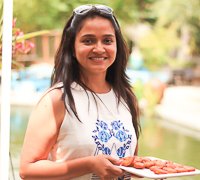 Archana Doshi is the founder of Archana's Kitchen. Archana launched Archana's Kitchen in 2007 as a way to keep track of her and family's recipes, and along the way grew it into one of the most popular cooking websites in the world. Archana is dedicated to helping home cooks be successful in the kitchen. Archana says "I hope you enjoy cooking recipes from my website where the sole effort is to make cooking simple for you. When you try out one of our recipes, we are longing to hear back from you. Do take your time to come back and share your comments, as your feedback means a lot to me"