Saffron Cardamom Creme Brulée Recipe

Aish
On

Sunday, 29 May 2016 00:09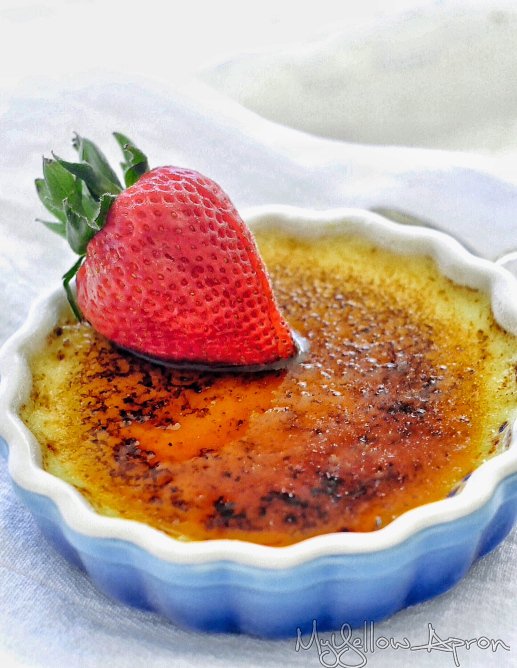 Saffron Cardamom Creme Brulée is a french classic dish that serves as a dessert. Saffron Cardamom Creme Brulée is loaded with warm mushy flavors of saffron and with the taste of cardamoms. It is an easy dish to prepare though you got to be very cautious during the process.
Saffron Cardamom Creme Brulée is a perfect for date nights or just a little treat for yourself.
Serve the Saffron Cardamom Creme Brulée with some berries on top.
You may also like other dessert recipes, try them at home and enjoy.
Ingredients
Few

Saffron strands

3

Cardamom (Elaichi) Pods/Seeds

2 cups

Double Cream

4

Egg yolks

1/4 cup

Sugar
How to make Saffron Cardamom Creme Brulée Recipe
To begin with the Saffron Cardamom Crème Brulee Recipe first, Break the cardamom pods lightly in a mortar and pestle.

Now take a saucepan and place it on the stove over medium heat and add cream, saffron strands, and cardamom.

Heat the cream until little bubbles are forming around the edges

Take it off the fire and wait for 30 minutes and heat the cream again. Once the little bubbles start to form, take it off the stove and let it sit for another 30 minutes.

For the next step separate the egg yolks and keep the aside. In a deep bowl add the egg yolks, sugar and the cream mixture. Keep beating it till you get a good consistency.

Pour the liquid into creme brulée ramekins. Place the ramekins in a roasting or baking pan. Add water to the pan till it reaches the crème brulee level.

Bake in the oven at 325 degree for about 30 minutes. After removing it from the oven let it sit for 30 minutes and refrigerate for some time.

Before serving, dust the tops with raw sugar and burn the sugar going slowly from spot to spot with your torch. Since I don't have one, I placed the ramekins in the oven with the broiler up super hot. If you will use the broiler, make sure the creme brulée is very cold and fully set.

Your Saffron Cardamom Crème Brulee Recipe is ready you can top them with few berries of your choice and have it for dessert.