Sakkare Achhu Recipe (Festive Sugar Figurines)
Karnataka Style Sugar Candy Made On Sankranti

Smitha Kalluraya
On

Monday, 30 January 2017 00:23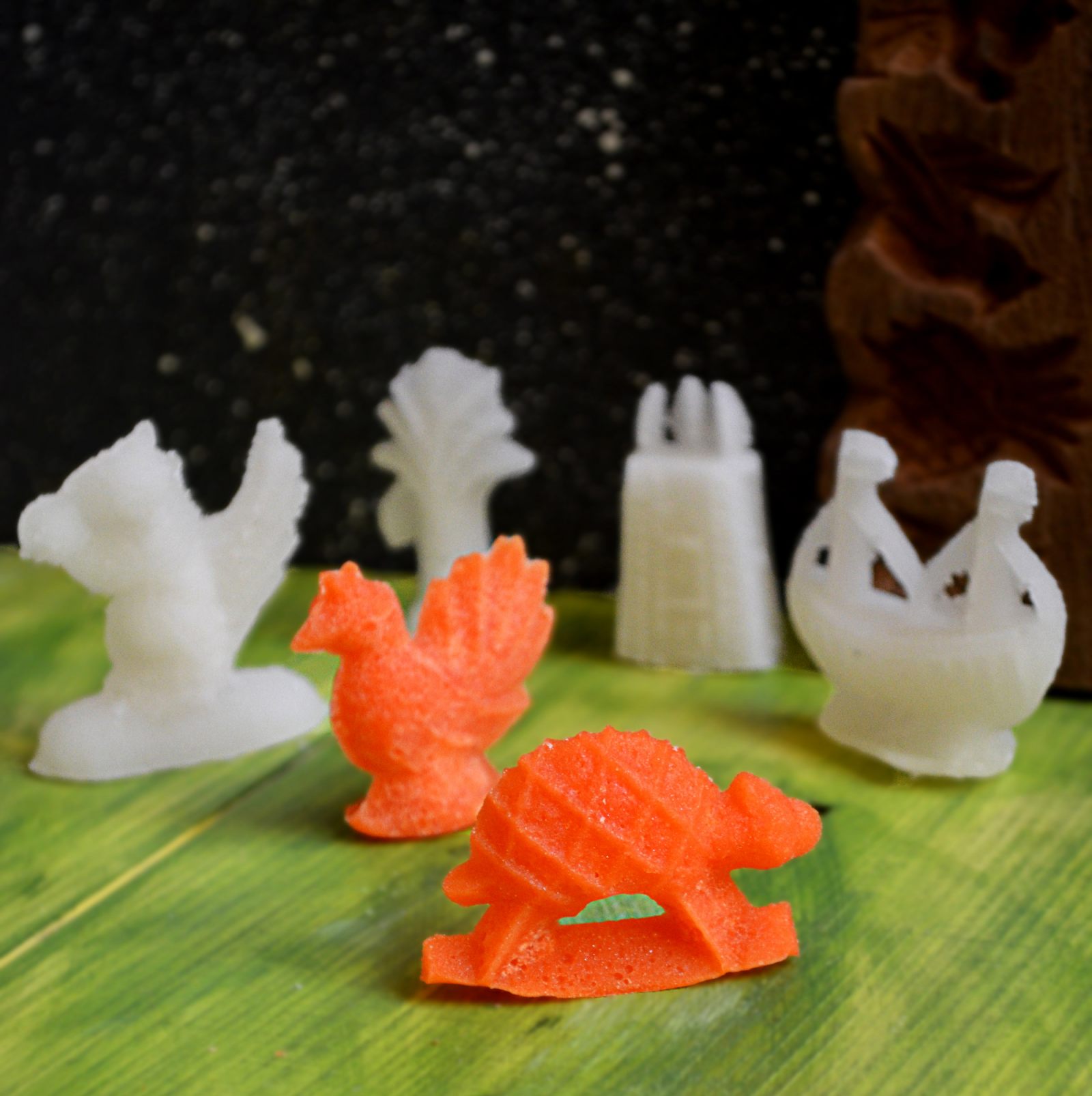 Sakkare Achhu Recipe is a Festive Sugar Candy that is prepared specially during Sankranti to distribute among the kith and kin. These candies are melt in mouth, sugary sweet that is made out of purified sugar syrup moulded in wooden moulds to make the sugar figurines. Make sure you get nice traditional wooden acchu-moulds. If you do not have one, you can also do this recipe on silicon moulds. Sakkare achhu is traditionally distributed with sugar cane and ellu bella on Sankranti festival. You can serve Sakkare Achhu Recipe as an occasional dessert.
Here are a few more Indian sweet recipes to try
Ingredients
1 cup

Sugar

1/2 cup

Water

2 tablespoons

Milk

1 tablespoon

Curd (Dahi / Yogurt)

1 pinch

Food Color

, (optional only)
How to make Sakkare Achhu Recipe (Festive Sugar Figurines)
To prepare Sakkare Achhu Recipe (Festive Sugar Figurines), soak the wooden moulds in water overnight or 5-6 hours .

Later, join the pairing moulds and hold them together firmly using rubber bands . Keep all the moulds ready before you start making the sugar syrup . If you are using silicone moulds .. skip the first 2 steps.

Soak 1 cup of sugar in 1/2 cup water for 2-3 hours.

Mix well and keep the sugar solution on medium flame in a saucepan and bring it to a gentle boil.

When the the sugar solution has started boiling. Add 2 tablespoons of milk and mix. Bring to a boil.

Sieve sugar syrup using a muslin cloth over another vessel .

Place the strained sugar syrup back to flame in saucepan. When it is about to boil, add a tablespoon of curd. Mix. Bring to boil. You can add food colour at this stage if you like.

You will observe that the sugar syrup has started to thicken and a thick frothing starts.

Simmer to settle the frothing, (or you can take off the saucepan from heat). Keep stirring at all times while syrup is on flame. Check when the frothing settles down, the syrup will be transparent. Place it back on heat and bring to boil.

Do it a couple more times (may take up to 5-6 times), till you see a translucent liquid, which is the right consistency to prepare sakkare achhu.

Pour hot sugar syrup into the prepared moulds quickly. Tap in between so that sugar syrup gets distributed evenly and no air bubble is trapped within.

Allow the syrup to set and solidify in the mold for 10-15minutes.

Remove the rubber bands and gently open the wooden moulds. Take a pin/ knife/tooth pick gently separate the achhus from the molds.

Sundry for 1-2 hours and store them in an airtight container. These stay good for months.

Serve Sakkare Achhu Recipe as an occasional dessert.