Shrimp Walnut Bruschetta Recipe Flavored With Cheesy Dip
In association with Del Monte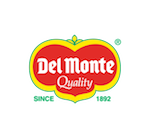 Farrukh Aziz Ansari
On

Thursday, 03 November 2016 00:00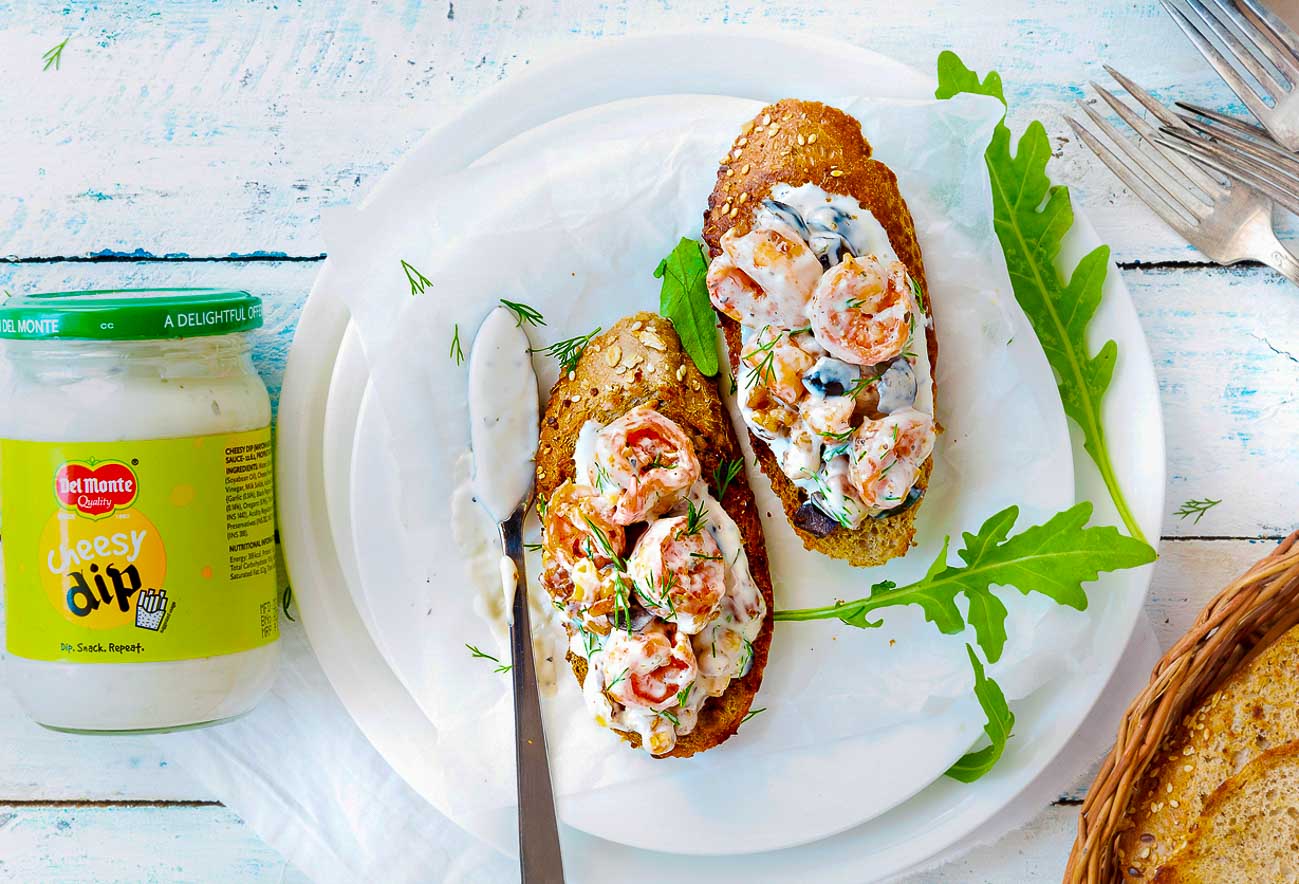 Bruschetta is classic Italian snack that is most often topped with tomato and basil tossed in olive oil and served as an appetizer for parties.
Shrimp Walnut Cheesy Dip Mayo Bruschetta is a twist to the classic, that makes a use of delicious Del Monte Cheesy Dip. The texture of perfectly cooked shrimp, the crunch of walnut, olives, pleasant aroma of Dill, when mingled with luscious Del Monte Cheesy Dip is delectable.
Del Monte Cheesy Dip, makes an amazing cheesy base for Bruschetta with no effort and you have your delightful snack ready in minutes. All you need is Shrimp, baguette slices, walnuts, seasoning and the Cheesy Dip from Del Monte.
Shrimp Walnut Bruschetta Recipe Flavored With Cheesy Dip is an ideal chomp for parties, get-togethers, breakfasts or even evening tea.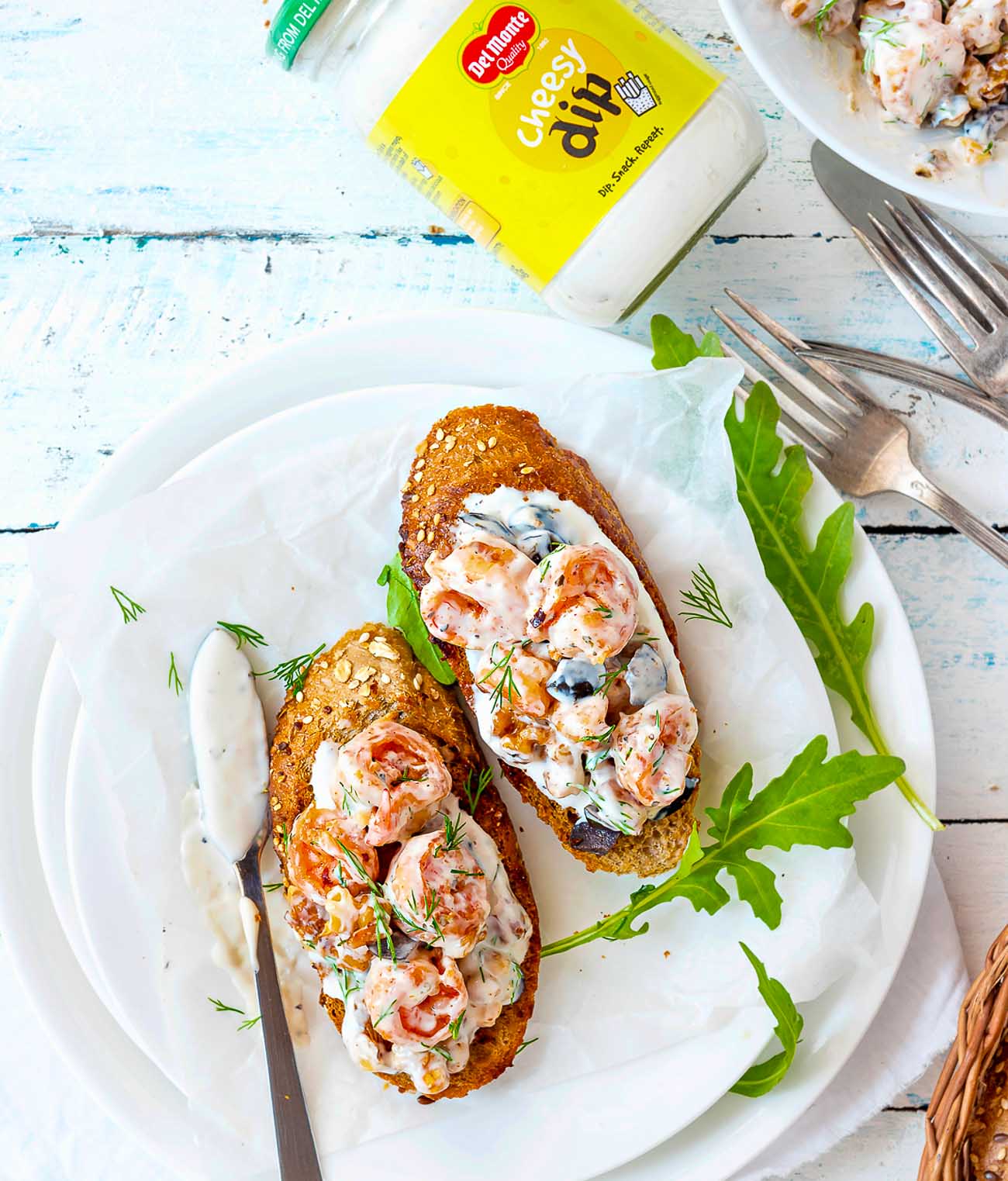 Ingredients
250 grams

Shrimps

, cleaned and deveined
1

Baguette

, cut into slices
3 cloves

Garlic

, finely chopped
1/4 cup

Green olives

, chopped
1/4 cup

Walnuts

, roughly broken
4 tablespoons

Del Monte Cheesy Dip

3 sprig

Dill leaves

, chopped

Salad leaves

, (rocket leaves or any other salad leaf)

Olive Oil

, as required

Butter

, as required

Salt

, as needed

Black pepper powder

, as needed

Red Chilli flakes

, as needed
How to make Shrimp Walnut Bruschetta Recipe Flavored With Cheesy Dip
To begin making the Shrimp Walnut Bruschetta Recipe Flavored With Cheesy Dip Mayo, get all the ingredients prepped and ready.

Apply little oil on each side of the baguette slices, season with salt and pepper. Heat the pan and toast the slices until brown and crisp. You can also toast it in preheated oven at 180 C for 10 minutes until crisp and roasted.

Take the baguette slices out of the pan and set aside.

In the same pan, melt 1 tablespoon of butter. Add garlic and saute until golden and aromatic

Add shrimps and toss on high for a minute. Cook for 5 to 6 minutes until the shrimp is nicely seared and done. Season with salt pepper and chili flakes. Take it off the heat and keep the shrimp aside.

In a bowl, add butter tossed prawns, walnuts, dill leaves, lemon zest, olives and mix. Stir in the Del Monte Cheesy Dip and mix well until combined. Check for salt and season if required and adjust to taste.

Now, take the baguette slices and smear one side of the slices with Del Monte Cheesy Dip and top it with prepared Shrimp Walnut Mayo Mixture.

Place the Shrimp Walnut Mayo Bruschetta on serving platter and serve with rocket leaves as an appetizer for parties.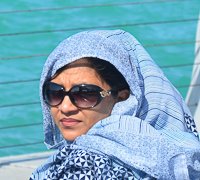 Farrukh is microbiologist by qualification, a Naturopath and homemaker by choice. She is a Recipe Developer, Food Stylist and self-taught Food Photographer and blogs at "Cubes N Juliennes". The journey of food blogging so far has been passionate to the core of it. She puts her best effort in not only creating recipes but also capturing them in drool worthy shots which mesmerize you to drop your jaws. That quite justifies her belief in the axiom "You eat with your eyes first". She keeps herself busy in cooking, styling, clicking and processing all day long. Farrukh's blog "Cubes N Juliennes" has been awarded the prestigious award of "Best Recipe Blog" by the Food Blogger Association of India in 2013 and then a runner up award in 2014.