Soya Keema Aloo Paratha Recipe
Make this wholesome and high protein breakfast which is packed with nutrition from soya and potatoes and packed with flavours from the mint leaves and garam masala. Serve this Soya Keema Aloo Paratha for breakfast lunch or dinner along with achaar and a bowl of raita.
In association with Preethi Kitchen Appliances


Archana Doshi
On

Monday, 14 March 2016 00:09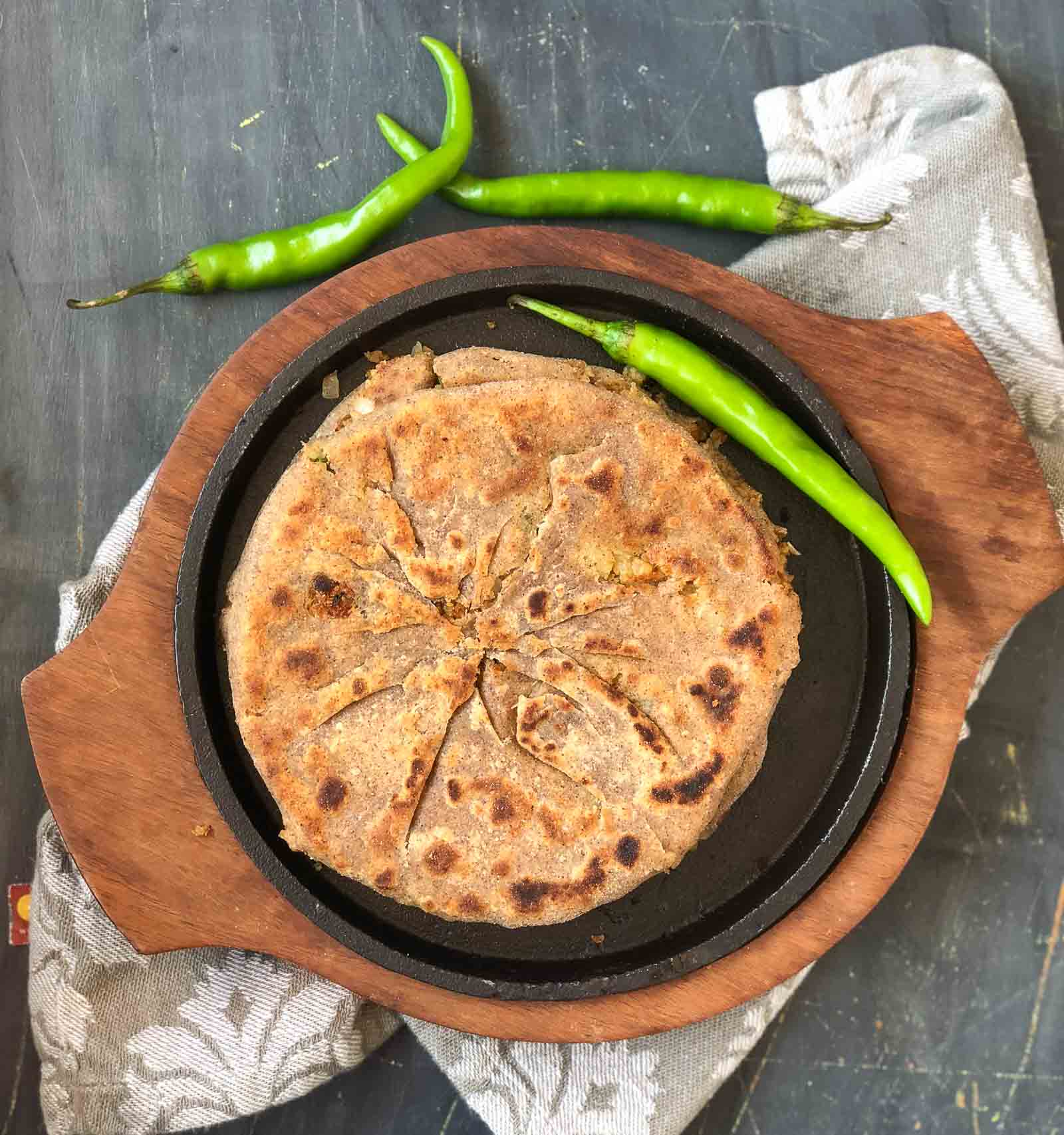 The Soya Keema Aloo Paratha Recipe is a delicious recipe of a paratha that is packed with protein and taste. The use of soy nuggets when combined along with onion, chilies and spices and stuffed in a whole wheat flour dough brings out delicious flavors and taste.
Serve the Soya Keema Aloo Paratha Recipe along with a bowl of Paka Kela Anar Raita for breakfast or dinner.
Did You Know: Soya Chunks contain 54.2 grams of protein, which exceeds the amount of protein found in meats, eggs, milk and wheat. It is said that the soy protein contains all the amino acids needed by the body and is an excellent replacement for meat-based proteins, which in addition also help in the growth of strong bones and teeth in children. Soy is high in fiber, which is known to benefit cholesterol levels, and can indirectly lower cholesterol by replacing fatty animal proteins in the diet.
If you like parathas, then you must try some of our favorites like -
Diet:
High Protein Vegetarian
Ingredients
1-1/2 cups

Whole Wheat Flour

1/4 cup

Bajra Flour ( Pearl Millet)

1/4 cup

Jowar Flour (Sorghum)

Salt

, to taste
1 teaspoon

Cooking oil

For the Soya Keema Aloo stuffing
1 cup

Soy Chunks (Nuggets)

, soaked and minced
3

Potatoes (Aloo)

, boiled and mashed
1

Onion

, finely chopped
2

Green Chillies

, finely chopped
1/2 teaspoon

Red chilli powder

1 teaspoon

Garam masala powder

1 teaspoon

Amchur (Dry Mango Powder)

Mint Leaves (Pudina)

, small bunch, finely chopped

Salt

, to taste

Ghee

, as needed
How to make Soya Keema Aloo Paratha Recipe
To begin making the Soya Keema Aloo Paratha Recipe we will first cook the soak the soya granules for about 20 minutes in hot water. Once soaked and soft, strain the excess water out using a strainer.

Using a turbo chop, blend the soya to get a soya mince - this will be your soya keema.

Take a bowl , add the flours, salt and add little water at a time and knead to make soft and firm dough. Add a little oil on the top to make the dough smooth and non sticky.

Take a heavy bottomed pan or kadai and add oil. Add the onions and saute until it becomes soft. Add the green chilies and stir fry for a few seconds.

Add the soya keema and salt and stir fry for a few minutes until all the water evaporates.

Once done, Add the potatoes, red chilli powder, garam masala powder, amchur powder and mint leaves.

Turn off the heat and mix Soya Keema Aloo Paratha filling mixture well.

Check the salt and adjust according to taste.

Divide the paratha dough into 6 equal portions.

Dust the portion of the dough in flour and roll into a 3 inch diameter circle.

Place a tablespoon of the Soya Keema Aloo Paratha stuffing in the center and brings the edges of the dough towards the center to seal the stuffing.

Flatten the Soya Keema Aloo Paratha, dust in flour again and roll to make a thick paratha (flatbread).

Repeat this procedure with the remaining parathas and keep aside.

Heat a skillet over medium heat and place the stuffed Soya Keema Aloo Paratha over the skillet, drizzle ghee and cook on both sides until browned and crisp.

Serve the Soya Keema Aloo Paratha along with a bowl of Paka Kela Anar Raita for breakfast or dinner.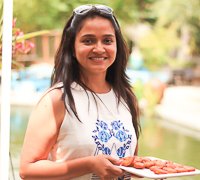 Archana Doshi is the founder of Archana's Kitchen. Archana launched Archana's Kitchen in 2007 as a way to keep track of her and family's recipes, and along the way grew it into one of the most popular cooking websites in the world. Archana is dedicated to helping home cooks be successful in the kitchen. Archana says "I hope you enjoy cooking recipes from my website where the sole effort is to make cooking simple for you. When you try out one of our recipes, we are longing to hear back from you. Do take your time to come back and share your comments, as your feedback means a lot to me"