Eggless Spiced Carrot Olive Cake Recipe
A cake made with freshly grated carrot and freshly ground spices that can be baked for a warm dinner with some friend and family member. We have made the batter with eggless option as well using a flax meal egg replacer. Serve the piece of cake with cream cheese frosting and hot cup of tea.

Archana Doshi
On

Wednesday, 24 September 2008 15:42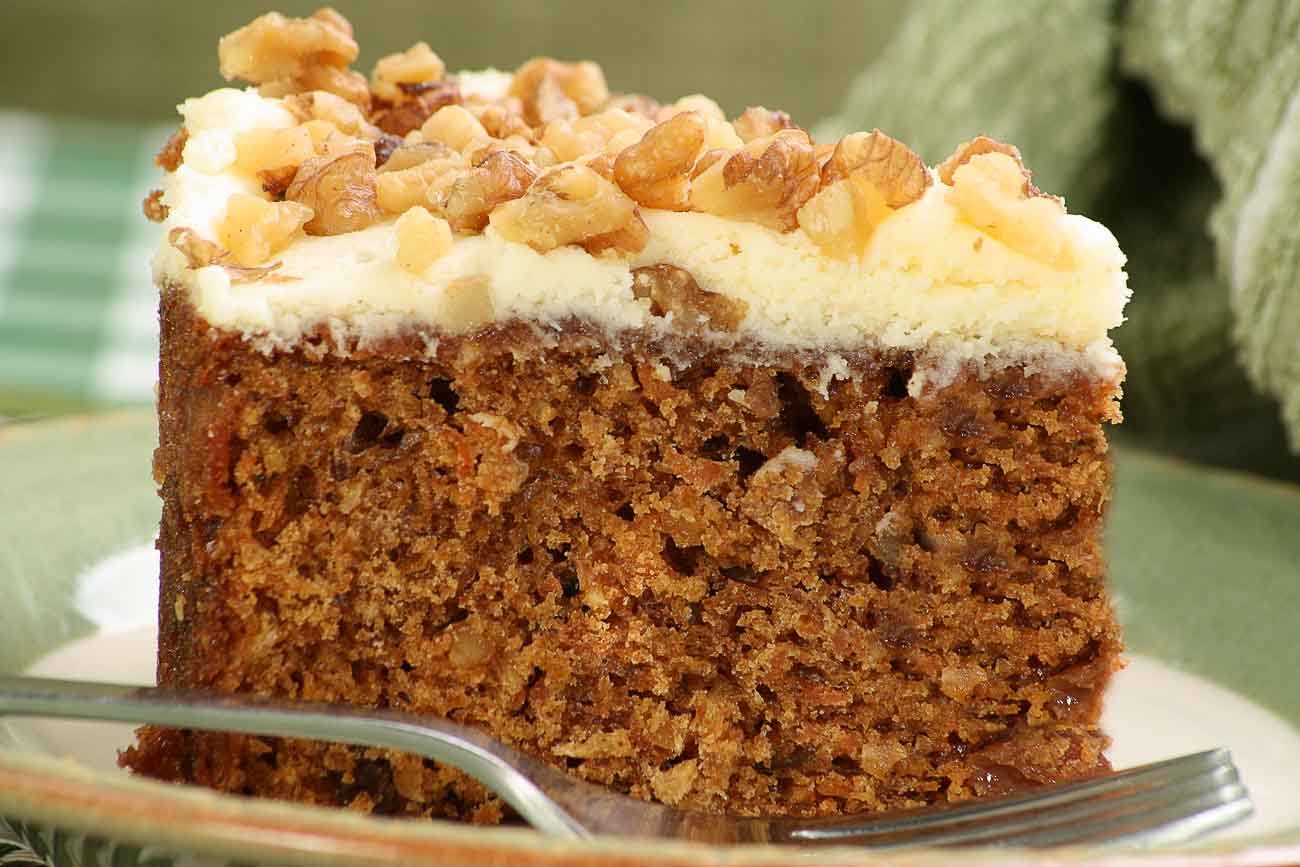 The Spiced Carrot Cake Recipe is made from freshly grated carrots and a variety of freshly ground spices that can be baked for a warm dinner with some friends or family or serve it along as a tea time snack or pack it up as a healthy snack for kids, it will be savored! I have shared how to make this cake egg free (eggless) as well using the Flax Meal Egg Replacer.
Serve the Eggless Spiced Carrot Olive Cake Recipe as a Tea Time Recipe or as a Party dessert Recipes.
If you like tea time cakes, then you must try :
Ingredients
2 cups

All Purpose Flour (Maida)

1 teaspoon

Cinnamon Stick (Dalchini)

, ground
1/2 teaspoon

Salt

2 teaspoons

Baking powder

3/4 cup

Brown Sugar (Demerara Sugar)

1/2 cup

Olive Oil

1 cup

Carrots (Gajjar)

, grated
1/2 cup

Walnuts

, chopped
1/2 cup

Curd (Dahi / Yogurt)

For Flax Meal Egg Replacer
2 tablespoons

Flax seed powder (flax meal)

6 tablespoons

Chilled water

Quick Glaze 
1/2 cup

Icing Sugar

2 teaspoons

Water
How to make Eggless Spiced Carrot Olive Cake Recipe
To begin making the Carrot Cake Recipe, first preheat oven 180 C. Grease and flour a 9 inch spring foam pan or a bread loaf pan or a bundt pan. Keep aside.
To make the Flax meal Egg Replacer
If your recipe asks for 2 eggs, measure 2 tablespoons of flax meal along with 6 tablespoons of water. Stir well and let the mixture rest for about 15 minutes. This process of resting helps the flax meal mixture develop a gelatinous consistency similar to eggs.
To make the batter
Sift the flour, baking powder, salt, cinnamon and keep aside.

In a large bowl or the bowl of the stand mixer; beat together the oil, sugar and eggs (flaxmeal egg replacer) until light and fluffy. Gradually add in the flour mixture and the carrots and beat until well combined.

Fold in the walnuts and spoon the batter into the prepared cake pan and place it to bake in the preheated oven. Bake for about 35 to 40 minutes or until when a tester inserted in the center of the cake comes out clean.

Once the cake is baked, remove from the oven.

You can serve the Spiced Carrot Cake as it is or along with a glaze or cream cheese topping.
Method for the Quick Glaze
In a small bowl, mix 1/2 cup confectioners sugar and 1 to 2 tsp water until smooth but thick glaze forms(too thin will be absorbed by the cake). Place a piece of waxed paper under cooling rack for easy cleanup. Spoon glaze back and forth over the cake forming a zig zag pattern. Keep the cake on the cooking rack until glaze is set about 15-20 minutes.

Or you can optionally whisk some cream cheese along with icing sugar and spread it over the carrot cake.

Serve the Spiced Carrot Olive Cake Recipe as a Tea Time Recipe or as a Party dessert Recipes.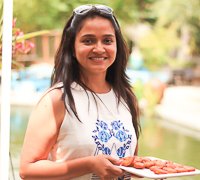 Archana Doshi is the founder of Archana's Kitchen. Archana launched Archana's Kitchen in 2007 as a way to keep track of her and family's recipes, and along the way grew it into one of the most popular cooking websites in the world. Archana is dedicated to helping home cooks be successful in the kitchen. Archana says "I hope you enjoy cooking recipes from my website where the sole effort is to make cooking simple for you. When you try out one of our recipes, we are longing to hear back from you. Do take your time to come back and share your comments, as your feedback means a lot to me"