Avakkai Pickle Recipe - Avakkai Mango Uruguai Recipe
The Avakkai Pickle Recipe is a spicy and delicious pickle from Andhra which is packed with flavors from mustard, chillies and garlic. This simple and yet delicious pickle makes a great accompaniment to go along with dosa, hot rice, cheela and even parathas.

Smitha Kalluraya
On

Sunday, 12 June 2016 00:05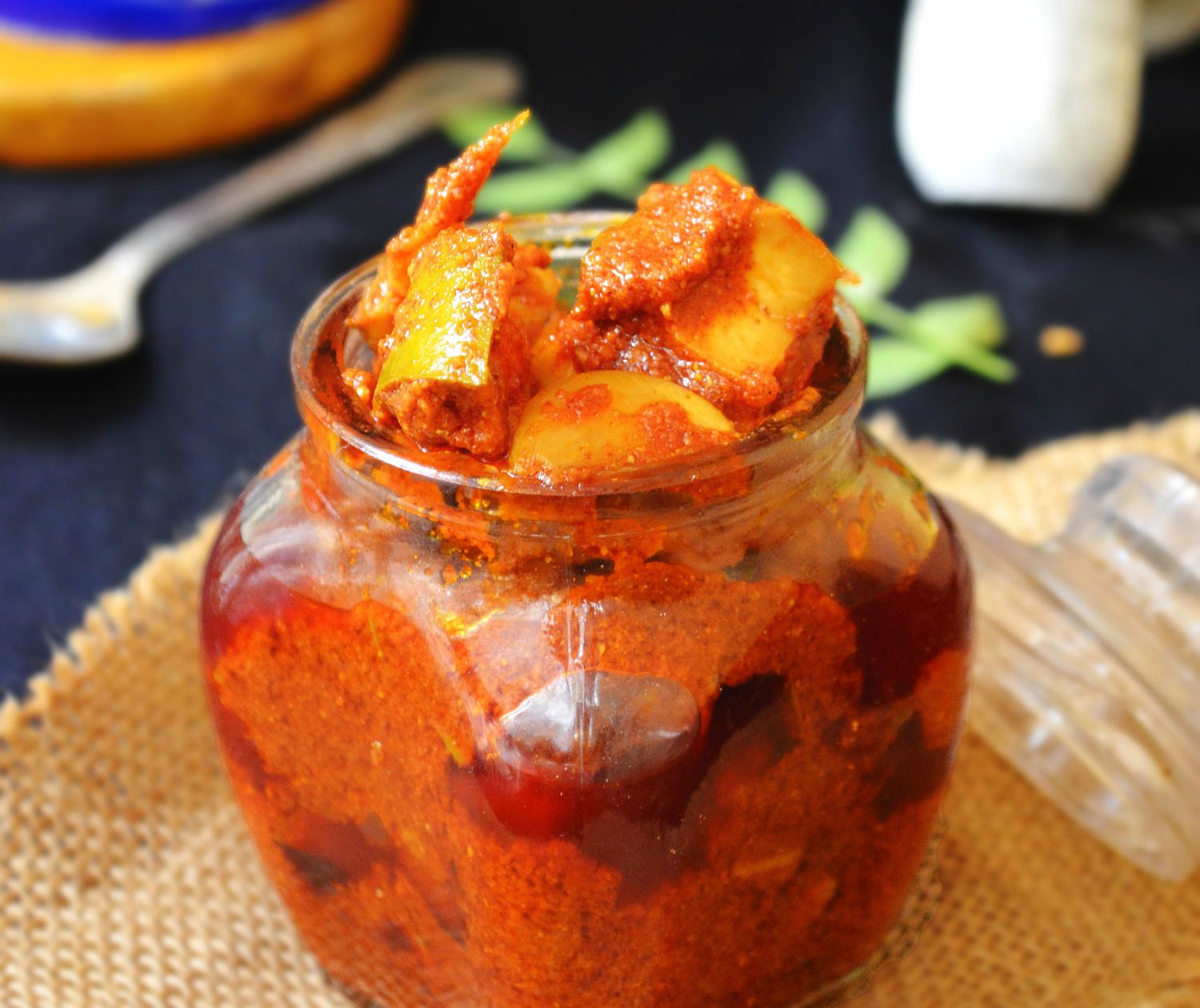 Spicy and Tangy avakkai pickle is also called an Andhra Special Mango Pickle Recipe. This avakkai pickle is spicy, tangy, tempting and an absolute finger-licking side dish recipe with most forms of rice.
It makes a nice accompaniment to the main course meal during lunch or dinner. Aloo paratha tastes even appealing with this avakkai pickle.
See what other pickle recipes we have to tantalize your taste buds
Note: Make sure it is hygienically used. Use a clean and preferably wooden spatula to take out pickles every time and close the lid just later. Leaving the used spatula inside might contaminate the pickles. If well preserved hygienically, these pickles last for a year and above.
Ingredients
3

Mango (Raw)

, chopped
1 cup

Mustard seeds (Rai/ Kadugu)

, powdered
1 cup

Kashmiri Red Chilli Powder

1 cup

Salt

1-1/4 cup

Gingelly oil

2 teaspoons

Methi Leaves (Fenugreek Leaves)

, powdered
10 cloves

Garlic

1 tablespoon

Turmeric powder (Haldi)
How to make Avakkai Pickle Recipe - Avakkai Mango Uruguai Recipe
To prepare Avakkai Pickle Recipe - Avakkai Mango Uruguai Recipe, the sun dry mustard seeds and fenugreek seeds for 3-4 hours to make them a little crisp.

Dry roast them for few seconds .If you don't get adequate sunlight. Powder them in a mixer.

Wash the mangoes properly and wipe dry with an absorbent cotton cloth.

Use a sharp knife to cut into bite-sized pieces. There will be a thin layer of pulp attached to the hard shell .Using a sharp knife Scrub and peel off.

In a big mixing bowl, add salt, chilli powder, mustard - fenugreek powder, and garlic.

Mix everything well. Pickle masala is ready to use.

Add in the diced mangoes and mix until they are well coated. Use a wooden spoon for better results to prepare this traditional Avakkai Pickle Recipe.

Take a big cleaned glass bottle/pickle container.

Add little masala coated Avakkai Pickle into the jar. Pour some gingelly oil. Again add some more pieces and layer with oil. Do this till all the mango pieces are used up.

Finally, pour the leftover pickle masala and oil into the jar. Cover the lid and keep the Avakkai Pickle aside for 2-3 days till all the oil comes above the pickles.

The Avakkai Pickle Recipe would still be salty after you give a proper mix. Wait for a week from the day of preparation to use this spicy and tangy Avakkai Pickle Recipe.