Spicy Potato Chutney Sandwich Recipe
Spicy Potato Chutney Sandwich, an easy Potato Sandwich which gets its flavours from Green Chutney. Serve it either for your breakfast or for your evening snacks.

Jyothi Rajesh
On

Thursday, 19 November 2015 05:33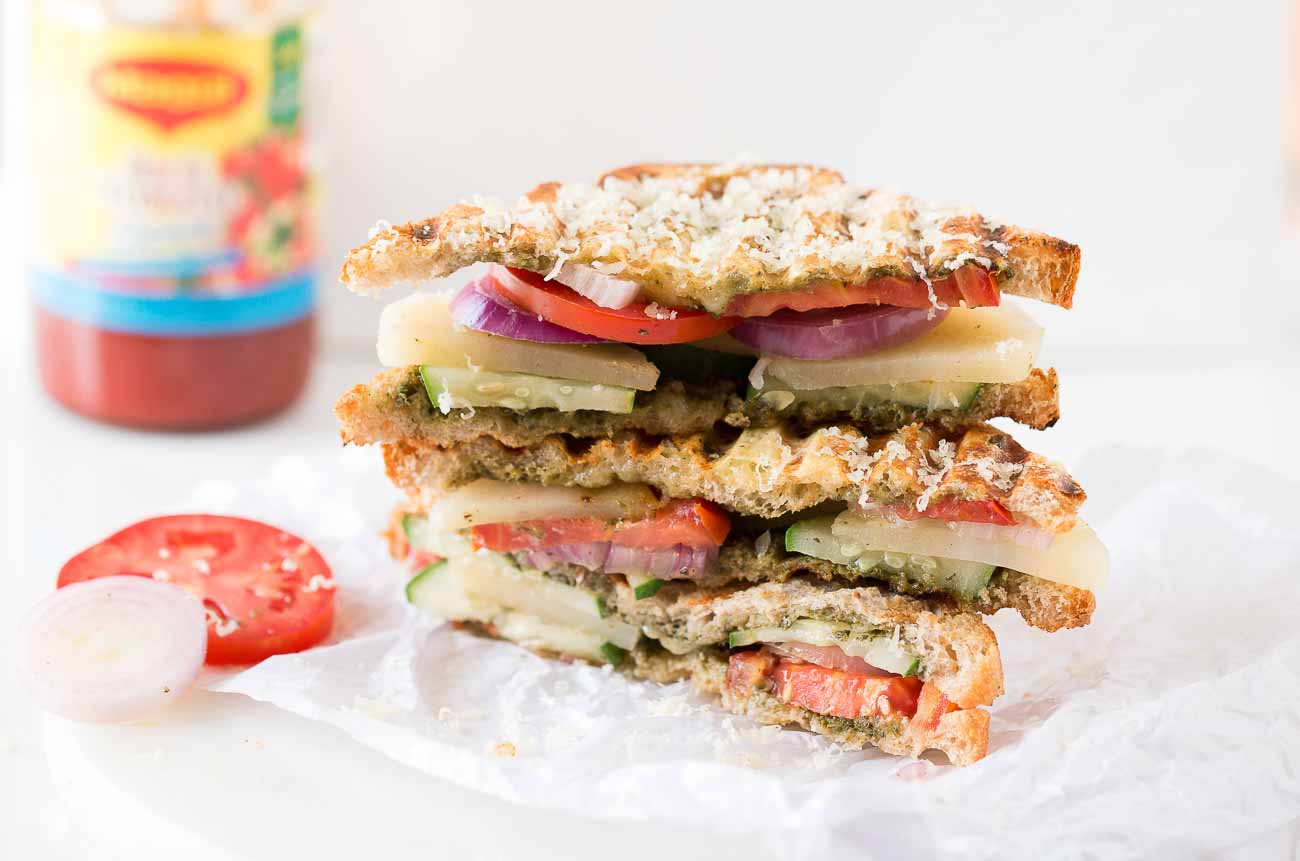 Potato Chutney Sandwich Recipe is a delicious twist to the street food in the city of Mumbai, distinct in the way it is assembled with a host of stuffings, a spicy mint chutney and a special sandwich masala that is said to be a secret recipe that is what works its magic on the sandwich.
Essentially it is a veggie sandwich with loads of different vegetable layers as famous sold in small portable street carts along the roads of Mumbai. For a minimum price, it comes stuffed with potato, tomato, onion, beetroot, cucumbers softened with coriander-mint chutney and makes a fulfilling snack that's also light on the pocket.
The Potato Chutney Sandwich Recipe is very easy to make as a quick snack dish for a tea party, children's snack box or even for brunch with friends or family.
Serve the Potato Chutney Sandwich Recipe along with a cup of refreshing cup of Masala Chai and a Fruit Bowl for your breakfast.

Explore our section of other such Street Food Specialities, that you can make right in your home, such as:
Ingredients
12

Bread slices

1/2 cup

Green Chutney (Coriander & Mint)

4

Potatoes (Aloo)

, peeled and sliced thick
1

Cucumber

, thinly sliced
1

Beetroot

, boiled and sliced
2

Tomatoes

, thinly sliced
1

Onion

, sliced very thinly

Salted butter

, softened for sandwich

Chaat Masala Powder

, for taste
For green chutney
3

Green Chillies

4 sprig

Coriander (Dhania) Leaves

4 sprig

Mint Leaves (Pudina)

1 teaspoon

Lemon juice

Salt

, to taste

Water

, as required
How to make Spicy Potato Chutney Sandwich Recipe
To begin making the Potato Chutney Sandwich Recipe, first you need to prepare the mint chutney. To do that, grind together all the ingredients listed under "For green chutney" including green chillies, coriander leaves, mint leaves, lemon juice, salt and water in a mixer-grinder, into a smooth paste. You can also use this recipe to make a Mint-Coriander chutney.

Next, stack the slices of bread and carefully trim the edges with a knife. Generously apply butter and green chutney on each slice of bread.

Now, assemble the fillings with layers of vegetables, with chaat masala sprinkled in between. Begin with cucumber and potato slices with chat masala in between. Then place the second slice of bread on top of the potatoes, with the butter and green chutney side facing up.

Place 4 slices of tomato, 2 slices of onions, and 2 slices of beetroot on top of the second slice, followed by a sprinkling of chaat masala on top.

Next place the third slice of bread with the buttered side facing downward.

Press the Potato Chutney Sandwich down so it holds together all the layers. Then gently cut it diagonally, into four equal parts.

Serve the Potato Chutney Sandwich Recipe along with a cup of refreshing cup of Masala Chai and a Fruit Bowl for your breakfast.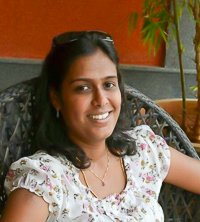 Jyothi Rajesh is an engineer by profession. Food and any thing related to food is her passion. She loves to cook, style and photograph food. She spends half of my week teaching Robotics to children and the rest of my week she get lost in cooking and photography. She cook for two reasons. First, cooking is, in all honesty, a way to show that she cares about people. It gives her great pleasure to make something that someone enjoys! Second, "I love the quest … the quest for great ingredient combinations, for unexpected flavors, for those "wow" recipes."