Spinach And Millet Pulav Recipe

Archana Doshi
On

Saturday, 11 October 2014 05:30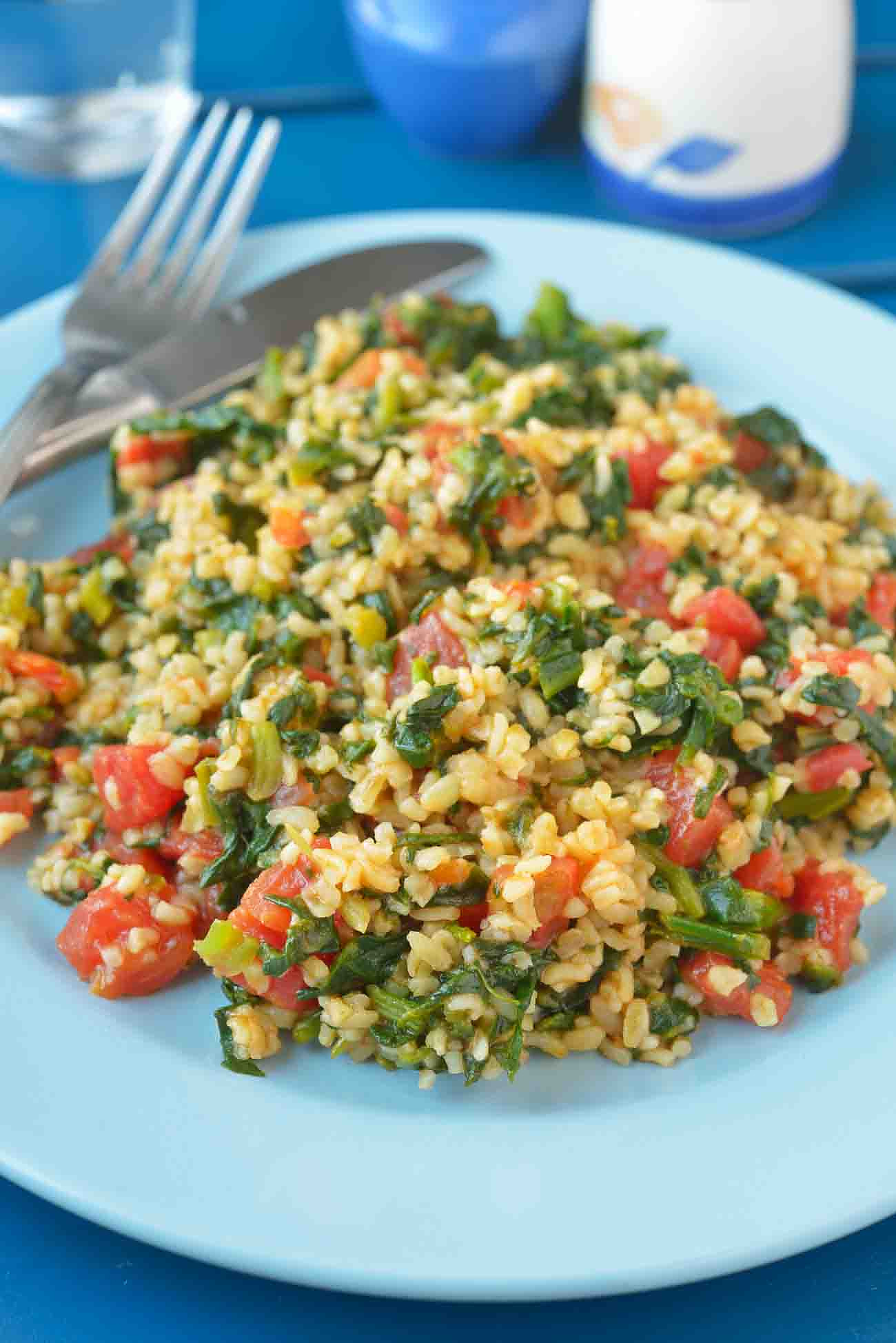 The Spinach & Millet Pulao Recipe is a great way to include millets in your diet. I have used foxtail millet, also known as Thinai in Tamil. It is one of those millets that are easy to cook. You can also use broken wheat to make this pulao. A lot of times, when I make a pulao with grains or millets, I tend to use either broken wheat or foxtail millet instead of rice. This recipe of the pulao is also satvik and does not use onion and garlic and making it even more healthy and nutritious. Serve this delicious Spinach & Millet Pulao along with a Raita of your choice.
Did you know: Spinach is one the many green leafy vegetables that have been recommended by nutritionist over the years to avoid the risk of developing diabetes.
Millet makes a good substitute for rice if you are diabetic. Since Millets are high fiber content, it helps slow down the digestion process and releases sugar into the bloodstream at a more even pace. This helps a diabetic avoid sudden spikes in blood sugar. Millet also contains high quantities of methionine, an amino acid that is deficient in most grains, giving millet a valuable place in a vegetarian diet.
Here are few more foxtail millet recipes to try
Diet:
High Protein Vegetarian
Ingredients
1 cup

Foxtail Millet

, or broken wheat (dalia)
1 inch

Ginger

2

Tomatoes

, finely chopped
2

Green Chillies

, slit
2

Bay leaves (tej patta)

2

Cardamom (Elaichi) Pods/Seeds

1 teaspoon

Turmeric powder (Haldi)

1 teaspoon

Cumin powder (Jeera)

250 grams

Spinach Leaves (Palak)

, chopped

Salt

, to taste
1 tablespoon

Oil

2 tablespoons

Ghee

, (optional)
How to make Spinach And Millet Pulav Recipe
To begin making the Spinach and Millet Pulao Recipe, get all the ingredients ready and keep it by the side. In this recipe, I will show you how to cook using a pressure cooker.

If you dont use a pressure cooker, then I suggest the same cooking procedure, using a heavy bottomed sauce pan with a lid. You will cover the pan after the procedures below and cook until the millets or broken wheat is edible.

Into a pressure cooker, heat a tablespoon of oil. Add the ginger, green chillies, bay leaves, cardamom pods and stir-fry for a few seconds. After which, add in the turmeric powder, cumin powder, tomatoes, salt and the millet.

Add 2 cups of water (sometimes if the millet or broken wheat is old- then it might need more water). Stir all the ingredients and cover the pressure cooker (or the saucepan). Place the weight on and pressure cook until you hear 2 whistles.

After a couple of whistles, turn the heat to low and simmer for another 3 minutes. After a couple of minutes, turn off the heat. Allow the pressure from the cooker to release naturally. If using a saucepan, make sure you cover the pan and cook until the millets are done to suit your taste.

Once the pressure is released, open the cooker, stir all the ingredients. Check the salt and spice levels and adjust to suit your taste.

If, by chance the millets did not cook with the amount of water you added, then sprinkle some more water as required, cover the pressure cooker and allow it to steam on low heat. Don't place the weight on at this stage. You will have to just cover and cook.

Next we will stir fry the spinach in wok and then add it to the cooked millet. In a wok, add a teaspoon of oil, add the chopped spinach, salt and stir fry on medium heat until the spinach is cooked and almost all the water is evaporated. Stir in the spinach to the cooked millets.

Once the Spinach and Millet Pulav is done, stir in the ghee. You can skip adding ghee on top if you are not very keen on that. Ghee adds an additional flavor to the Pulao making it delicious. Serve the Spinach and Millet Pulav along with a Raita of your choice.