Spinach And Feta Muffins Recipe
A healthy savoury dessert

Madhuli Ajay
On

Monday, 13 February 2017 00:00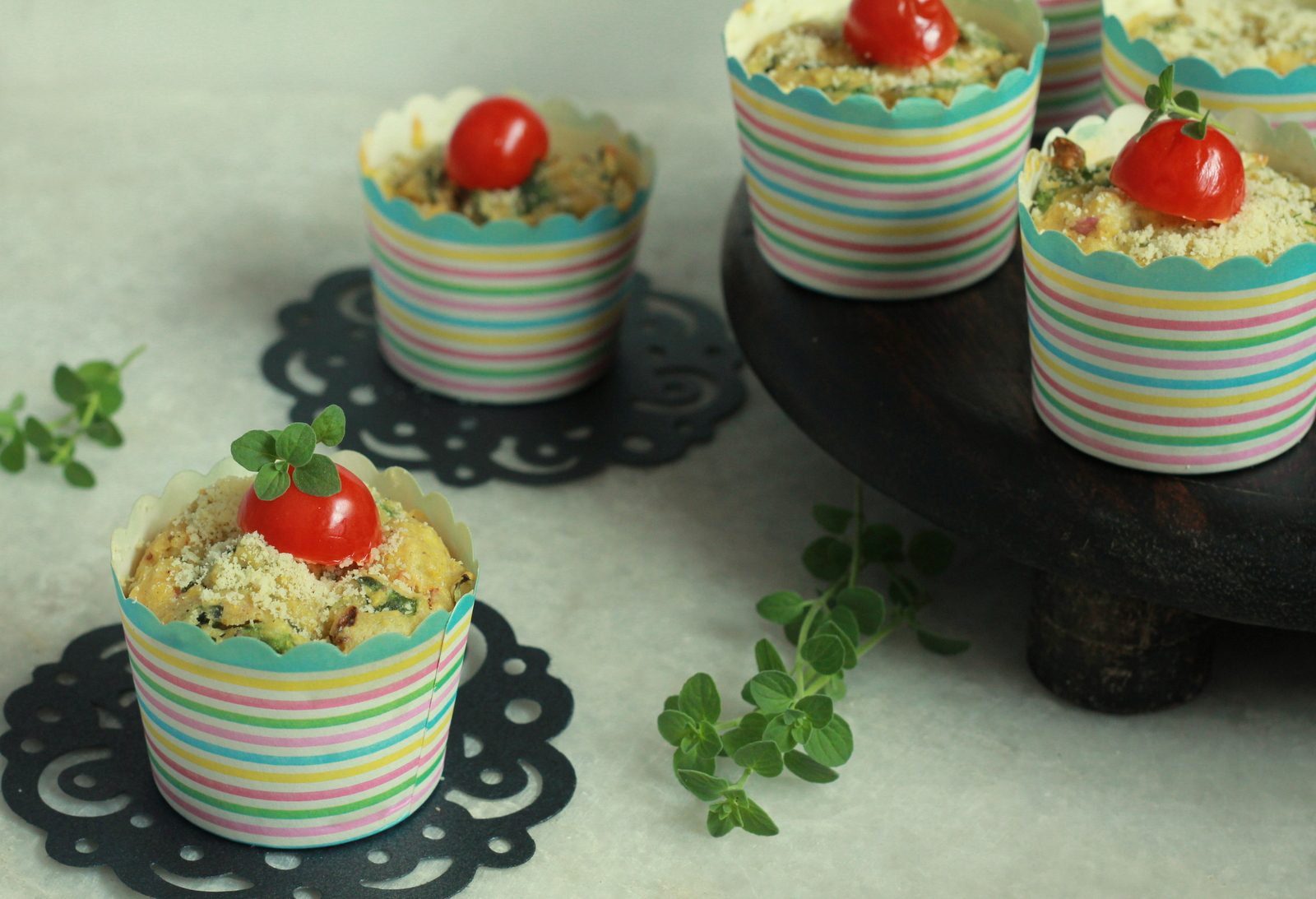 Spinach And Feta muffins are a great way to start your day with a quick but deliciously wholesome breakfast. The goodness of the healthy greens coupled with the sharp tanginess of feta makes these savoury muffins a tasty treat for kids and grown-ups alike. You can use paneer if you do not find feta cheese easily. The cornmeal adds a slightly sweet, nutty taste to the muffins. You can garnish the muffins with parmesan cheese (or any cheese of choice) or cherry tomatoes and fresh herbs
The Spinach And Feta Muffins can be served hot on their own or with sour cream/tomato sauce for breakfast or a quick after school snack, or with evening tea.
Other Muffin recipes that you can try are:
Ingredients
3/4 cup

Whole Wheat Flour

1/4 cup

Corn meal

1 cup

Spinach Leaves (Palak)

, chopped
1/4 cup

Feta Cheese

, crumbled (you can also use paneer)
1/4 teaspoon

Nutmeg

2-3 tablespoon

Onion

, chopped
2 cloves

Garlic

, grated
1

Whole Egg

, whisked
3/4 cup

Buttermilk

, adjustable (3/4 - 1 cup)
2 tablespoons

Butter (Salted)

, melted and cooled slightly (or any neutral oil)
1/4 teaspoon

Baking soda

3/4 teaspoon

Baking powder

Salt

, to taste
1/2 teaspoon

Sugar

1 teaspoon

Red Chilli flakes

, or black pepper powder
1-2 tablespoon

Parmesan cheese

, grated (optional)
5-6

Cherry tomatoes

, halved (for garnish)

Fresh Herbs

, for garnish (optional)
How to make Spinach And Feta Muffins Recipe
To begin making the Spinach And Feta Muffins first pre-heat the oven to 180 degree Celcius.

Line 7-8 muffin moulds with liners or use decorative muffin cups.

Add 1/2 cup buttermilk, butter, egg to a mixing bowl and whisk.

Add nutmeg, garlic, feta cheese, onion and spinach leaves and mix.

Add baking soda ,baking powder, salt,sugar and chilli flakes/pepper powder. Feta cheese is very salty so add salt accordingly.

Gradually add the flours and mix till they are incorporated. Use more buttermilk as required to make a thick batter.

Spoon it into the muffin moulds and fill upto 3/4.

Bake for 25-30 minutes till a tester inserted comes out clean (timing may change depending on the muffin size and the oven efficiency).

Take out from the oven, garnish with parmesan cheese, cherry tomato halves and herbs (if using).

Serve the Spinach And Feta Muffins hot for breakfast or as a snack.