Vegetable Ragi Momo Recipe - Finger Millet Dumplings/ Dim Sum Recipe
The Healthy Ragi Momo Recipe is a delicious and wholesome Indian Diabetic snack that is made from ragi flour and filled with bell pepper and mushrooms making it delicious and tasty. It makes a great indian starter recipe for parties.

Archana Doshi
On

Friday, 22 November 2013 12:08
The Vegetable Ragi Momo Recipe is simple, healthy recipe made from Finger Millet and sauteed vegetables. Since these dumplings are made with finger millet they have to be served hot right off the steamer.
The Ragi Momo tastes delicious and makes a perfect snack for the kids as well. Although I must warn you the Ragi counterpart to the All Purpose Flour is a little dry. So do make sure you serve these hot and fresh to enjoy its goodness and taste.
These Ragi Momo's makes a great Indian diabetic snack as well.
Did you know Ragi is rich in calcium, helps in weight loss, has a high fiber content, battles anemia, reduces blood cholesterol and also regulates blood sugar levels. Because of its low glycemic index, it helps reduce food cravings and slows down absorption of starch, thus helps in regulating the blood sugar for diabetic.
Serve Vegetable Ragi Momo Recipe with Peanut Chilli Dipping Sauce Recipe as a indian starter for parties or for an indian diabetic snack.
If you like this Vegetable Ragi Momo Recipe, try more Momo recipes like
Ingredients
Ingredients for the Finger Millet and Whole Wheat Dumpling Filling
1/2 cup

Cabbage (Patta Gobi/ Muttaikose)

, finely chopped
1/2 cup

Carrots (Gajjar)

, finely chopped
1 Stalk

Spring Onion (Bulb & Greens)

, finely chopped 
1

Red Bell pepper (Capsicum)

, finely chopped
200 grams

Button mushrooms

, finely chopped 

Cooking oil

, for stir frying

Salt and Pepper

, to taste

Sweet and Spicy Red Chilli Sauce (Tomato Chilli Sauce)

, for serving or dipping
Ingredients for the Finger Millet and Whole Wheat Dumpling Skin
1 cup

Whole Wheat Flour

1 cup

Ragi Flour (Finger Millet)

1/4 teaspoon

Salt

, (adjust to taste)
How to make Vegetable Ragi Momo Recipe - Finger Millet Dumplings/ Dim Sum Recipe
To begin making the Steamed Vegetable Ragi Momos, first we will make the dough
To Make the dough
Combine all the ingredients for the dough like the ragi flour, whole wheat flour and salt into a large wide bowl and knead well adding a little water at a time to make smooth dough.

Once the dough comes together, keep kneading for about 5 minutes to make it smooth and elastic and get the gluten from the wheat to bring the flour together with the millet.

The ragi momo dough should not be sticky. Seal the dough in a ziplock bag making sure to press out all air within the bag and let it rest for at least 15 minutes and up to 2 hours.

The ragi momo dough will steam up the bag and become soft and easy to work with.
To make the ragi momo dumplings
Heat oil in a small wok, add in all the peppers and mushrooms and stir fry on high heat until the moisture from the mushrooms evaporates.

Add in the remaining vegetables and stir fry until just slightly tender. Stir in the salt and a dash of pepper. Turn off the heat and allow the filling to cool completely before you fill into the skin.

*To make the half moon shaped ragi momos-Dumplings
Divide the dough in small lemon size portions of an inch in diameter.Dust the ragi momo dough portions in flour and roll out into a circle.Don't roll too thick, as the filling will push itself out and tear when steamed.

Place a small spoon of filling in the center of the rolled circle. Bring together the edges of the dough with a pinching and folding motion on one side and bring the other side to hold to the pinched side.

By doing this the half moon shaped momos will have a frilled look. Proceed the similar way with the remaining dough.

You can experiment with different shapes and sizes that you like. All it takes is some time and practice.

As you keep shaping the ragi momos you need to keep them on a greased platter and cover with a damp cloth to prevent them from drying out.

While you are shaping the ragi momos, keep a steamer with water boiling. Grease the steamer pan with some oil to prevent the momos from sticking.

Place the shaped momos on the greased steamer pan. So when you have one set of shaped momos, place them in the steamer and steam on high for 5 to 7 minutes until you see a glaze on the skin.

For the Ragi Momos, you will not notice that much of a shine, but you will notice that the color has changed.

Serve Vegetable Ragi Momo Recipe with Peanut Chilli Dipping Sauce Recipe as a indian starter for parties or for an indian diabetic snack.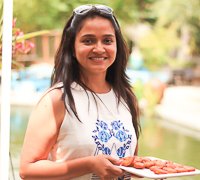 Archana Doshi is the founder of Archana's Kitchen. Archana launched Archana's Kitchen in 2007 as a way to keep track of her and family's recipes, and along the way grew it into one of the most popular cooking websites in the world. Archana is dedicated to helping home cooks be successful in the kitchen. Archana says "I hope you enjoy cooking recipes from my website where the sole effort is to make cooking simple for you. When you try out one of our recipes, we are longing to hear back from you. Do take your time to come back and share your comments, as your feedback means a lot to me"