Strawberry Blondies - White Chocolate Brownies
A fruity twist to the delicious blondies is a must try recipe. Enjoy Strawberry Blondies with a scoop of vanilla ice cream or enjoy with cup of hot tea or coffee.

akshatha
On

Saturday, 30 December 2017 09:00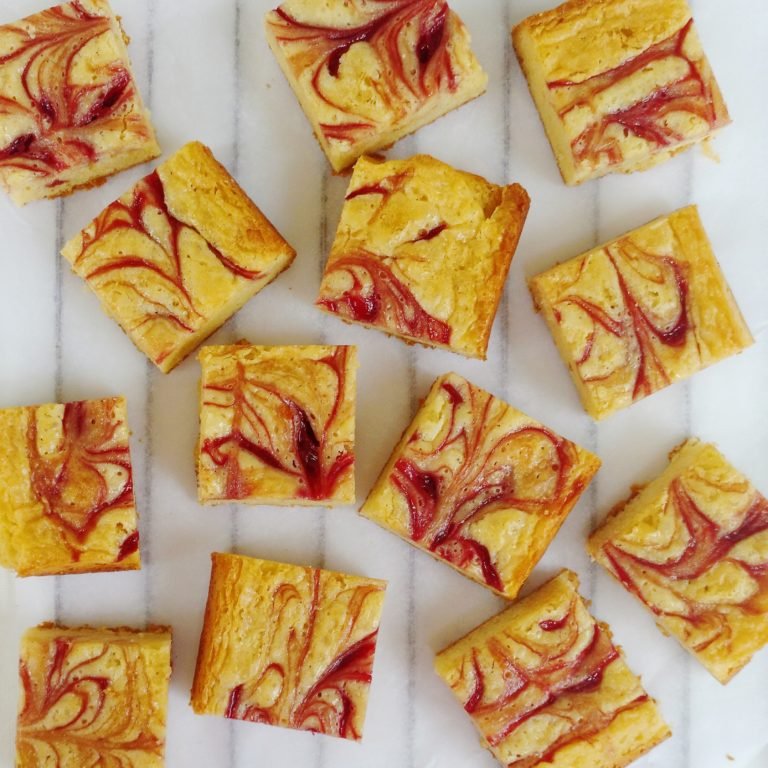 Blondies are brownies baked with white chocolate and vanilla instead of the traditional brown chocolates. The Recipe for these Blondies will yield a dense, fudgy and delicious little dessert. The addition of strawberries adds a slight tang and pops up the colour giving the perfect contrast to the rich white chocolate. This is a perfect recipe for white chocolate lovers.
Serve Strawberry Blondies - White Chocolate Brownies with a cup of Cinnamon Spiced Black Tea or a scoop of Coffee Ice Cream.
If you are looking for Brownie or Cake recipes, here are a few
Ingredients
180 grams

White Chocolate

115 grams

Butter (Unsalted)

100 grams

Caster Sugar

2

Whole Eggs

1 teaspoon

Vanilla Extract

Salt

, a pinch
125 grams

All Purpose Flour (Maida)

For the swirl:
5-6

Strawberries

2 teaspoons

Sugar
How to make Strawberry Blondies - White Chocolate Brownies
To begin making Strawberry Blondies, preheat your oven to 180 C/ 350 F.

Line an 8 inch square baking pan with parchment paper or foil, keeping two opposite sides of the parchment long to help to pulling out the blondies after baking. If you do not have parchment paper, you can also grease the pan with oil and dust some flour on it.

In a Mixer, blend the strawberries with sugar to get about 1/4 cup of thick strawberry puree. The consistency of the mixture should be as thick as ketchup. Chill this mixture in the fridge.

On a board or a flat surface, chop up the white chocolate into very small pieces and keep aside.

Cut the butter into cubes and add it to the chopped white chocolate.

Boil some water in a deep pan. The pan should be narrow enough to place a bowl over it. Once the water is boiling, place a bowl on top of it and add the chopped white chocolate into it. This method is called the double boiler method. Melt the white chocolate until the texture is smooth. Stir frequently while the white chocolate is melting.

White Chocolate can be also be melted in a microwave. Use a microwave safe bowl. Place the chopped up white chocolate in the bowl and place it in the microwave and melt on a low-medium heat for 1 minute. Use mittens or a cloth to take the bowl out of the microwave. Stir it and place it back in for another 20 seconds. Repeat this process until the texture is smooth.

To this melted white chocolate mixture, stir in the castor sugar with a whisk.

Add the eggs, one by one, stirring it well after each addition. Once the eggs are mixed in add in the vanilla,the flour and salt, stir in until the mixture is uniformly combined.

Pour batter into the prepared baking pan.

Add large dollops of the strawberry puree on top of the blondie mixture, leave some space between drops.

Run a knife through the batter in a zigzag manner, connecting the dots to swirl the strawberry puree in.

Bake Strawberry Blondies for 25- 28 minutes. You will know the Strawberry Blondie in baked when a toothpick inserted in the centre comes out with a few moist crumbs.

The edges will be light golden brown. Let Strawberry Blondie cool to room temperature. Cut into squares once cooled and serve.

Serve Strawberry Blondies - White Chocolate Brownies with a cup of Cinnamon Spiced Black Tea or a scoop of Coffee Ice Cream.
The Strawberry Blondie can be stored for about 3-4 days in an airtight container.
If your strawberry puree is too thin , you can reduce it by heating for a few minutes in a saucepan. Cool before using.
If you like brownies or blondies with a lighter, cake-ier texture , Beat the sugar, vanilla and eggs together until the mixture is light. Stir in the chocolate-butter mixture, and then the flour .
To make your own castor sugar , just grind or process your regular granulated sugar for one pulse.