Strawberry Cheesecake Muffins Recipe

Rupal Patel
On

Friday, 12 February 2016 00:33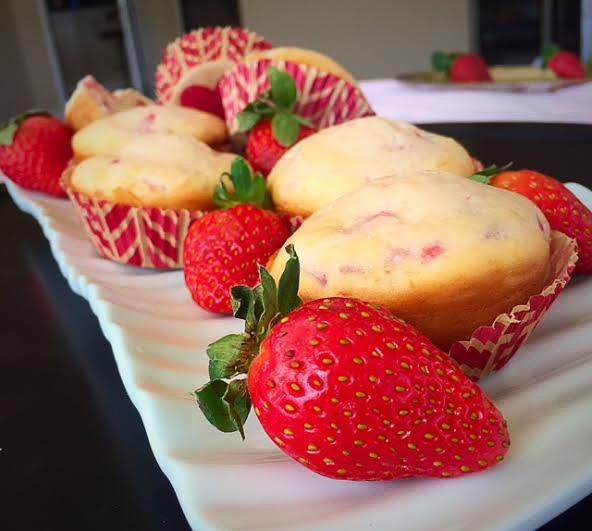 The Strawberry Cheesecake Muffins Recipe is a delicious and moist cake that you must make when you have strawberries in season. When a cake is made from cream cheese, there is nothing you can go wrong with it. The Strawberry Cheesecake Muffins not only makes a great breakfast treat along with your coffee, but also a great dessert for dinner.
Here are more muffin recipes for you to try
Ingredients
225 grams

Britannia Cream Cheese

, (at room temperature)
2-1/2 cups

All Purpose Flour (Maida)

3/4 cup

Caster Sugar

, (1/4 + 1/2)
2 teaspoons

Baking powder

1/4 teaspoon

Salt

1

Whole Egg

1-1/4 cups

Milk

1/3 cup

Butter (Salted)

, melted
1/2 cup

Strawberries

, chopped
1/4 teaspoon

Vanilla Extract
How to make Strawberry Cheesecake Muffins Recipe
To begin making the Strawberry Cheesecake Muffins Recipe, first prep all the ingredients and get them ready.

In a large mixing bowl, add the cream cheese and 1/4 cup sugar, using a hand mixer beat well until light and fluffy. Add 1/4 cup fresh chopped strawberries in it and fold it in with help of spoon or fork. Keep the cream cheese batter aside.

In a mixing bowl, sift the flour, baking powder and salt, keep aside.

In a large mixing bowl, using a hand mixer, beat together the egg, 1/2 cup of sugar.

In a separate bowl, beat together egg, milk, rest of the sugar (1/2 cup), butter and vanilla extract. Gradually add the flour mixture and beat until the cake is well combined. Add the remaining strawberries into the cake mixture and fold it in.

Preheat the oven to 180 C and grease the muffin pan or line it with muffins paper. Spoon half the cake batter into the bottom of the pan. Next, spoon the cream cheese batter on the top and another spoon of the cake batter.

Essentially the cream cheese batter is sandwiched between the cake batter.

Once done, place the Strawberry Cheesecake Muffin in the oven and set it to bake for 12 to 15 minutes, until a tester inserted inside comes out almost clean.

There will be a few crumbs of the cheesecake that will be stuck to the tester, and that's ok.

Once done, remove from the oven and set it to cool completely.

Once cooled, the Strawberry Cheesecake Muffins are ready to be served during tea time or as a dessert.